In the April 2021 survey we received responses from 1,212,139,815 sites across 264,469,666 unique domains and 10,939,637 web facing computers. This is an increase of 24,611,866 sites, 1,114,050 domains and 91,955 computers.
nginx gained the largest number of sites this month increasing by 12.5 million sites to 432,167,302. This also increases its market share to 35.65%, up 0.32 percentage points. Microsoft last month lost its place as third largest web server developer to OpenResty, this month it continued to lose sites (-3.6M) and market share, dropping 0.42pp to a market share of 5.54%. OpenResty gained 4.1 million sites and 0.21pp market share, while Apache gained 5.4 million sites but lost 0.08pp market share.
Looking at domains Apache and OpenResty gained the largest amount, with LiteSpeed and Oracle also seeing increases. OpenResty increased by 467k unique domains (+1.2%), this growth is primarily fueled by its increased use at both Google Cloud and Amazon AWS. Apache gained a similar amount with 426k domains (+0.6%), LiteSpeed gained 52k (+1.0%), and Oracle gained 27k (+3.6%). In contrast, nginx, Microsoft and Google each lost domains, 483k (-0.6%), 331k (-2.2%) and 233k (-9.2%) respectively.
In terms of web facing computers nginx gained the largest number with an increase of 59.6k (+1.6%) extending its market lead over Apache to 3.32 percentage points. Apache saw a smaller increase in the number of web facing computers making use of it (8k, +0.2%), this resulted in Apache losing 0.20pp market share. Microsoft lost both absolute numbers of computers, -15.3k (-1.1%), and market share, -0.25pp.
Focusing in on the million busiest sites Cloudflare gained 2,721 sites, the only significant gain this month, it is now used by 16.70% of the million busiest sites. nginx and Microsoft saw the largest losses, 1,978 and 1,806 sites respectively, with Apache dropping 608.
Other vendor and hosting news
nginx version 1.20.0 was released on April 20th; this incorporates the features from the last year of development on the 1.19 mainline branch into a stable release that will not receive further feature updates. Prior to the release of version 1.20.0 the mainline 1.19 branch received a bug fix update on March 30th, and a minor update with features related to keepalives on April 13th.
Apache Tomcat major versions 8, 9 and 10 were all updated on April 6th to pick up binaries built with OpenSSL 1.1.1k. Version 7 received a bug fix release on April 26th.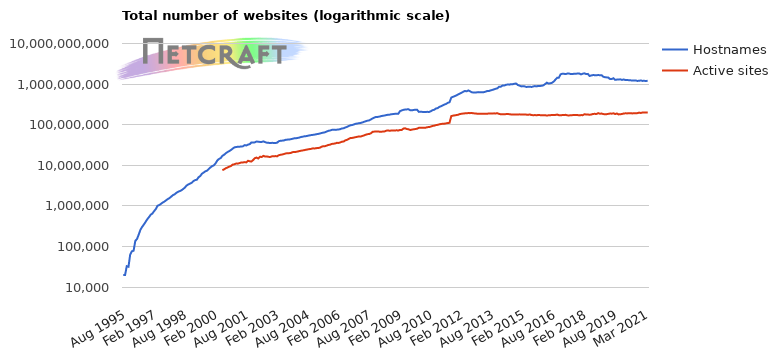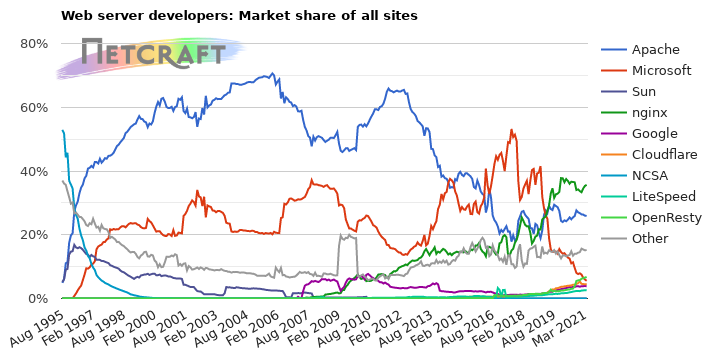 | Developer | March 2021 | Percent | April 2021 | Percent | Change |
| --- | --- | --- | --- | --- | --- |
| nginx | 419,637,923 | 35.34% | 432,167,302 | 35.65% | 0.32 |
| Apache | 308,509,042 | 25.98% | 313,948,741 | 25.90% | -0.08 |
| OpenResty | 77,819,490 | 6.55% | 81,935,391 | 6.76% | 0.21 |
| Microsoft | 70,826,342 | 5.96% | 67,182,740 | 5.54% | -0.42 |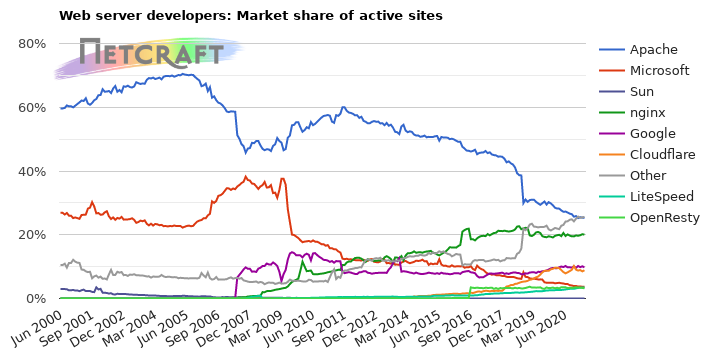 | Developer | March 2021 | Percent | April 2021 | Percent | Change |
| --- | --- | --- | --- | --- | --- |
| Apache | 50,506,614 | 25.38% | 50,508,693 | 25.34% | -0.03 |
| nginx | 40,111,872 | 20.15% | 39,965,809 | 20.05% | -0.10 |
| Google | 20,086,396 | 10.09% | 19,438,838 | 9.75% | -0.34 |
| Cloudflare | 16,932,600 | 8.51% | 17,677,430 | 8.87% | 0.36 |
For more information see Active Sites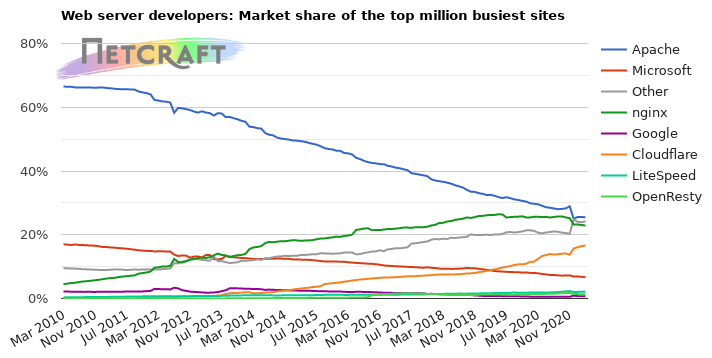 | Developer | March 2021 | Percent | April 2021 | Percent | Change |
| --- | --- | --- | --- | --- | --- |
| Apache | 255,542 | 25.55% | 254,934 | 25.49% | -0.06 |
| nginx | 230,565 | 23.06% | 228,587 | 22.86% | -0.20 |
| Cloudflare | 164,235 | 16.42% | 166,956 | 16.70% | 0.27 |
| Microsoft | 68,493 | 6.85% | 66,687 | 6.67% | -0.18 |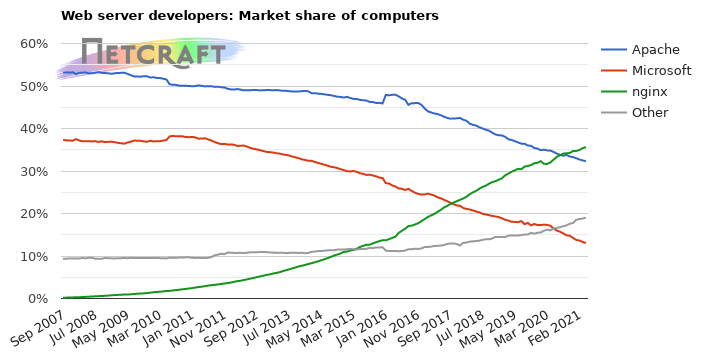 | Developer | March 2021 | Percent | April 2021 | Percent | Change |
| --- | --- | --- | --- | --- | --- |
| nginx | 3,837,524 | 35.38% | 3,897,150 | 35.62% | 0.25 |
| Apache | 3,525,111 | 32.50% | 3,533,152 | 32.30% | -0.20 |
| Microsoft | 1,443,725 | 13.31% | 1,428,374 | 13.06% | -0.25 |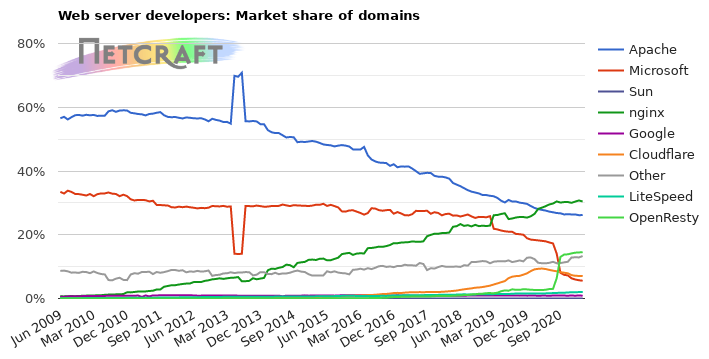 | Developer | March 2021 | Percent | April 2021 | Percent | Change |
| --- | --- | --- | --- | --- | --- |
| nginx | 80,999,556 | 30.76% | 80,516,546 | 30.44% | -0.31 |
| Apache | 68,822,067 | 26.13% | 69,248,336 | 26.18% | 0.05 |
| OpenResty | 38,035,992 | 14.44% | 38,502,619 | 14.56% | 0.12 |
| Cloudflare | 18,657,944 | 7.08% | 18,591,275 | 7.03% | -0.06 |