In the December 2019 survey we received responses from 1,268,289,402 sites across 243,753,534 unique domain names and 9,430,985 web-facing computers. This reflects a loss of 40.1 million sites, but a gain of 19,200 domains and 156,000 computers.
nginx gained the largest number of sites (+41.2 million), while Apache lost 50.1 million and Microsoft lost 17.5 million; but in terms of unique domains, all major vendors suffered losses. Microsoft lost the most domains (-2.67 million), followed by Apache (-572,000); and, despite gaining so many sites, nginx lost 422,000 domains.
nginx has continued its strong and steady growth in web-facing computers, this month gaining 58,500 computers compared with Apache's gain of 42,900. nginx is edging ever-closer to Apache's leading market share, which fell by 0.13 percentage points to 35.3%, leaving it only 3.4 points ahead of nginx.
If current trends continue, nginx looks set to overtake Apache at some point in late 2020, which would make it the largest vendor in terms of web-facing computers. nginx has already been in the lead by sites since April 2019, and is also closing in on domains, but is still some way behind Apache in active sites and the top million sites.
Vendor news
OpenLiteSpeed 1.6.4 was released on 18 November. This is the open source version of the LiteSpeed web server, which was first to ship HTTP/3 support in July, and boldly claims to outperform nginx when handling HTTP/3 traffic. More than 20 million sites across 3.9 million domains are running either LiteSpeed or OpenLiteSpeed – both variants exhibit the same "LiteSpeed" server header.
QUIC and HTTP/3 have been supported by Cloudflare's partly nginx-based edge network since September; and in October, Cloudflare released a patch that allows its savoury implementation of these protocols (quiche) to be integrated into the upstream nginx codebase. LiteSpeed's HTTP/3 benchmarks were carried out against this patch.
On 19 November, Microsoft announced the availability of Microsoft Azure from its new cloud datacenter regions in Norway. Norway's largest financial services group, DNB Group, has already chosen the new region to migrate services into the cloud in accordance with Norwegian data handling regulations.
Finally, NGINX Plus Release 20 (R20) was released on 3 December. Based on the open source nginx web server, NGINX Plus is a commercial offering, and R20 includes real-time monitoring and logging of rate-limited traffic, enhancements to connection limiting, and some security improvements for HTTP/2.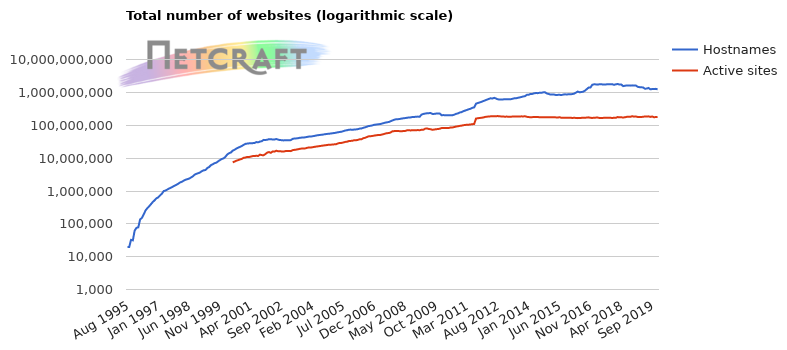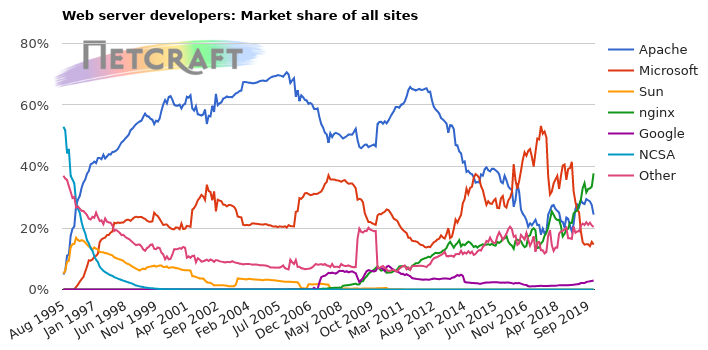 | Developer | November 2019 | Percent | December 2019 | Percent | Change |
| --- | --- | --- | --- | --- | --- |
| nginx | 437,886,327 | 33.47% | 479,072,656 | 37.77% | 4.30 |
| Apache | 359,048,240 | 27.44% | 308,978,570 | 24.36% | -3.08 |
| Microsoft | 202,633,184 | 15.49% | 185,084,122 | 14.59% | -0.89 |
| Google | 36,196,549 | 2.77% | 37,290,465 | 2.94% | 0.17 |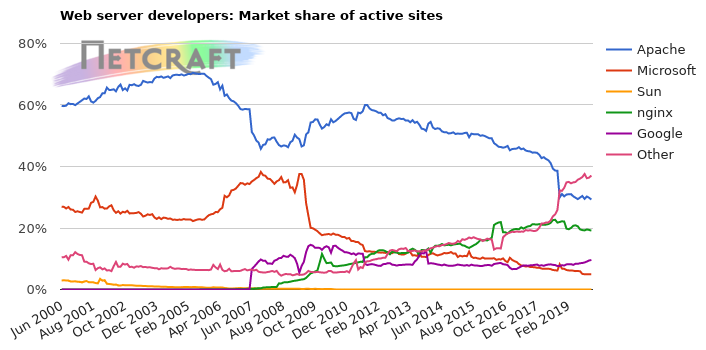 | Developer | November 2019 | Percent | December 2019 | Percent | Change |
| --- | --- | --- | --- | --- | --- |
| Apache | 53,951,988 | 29.84% | 53,592,708 | 29.25% | -0.58 |
| nginx | 35,040,645 | 19.38% | 35,074,907 | 19.14% | -0.23 |
| Google | 17,063,254 | 9.44% | 17,576,920 | 9.59% | 0.16 |
| Microsoft | 8,973,218 | 4.96% | 9,088,537 | 4.96% | -0.00 |
For more information see Active Sites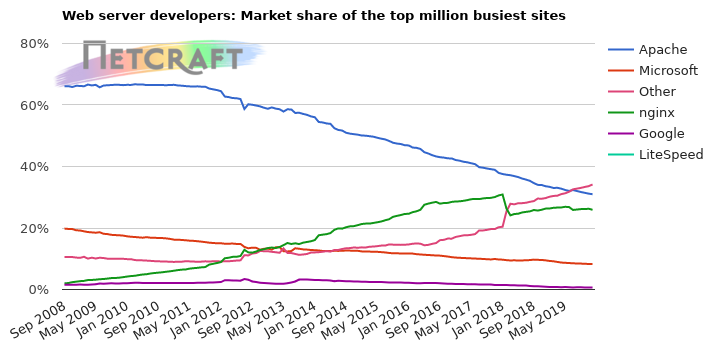 | Developer | November 2019 | Percent | December 2019 | Percent | Change |
| --- | --- | --- | --- | --- | --- |
| Apache | 306,237 | 30.62% | 304,174 | 30.42% | -0.21 |
| nginx | 257,908 | 25.79% | 254,554 | 25.46% | -0.34 |
| Microsoft | 81,502 | 8.15% | 81,726 | 8.17% | 0.02 |
| LiteSpeed | 17,859 | 1.79% | 18,184 | 1.82% | 0.03 |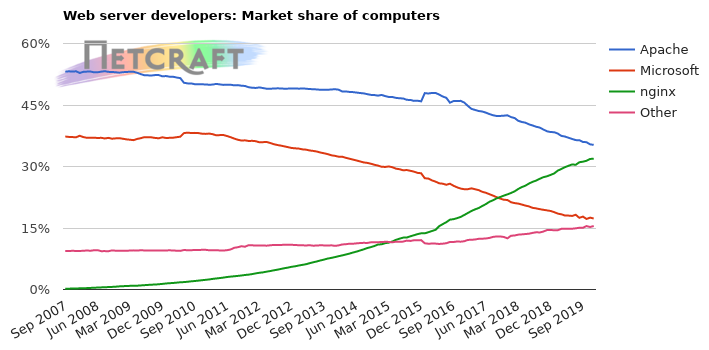 | Developer | November 2019 | Percent | December 2019 | Percent | Change |
| --- | --- | --- | --- | --- | --- |
| Apache | 3,283,599 | 35.40% | 3,326,508 | 35.27% | -0.13 |
| nginx | 2,952,194 | 31.83% | 3,010,730 | 31.92% | 0.09 |
| Microsoft | 1,625,360 | 17.52% | 1,633,117 | 17.32% | -0.21 |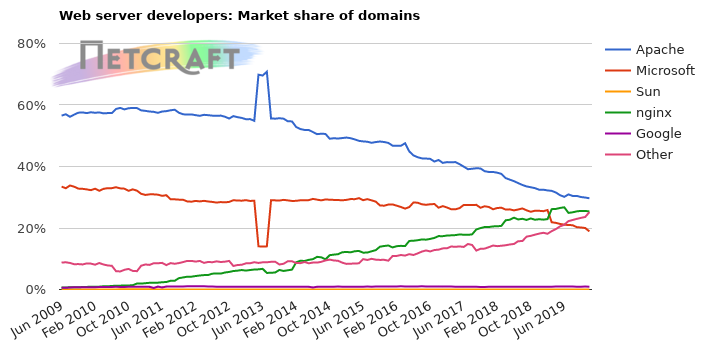 | Developer | November 2019 | Percent | December 2019 | Percent | Change |
| --- | --- | --- | --- | --- | --- |
| Apache | 72,896,226 | 29.91% | 72,324,357 | 29.67% | -0.24 |
| nginx | 62,280,666 | 25.55% | 61,858,384 | 25.38% | -0.18 |
| Microsoft | 48,736,409 | 20.00% | 46,066,151 | 18.90% | -1.10 |
| Google | 2,333,619 | 0.96% | 2,181,134 | 0.89% | -0.06 |