The popular is.gd URL shortening service has been offline for more than two days, taking with it more than a billion shortened URLs. Shortly before the site disappeared on Sunday, the homepage reported that its links have been accessed nearly 50 billion times.

The shortened links generated are usually not more than 18 characters long, including the protocol http://. These links are commonly used in tweets, emails, and text messages where long URLs are impractical. Despite the fact the shortened links do not work, many previously-created is.gd shortened URLs are still appearing on Twitter.
is.gd is owned by and supported by UK hosting provider Memset, who planned to support it as a free service indefinitely. Notably, its sister site, v.gd, is still up and running. Other free services provided by Memset include TweetDownload, TweetDelete and the statistics calculator Tweetails.
For security reasons, both is.gd and v.gd disallow the shortening of URLs which use the data: and javascript: protocols. Nevertheless, the service is still abused by fraudsters who use the shortened URLs to direct victims to phishing sites. Some fraudsters have appended a query string to the shortened URL in an attempt to make it look similar to those used by the phishing target. For example, the following is.gd URL was used to redirect victims to a Taobao phishing site:
http://is.gd/Tb

###

U?2.taobao.com/item.htm?spm=2007.1000337
Throughout April, is.gd was the fifth phishiest URL shortening service. By far the phishiest was tinyurl.com, which pointed to 17 times as many phishing sites, making it account for 60% of all phishing activity amongst the top five URL shortening services. Privately-held bit.ly, Google's goo.gl and GoDaddy's x.co also pointed to more phishing sites than is.gd.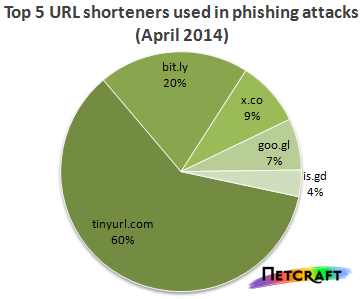 Three years ago, the is.gd service suffered a shorter outage of a few hours. This was caused by the failure of some of the virtual machines in its frontend cloud, which were responsible for accepting HTTP requests from a load balancer.
Update 21/05/2014: is.gd is now back online. An explanation for the outage can be found at http://is.gd/news.php