In the January 2020 survey we received responses from 1,295,973,827 sites across 249,618,033 unique domain names and 9,576,845 web-facing computers. This reflects a gain of 27.7 million sites, 5.86 million domains, and 146,000 computers.
Apache, nginx, and Microsoft all saw increases in their totals for number of domains in January 2020, although nginx demonstrated substantially the largest growth (+2.53 million), bringing its market share up to 25.8% and its total to 64,391,621 domains. The growths this month for Apache (+80,900) and Microsoft (+66,300) were much smaller in comparison. An additional 2.18 million domains identified themselves as Cloudflare servers, an 11.3% increase since December, bringing the Cloudflare-exclusive server platform up to 21.4 million domains. LiteSpeed usage grew by 96,500 domains — a fairly consistent and strong 2.5% growth — giving it a new total of 3.97 million.
Looking instead over the span of the past year, Microsoft's domain count decreased by 12.1 million (-20.8%), whilst nginx grew by 12.5 million (+24.0%), partly due to a swing from Microsoft to nginx at GoDaddy seen in March. Apache's count of domains is largely the same as it was a year ago, only having shrunk slightly by 1.79 million domains (-2.4%).
The gains and losses in domains were also met with similar trends in active sites. The number of active sites seen by Netcraft in January 2020 increased to 189 million, up from 183 million since the previous month. Around 1.99 million of the increase came from nginx, and 1.12 million from Cloudflare, increasing their respective totals by +5.7% and +6.6%. Apache and Microsoft, on the other hand, remained fairly stable this month, but overall lost out over the course of a year. LiteSpeed's active site count also continues to grow steadily, increasing by 149,000 (+3.1%) this month to reach 4.95 million.
By count of web-facing computers, Apache, nginx, and Microsoft all demonstrated gains, with nginx showing the most significant gain of 83,700 additional computers since December. Over the past year, nginx has grown by 771,000 computers (+33.2%), far in excess of Apache's 192,000 (+6.1%) and Microsoft's 105,000 (+6.8%) growths.
Windows Server 2008 End-of-life
On January 14, 2020 Microsoft ended support for Windows Server 2008 and Server 2008 R2. As a component of the operating system, versions of Microsoft's IIS (Internet Information Services) are tightly bound to the Windows versions they run on, with IIS/7.5 being the version integrated into Windows Server 2008 R2. As such, IIS/7.5 is similarly end-of-life, receiving no further security fixes. Despite forward notice, and the availability of more modern versions, there is often a great deal of inertia preventing companies from upgrading operating system software before it falls out of support. As of January 2020, Netcraft counted 887,000 web-facing computers running Windows Server 2008 and 2008 R2, making them the most popular versions of Windows employed in the webserver market. Furthermore, over half of all counted Windows computers ran some end-of-life version of the Windows family of operating systems.
Turning to the use of IIS specifically, Netcraft found almost 2.85 million active sites running on IIS/7.5 – 32.5% of all active sites running on some version of IIS. Approximately 940,000 active sites run on even older versions of IIS. Within the top one million sites, 25,700 of the 77,800 sites running on IIS use an outdated version.
Vendor news
LiteSpeed Technologies released versions 1.6.5 and 1.5.11 of their open source OpenLiteSpeed web server. The updates introduce improvements to caching performance, security, and stability. The updates also see OpenLiteSpeed move to version 2.8.3 of lsquic, LiteSpeed's C implementation of the experimental QUIC and HTTP/3 transport protocols.
Nginx released version 1.14.0 of their Nginx Unit dynamic application server, providing additional features and bug fixes. Nginx also released a minor bugfix update for the open source edition of the main nginx web server product.
The Apache Tomcat project has released updated versions for each supported release of its Java HTTP server and Servlet container software. Versions 9.0.30, 8.5.50 and 7.0.99 include various fixes and updates.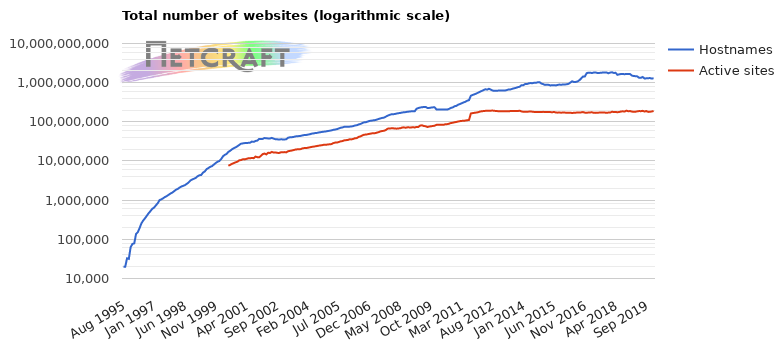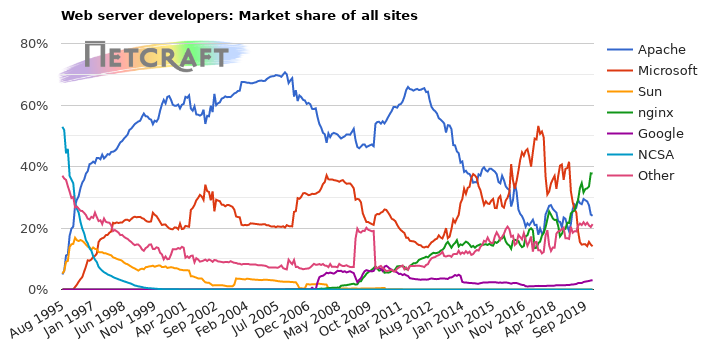 | Developer | December 2019 | Percent | January 2020 | Percent | Change |
| --- | --- | --- | --- | --- | --- |
| nginx | 479,072,656 | 37.77% | 488,628,547 | 37.70% | -0.07 |
| Apache | 308,978,570 | 24.36% | 310,833,084 | 23.98% | -0.38 |
| Microsoft | 185,084,122 | 14.59% | 181,873,181 | 14.03% | -0.56 |
| Google | 37,290,465 | 2.94% | 39,081,956 | 3.02% | 0.08 |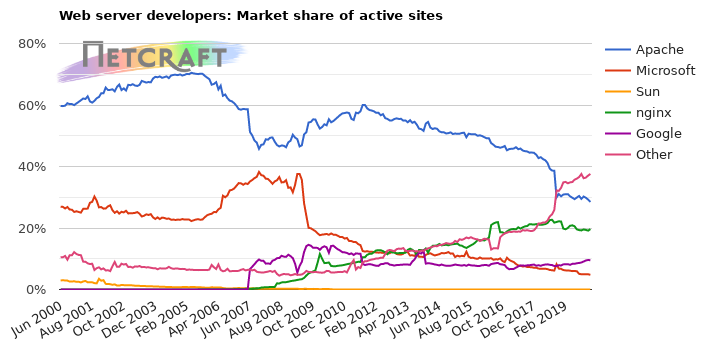 | Developer | December 2019 | Percent | January 2020 | Percent | Change |
| --- | --- | --- | --- | --- | --- |
| Apache | 53,592,708 | 29.25% | 53,753,582 | 28.48% | -0.77 |
| nginx | 35,074,907 | 19.14% | 37,063,610 | 19.64% | 0.49 |
| Google | 17,576,920 | 9.59% | 17,964,728 | 9.52% | -0.08 |
| Microsoft | 9,088,537 | 4.96% | 9,016,312 | 4.78% | -0.18 |
For more information see Active Sites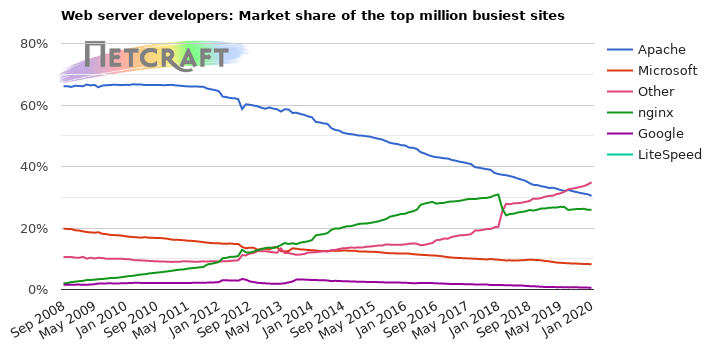 | Developer | December 2019 | Percent | January 2020 | Percent | Change |
| --- | --- | --- | --- | --- | --- |
| Apache | 304,174 | 30.42% | 298,759 | 29.88% | -0.54 |
| nginx | 254,554 | 25.46% | 254,351 | 25.44% | -0.02 |
| Microsoft | 81,726 | 8.17% | 80,308 | 8.03% | -0.14 |
| LiteSpeed | 18,184 | 1.82% | 18,555 | 1.86% | 0.04 |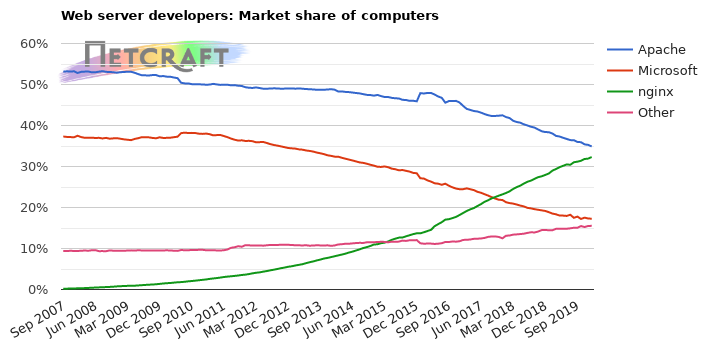 | Developer | December 2019 | Percent | January 2020 | Percent | Change |
| --- | --- | --- | --- | --- | --- |
| Apache | 3,326,508 | 35.27% | 3,341,420 | 34.89% | -0.38 |
| nginx | 3,010,730 | 31.92% | 3,094,469 | 32.31% | 0.39 |
| Microsoft | 1,633,117 | 17.32% | 1,653,265 | 17.26% | -0.05 |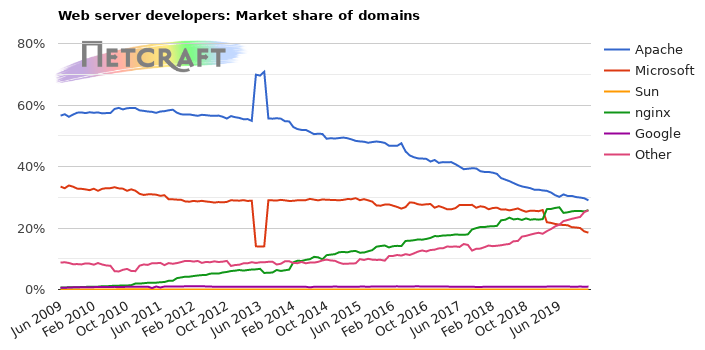 | Developer | December 2019 | Percent | January 2020 | Percent | Change |
| --- | --- | --- | --- | --- | --- |
| Apache | 72,324,357 | 29.67% | 72,405,302 | 29.01% | -0.66 |
| nginx | 61,858,384 | 25.38% | 64,391,621 | 25.80% | 0.42 |
| Microsoft | 46,066,151 | 18.90% | 46,132,463 | 18.48% | -0.42 |
| Google | 2,181,134 | 0.89% | 2,349,679 | 0.94% | 0.05 |