In the July 2017 survey we received responses from 1,767,964,429 sites and 6,593,508 web-facing computers. This represents a small gain of 1.0 million sites (+0.06%) and 71,000 computers (+1.1%).
nginx growth unfaltering
A further 52,000 (+3.84%) web-facing computers were found running nginx this month, which has brought its market share up to 21.4%. It is currently the third-largest server vendor in terms of web-facing computers, but it is now only 122,000 computers away from Microsoft. With no reason to suspect that its consistently strong growth could falter soon, it is likely to take second place from Microsoft later this year.
nginx's market share growth was also assisted by Microsoft's loss of 6,400 computers, while Apache's gain of 7,500 computers was not enough to stop its own share falling by 0.35 percentage points. Apache is still far in the lead, though – more than 2.8 million web-facing computers currently run various versions and derivatives of the Apache httpd, giving it a 42.8% share of all web-facing computers.
Microsoft now serves more than half of all sites
In terms of hostnames, Microsoft gained 78 million sites, while Apache lost 56 million. This large shift has given Microsoft more than half of the market for the first time ever – 53.2% of all hostnames – with nearly three times as many sites as Apache has.
This marks a complete role reversal from four years ago, when Apache held 52% of the market while Microsoft had just 19.7%. That was the last time more than half of the world's websites used Apache. However, the hostnames metric is volatile, being susceptible to large swathes of automatically generated sites served from relatively few computers. These types of site are not counted in Netcraft's active sites survey, which paints a very different picture: Apache has more than six times as many active sites as Microsoft, and more than twice as many as nginx.
Notably, Apache has always held the largest share of the active sites market ever since the metric was included in our surveys in 2000. While Microsoft came within 10 percentage points of Apache's share on a few occasions last decade, it is now a long way off with only a 7.48% share, compared with Apache's share of 45.2%.
Apache 2.2 reaches end of life
Apache 2.4.27 was released on 11 July, along with Apache 2.2.34, which will be the final release in the 2.2.x legacy branch. Security patches for Apache 2.2.34 may be made available until December 2017, but no further maintenance patches or releases are anticipated.
To remain secure, sites still using Apache 2.2 will need to migrate to Apache 2.4 fairly swiftly. While it is difficult to tell exactly how many sites are running soon-to-be unsupported versions of Apache 2.2, at least 72 million sites claim to be using Apache 2.2 in their Server headers. The majority of these sites are hosted in the United States.
On the same day as the Apache releases, nginx 1.12.1 stable and nginx 1.13.3 mainline were released, with both including a simple fix for an integer overflow vulnerability in nginx's range filter module.
Not to be outdone, version 2.0.0 of Microsoft's IIS Administration API was also released in July, little more than two months after 1.1.0 hit general availability. The API is intended to make it easier to manage Microsoft IIS web servers, and the new version includes a range of "under the hood" improvements that make it easier to install and configure. The Microsoft IIS team also released a new version of URL Rewrite and made several improvements to its browser-based management portal at manage.iis.net during June.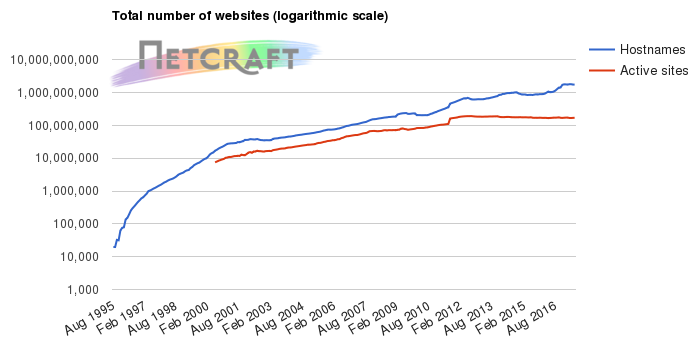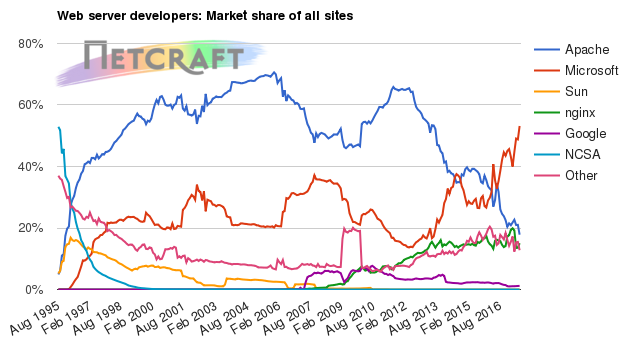 | Developer | June 2017 | Percent | July 2017 | Percent | Change |
| --- | --- | --- | --- | --- | --- |
| Microsoft | 862,255,584 | 48.80% | 940,029,828 | 53.17% | 4.37 |
| Apache | 371,461,399 | 21.02% | 315,188,480 | 17.83% | -3.20 |
| nginx | 239,666,345 | 13.56% | 266,041,296 | 15.05% | 1.48 |
| Google | 20,136,304 | 1.14% | 20,855,424 | 1.18% | 0.04 |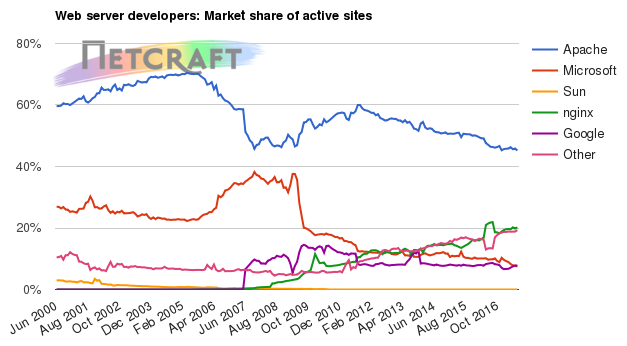 | Developer | June 2017 | Percent | July 2017 | Percent | Change |
| --- | --- | --- | --- | --- | --- |
| Apache | 78,279,585 | 45.85% | 77,652,681 | 45.19% | -0.67 |
| nginx | 33,812,636 | 19.81% | 34,707,011 | 20.20% | 0.39 |
| Google | 13,337,275 | 7.81% | 13,425,136 | 7.81% | -0.00 |
| Microsoft | 13,158,895 | 7.71% | 12,852,413 | 7.48% | -0.23 |
For more information see Active Sites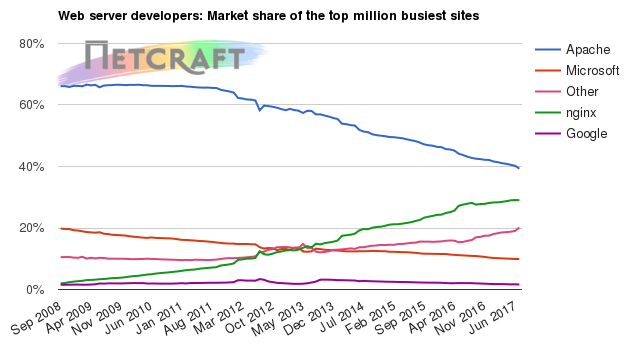 | Developer | June 2017 | Percent | July 2017 | Percent | Change |
| --- | --- | --- | --- | --- | --- |
| Apache | 402,473 | 40.25% | 392,974 | 39.30% | -0.95 |
| nginx | 290,977 | 29.10% | 290,348 | 29.03% | -0.06 |
| Microsoft | 99,255 | 9.93% | 98,980 | 9.90% | -0.03 |
| Google | 17,008 | 1.70% | 15,993 | 1.60% | -0.10 |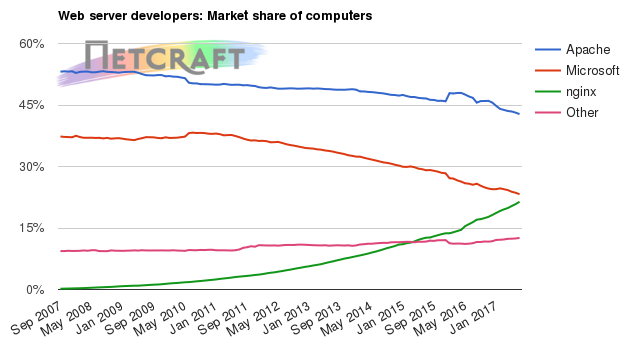 | Developer | June 2017 | Percent | July 2017 | Percent | Change |
| --- | --- | --- | --- | --- | --- |
| Apache | 2,813,543 | 43.13% | 2,821,008 | 42.78% | -0.35 |
| Microsoft | 1,538,763 | 23.59% | 1,532,351 | 23.24% | -0.35 |
| nginx | 1,358,510 | 20.83% | 1,410,658 | 21.39% | 0.57 |