In the July 2021 survey we received responses from 1,216,435,462 sites across 262,098,666 unique domains and 11,260,130 web-facing computers. This reflects a gain of 3.16 million sites, 1.99 million domains, and 161,000 computers.
nginx gained the largest number of sites, computers and domains this month – and continues to lead in each of these metrics – but it lost the most active sites, and its presence amongst the top million sites also fell by the largest amount. The largest active sites gain was made by Google (+1.02 million), while Cloudflare was the only major vendor to increase its share amongst the top million sites (+1,732).
Despite strong growth by Google and Cloudflare, Apache still has the largest number of active sites and greatest presence within the top million sites, while nginx is second in both of these metrics.
nginx's gain of 7.99 million sites was followed by an additional 1.36 million sites powered by OpenResty, which is a web server based on nginx. More than 12 million of the 75.4 million sites that use OpenResty are Tumblr microblogging websites under the tumblr.com domain.
OpenResty was originally sponsored by Yahoo! China and Taobao prior to 2011, but Taobao now maintains its own Tengine web server, which is also based on nginx. This is currently used by 11.3 million websites, including 3.13 million C2C ecommerce sites that use the taobao.com domain and 265,000 sites like disney.tmall.com that use the Tmall.com B2C platform.
The number of websites powered by Microsoft IIS (Internet Information Services) fell by 1.92 million to 51.6 million this month. These sites are spread across 13.5 million unique domains and use several different versions of IIS.
The widespread use of several different versions of IIS is likely to continue as Microsoft announced Extended Security Updates for Windows Server 2012 and 2012 R2 on 14 July. Customers who migrate their workloads to Microsoft Azure will get free extended security updates for three more years, while those who choose to run Windows Server on-premises will have the option to purchase the updates. These versions of Windows Server provide the IIS 8.0 and IIS 8.5 web server software, which is still used by 21.4 million websites in this month's survey.
One year of extended security updates are also available for Windows Server 2008 and 2008 R2 on Azure only. These older versions of Windows Server use IIS 7.0 and IIS 7.5, which are still used by 15.7 million websites.
The latest version of Microsoft's web server software, IIS 10.0, is currently used by 12.1 million websites. This version can be found on Windows Server 2016, Windows Server 2019, and can also run on the preview version of Windows Server 2022.
Other vendor and hosting news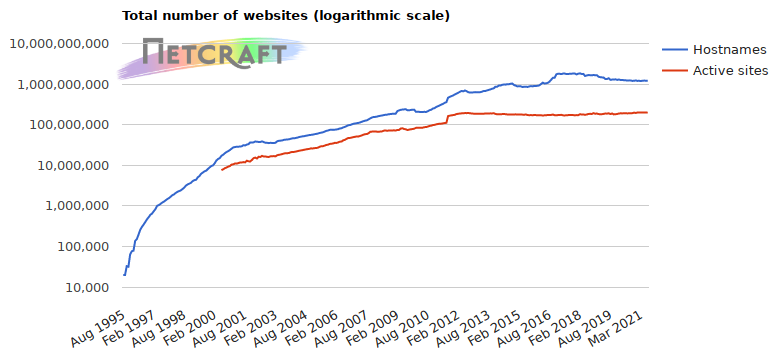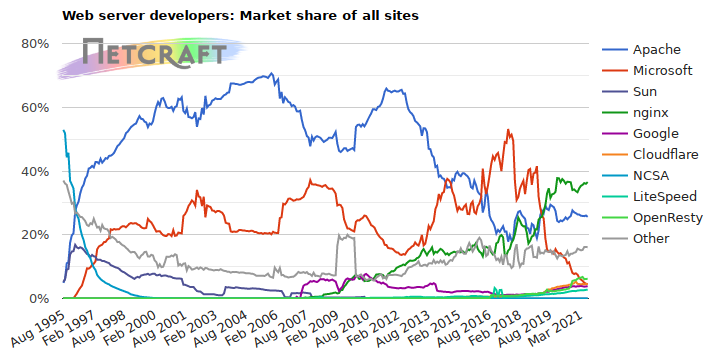 | Developer | June 2021 | Percent | July 2021 | Percent | Change |
| --- | --- | --- | --- | --- | --- |
| nginx | 436,536,643 | 35.98% | 444,524,631 | 36.54% | 0.56 |
| Apache | 316,035,390 | 26.05% | 311,567,368 | 25.61% | -0.43 |
| OpenResty | 74,108,751 | 6.11% | 75,464,874 | 6.20% | 0.10 |
| Cloudflare | 55,028,905 | 4.54% | 54,611,856 | 4.49% | -0.05 |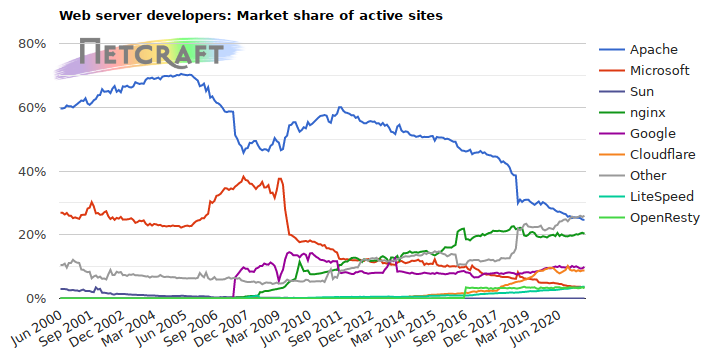 | Developer | June 2021 | Percent | July 2021 | Percent | Change |
| --- | --- | --- | --- | --- | --- |
| Apache | 49,398,224 | 24.76% | 49,484,303 | 24.64% | -0.12 |
| nginx | 41,146,394 | 20.63% | 40,782,096 | 20.31% | -0.32 |
| Google | 18,892,387 | 9.47% | 19,907,822 | 9.91% | 0.44 |
| Cloudflare | 17,499,692 | 8.77% | 17,611,398 | 8.77% | -0.00 |
For more information see Active Sites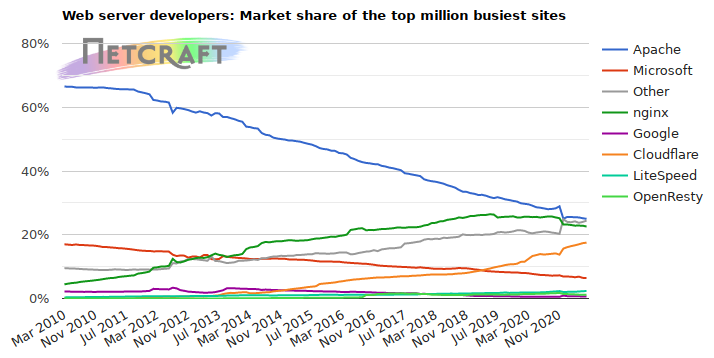 | Developer | June 2021 | Percent | July 2021 | Percent | Change |
| --- | --- | --- | --- | --- | --- |
| Apache | 251,808 | 25.18% | 249,870 | 24.99% | -0.19 |
| nginx | 228,432 | 22.84% | 225,729 | 22.57% | -0.27 |
| Cloudflare | 173,572 | 17.36% | 175,304 | 17.53% | 0.17 |
| Microsoft | 64,781 | 6.48% | 64,023 | 6.40% | -0.08 |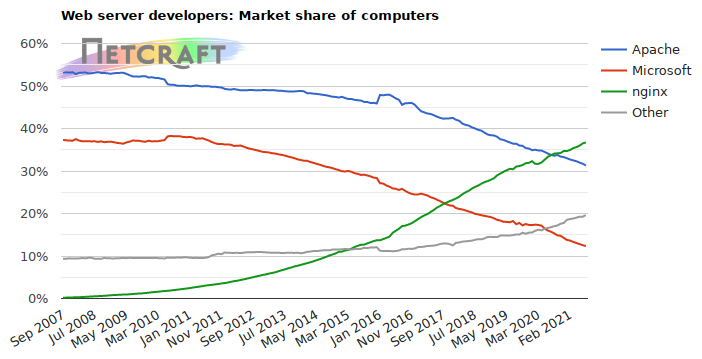 | Developer | June 2021 | Percent | July 2021 | Percent | Change |
| --- | --- | --- | --- | --- | --- |
| nginx | 4,050,181 | 36.49% | 4,137,508 | 36.74% | 0.25 |
| Apache | 3,519,176 | 31.71% | 3,522,835 | 31.29% | -0.42 |
| Microsoft | 1,392,573 | 12.55% | 1,390,437 | 12.35% | -0.20 |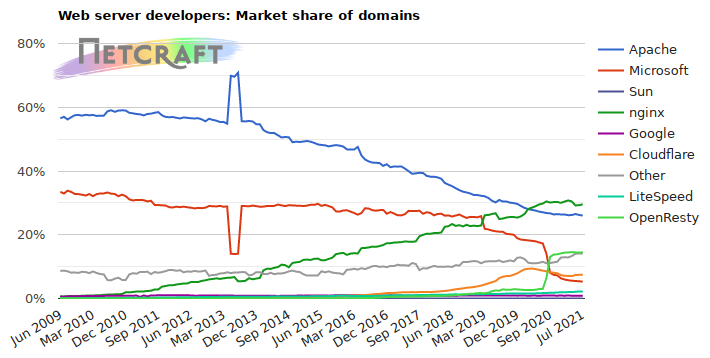 | Developer | June 2021 | Percent | July 2021 | Percent | Change |
| --- | --- | --- | --- | --- | --- |
| nginx | 76,168,544 | 29.28% | 77,445,461 | 29.55% | 0.26 |
| Apache | 68,192,066 | 26.22% | 68,182,494 | 26.01% | -0.20 |
| OpenResty | 37,614,546 | 14.46% | 37,945,007 | 14.48% | 0.02 |
| Cloudflare | 19,320,282 | 7.43% | 19,629,981 | 7.49% | 0.06 |