In the July 2022 survey we received responses from 1,139,467,659 sites across 271,728,559 unique domains and 12,341,172 web-facing computers. This reflects a loss of 7.5 million sites and 1.3 million domains, but a gain of 116,386 computers.
Cloudflare continues its trend of strong growth across the sites and domains metrics this month, increasing by 5.8 million (8.6%) and 259,000 (1.24%), around double that of last month. This gives Cloudflare a total market share of 6.4% share of sites and 8.6% domains, increases of 0.5pp and 0.1pp compared to June.
Whilst still being the most popular vendor across the sites, domains and web-facing computers metric, nginx takes a loss of 4.99 million sites (1.43%), 775,000 domains (1.02%) and 3,400 computers (0.1%) this month. Apache also saw losses, dropping by 1.28 million sites (0.49%) and 379,000 domains (0.61%), however experienced the largest gain in web-facing computers of almost 22,000 (0.6%).
Apache continues to hold on to the top spot in the market share of the top million busiest sites with 22.33%, with nginx in close second at 21.55%. Both however have seen decreases in market share of 0.22pp and 0.1pp respectively, with Cloudflare increasing by 0.08pp to 20.26%. If this trend continues, we should expect to see Cloudflare overtake its rivals within the next year.
OpenResty saw its most significant change over the last 4 months with a decrease of 2.9 million sites (3.21%) and 354,000 domains (0.87%). Conversely, it experienced a significant gain of 17,700 web-facing computers (12.0%).
Lightspeed saw strong growth this month with an increase of 745,000 sites (1.4%), 88,000 domains (1.1%) and 4,500 computers (3.3%).
Vendor News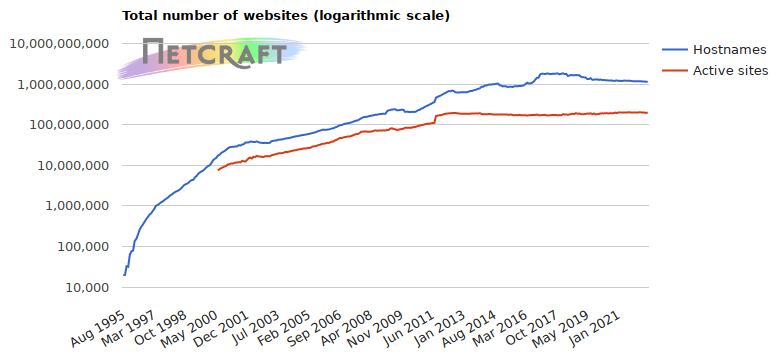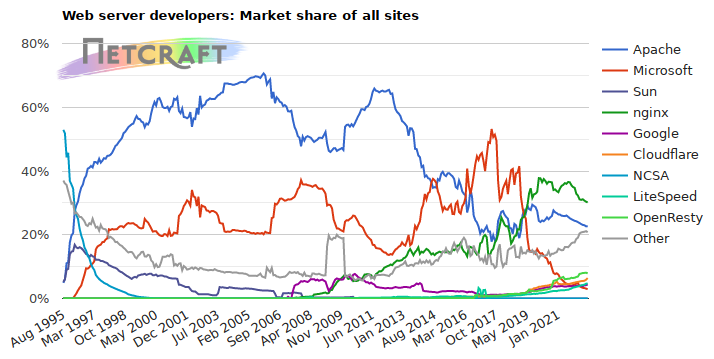 | Developer | June 2022 | Percent | July 2022 | Percent | Change |
| --- | --- | --- | --- | --- | --- |
| nginx | 348,349,326 | 30.37% | 343,354,785 | 30.13% | -0.24 |
| Apache | 259,509,062 | 22.63% | 258,219,193 | 22.66% | 0.04 |
| OpenResty | 92,789,967 | 8.09% | 89,805,020 | 7.88% | -0.21 |
| Cloudflare | 67,355,920 | 5.87% | 73,162,681 | 6.42% | 0.55 |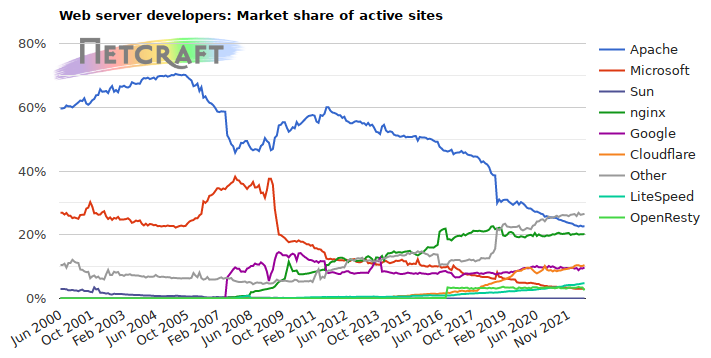 | Developer | June 2022 | Percent | July 2022 | Percent | Change |
| --- | --- | --- | --- | --- | --- |
| Apache | 44,739,969 | 22.60% | 44,643,002 | 22.66% | 0.05 |
| nginx | 39,866,165 | 20.14% | 39,859,338 | 20.23% | 0.09 |
| Cloudflare | 20,245,608 | 10.23% | 20,587,122 | 10.45% | 0.22 |
| Google | 18,635,484 | 9.42% | 19,193,202 | 9.74% | 0.33 |
For more information see Active Sites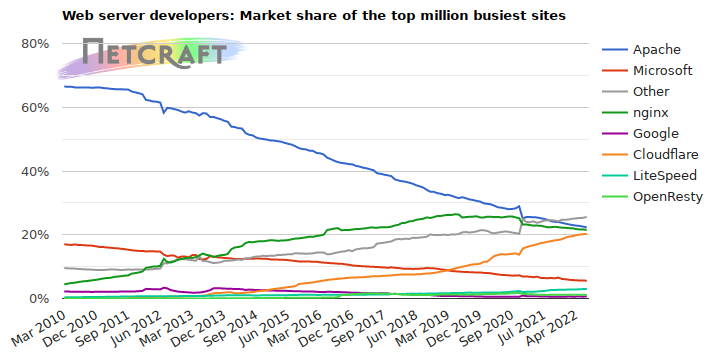 | Developer | June 2022 | Percent | July 2022 | Percent | Change |
| --- | --- | --- | --- | --- | --- |
| Apache | 225,454 | 22.55% | 223,267 | 22.33% | -0.22 |
| nginx | 216,414 | 21.64% | 215,458 | 21.55% | -0.10 |
| Cloudflare | 201,843 | 20.18% | 202,621 | 20.26% | 0.08 |
| Microsoft | 56,260 | 5.63% | 55,890 | 5.59% | -0.04 |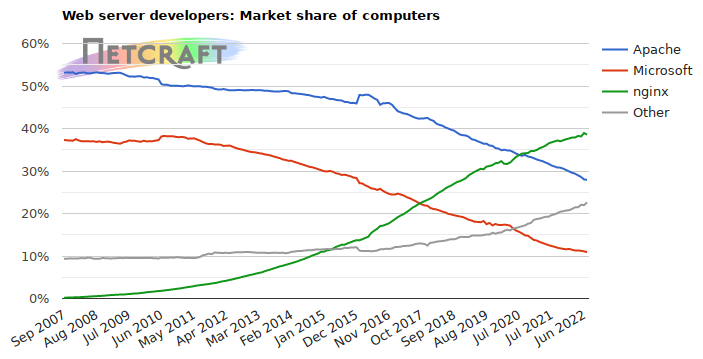 | Developer | June 2022 | Percent | July 2022 | Percent | Change |
| --- | --- | --- | --- | --- | --- |
| nginx | 4,759,970 | 38.94% | 4,756,607 | 38.54% | -0.39 |
| Apache | 3,424,934 | 28.02% | 3,446,872 | 27.93% | -0.09 |
| Microsoft | 1,356,007 | 11.09% | 1,345,837 | 10.91% | -0.19 |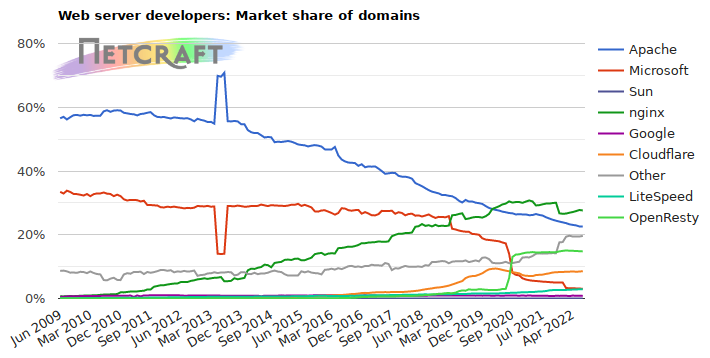 | Developer | June 2022 | Percent | July 2022 | Percent | Change |
| --- | --- | --- | --- | --- | --- |
| nginx | 75,813,955 | 27.77% | 75,038,110 | 27.62% | -0.15 |
| Apache | 61,669,651 | 22.59% | 61,290,015 | 22.56% | -0.03 |
| OpenResty | 40,508,732 | 14.84% | 40,153,804 | 14.78% | -0.06 |
| Cloudflare | 23,067,946 | 8.45% | 23,327,300 | 8.58% | 0.14 |