In the June 2021 survey we received responses from 1,213,277,377 sites across 260,108,646 unique domains and 11,098,973 web-facing computers. This reflects a loss of 5.15 million sites, but a gain of 513,000 domains and 47,100 web-facing computers.
nginx experienced the largest gains in web-facing computers and domains this month; despite a large loss of sites. In the web-facing computer metric nginx's gain of 74,100 (1.86%) was substantially the largest, and resulted in a market share increase of 0.5 percentage points to 36.5%. Its lead in this metric continues to steadily grow, with Apache's share in second place dropping to 31.7% — a gap of over half a million web-facing computers.
LiteSpeed saw the only other notable increase in web-facing computers, with an additional 10,400 (+17.6%) boosting its total to 69,500 web-facing computers. LiteSpeed also gained the 2nd largest number of domains this month, with an increase of 289,000, increasing its total to 5.75 million.
Apache suffered the largest loss in domains and active-sites this month, dropping by 597,000 and 886,000 respectively; and was followed by Microsoft with a loss of 203,000 domains and 115,000 active sites. Meanwhile in the web-facing computers and top million busiest sites metrics, Microsoft instead had the largest losses of 21,600 computers and 3,700 of the million busiest sites, followed by Apache with a loss of 15,400 computers and 2,500 of the million busiest sites. Despite its losses in these metrics, Apache continues to power the largest number of active sites with a share of 24.8%, and top-million sites with a share of 25.2%.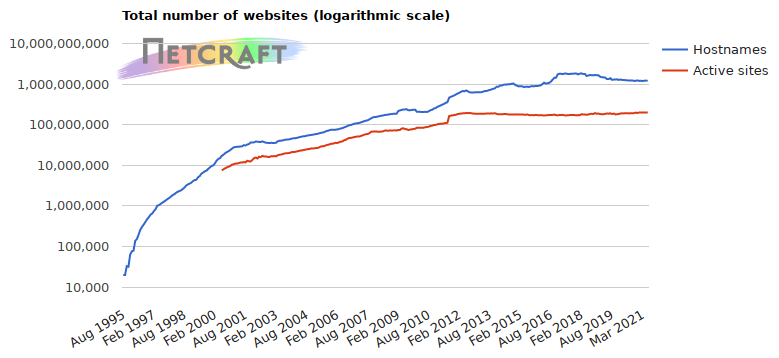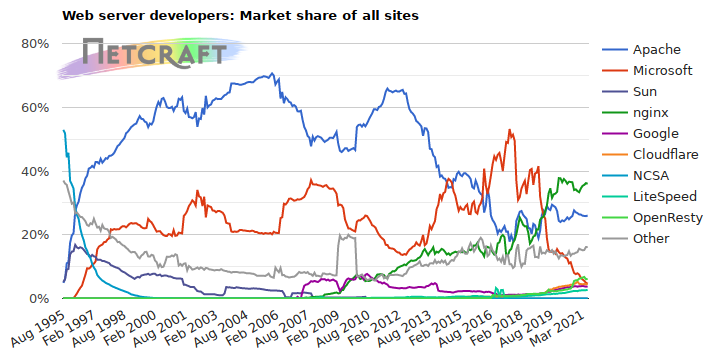 | Developer | May 2021 | Percent | June 2021 | Percent | Change |
| --- | --- | --- | --- | --- | --- |
| nginx | 440,997,336 | 36.19% | 436,536,643 | 35.98% | -0.21 |
| Apache | 314,774,492 | 25.83% | 316,035,390 | 26.05% | 0.21 |
| OpenResty | 73,839,970 | 6.06% | 74,108,751 | 6.11% | 0.05 |
| Microsoft | 60,265,118 | 4.95% | 56,294,457 | 4.64% | -0.31 |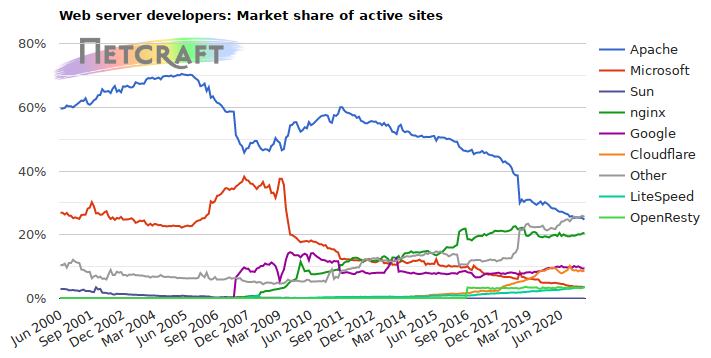 | Developer | May 2021 | Percent | June 2021 | Percent | Change |
| --- | --- | --- | --- | --- | --- |
| Apache | 50,284,331 | 25.20% | 49,398,224 | 24.76% | -0.44 |
| nginx | 40,735,597 | 20.41% | 41,146,394 | 20.63% | 0.21 |
| Google | 18,772,626 | 9.41% | 18,892,387 | 9.47% | 0.06 |
| Cloudflare | 17,045,450 | 8.54% | 17,499,692 | 8.77% | 0.23 |
For more information see Active Sites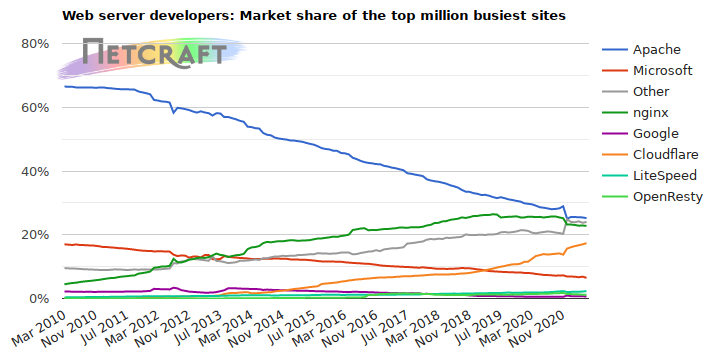 | Developer | May 2021 | Percent | June 2021 | Percent | Change |
| --- | --- | --- | --- | --- | --- |
| Apache | 254,358 | 25.44% | 251,808 | 25.18% | -0.25 |
| nginx | 228,709 | 22.87% | 228,432 | 22.84% | -0.03 |
| Cloudflare | 170,042 | 17.00% | 173,572 | 17.36% | 0.35 |
| Microsoft | 68,524 | 6.85% | 64,781 | 6.48% | -0.37 |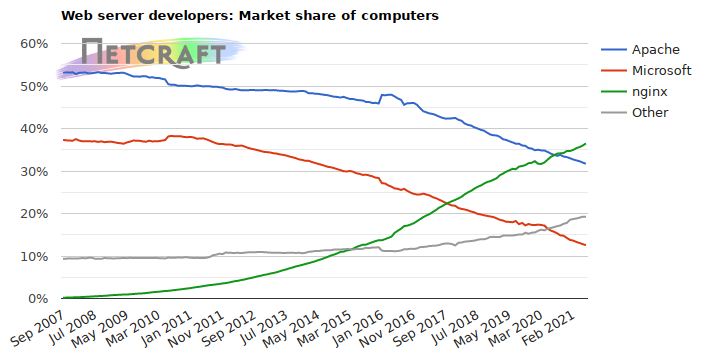 | Developer | May 2021 | Percent | June 2021 | Percent | Change |
| --- | --- | --- | --- | --- | --- |
| nginx | 3,976,094 | 35.98% | 4,050,181 | 36.49% | 0.51 |
| Apache | 3,534,563 | 31.98% | 3,519,176 | 31.71% | -0.27 |
| Microsoft | 1,414,160 | 12.80% | 1,392,573 | 12.55% | -0.25 |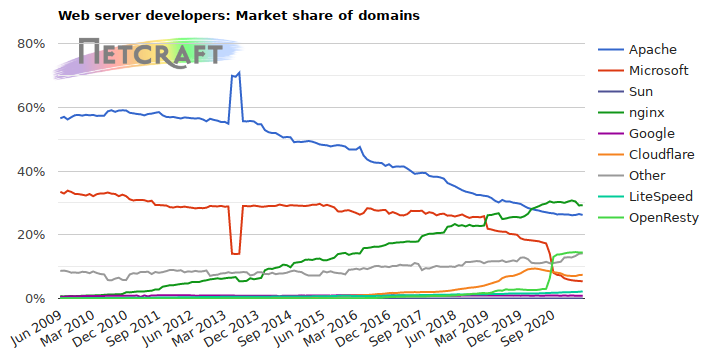 | Developer | May 2021 | Percent | June 2021 | Percent | Change |
| --- | --- | --- | --- | --- | --- |
| nginx | 75,782,888 | 29.19% | 76,168,544 | 29.28% | 0.09 |
| Apache | 68,788,737 | 26.50% | 68,192,066 | 26.22% | -0.28 |
| OpenResty | 37,501,804 | 14.45% | 37,614,546 | 14.46% | 0.01 |
| Cloudflare | 19,083,700 | 7.35% | 19,320,282 | 7.43% | 0.08 |