In the March 2020 survey we received responses from 1,263,025,546 sites across 257,194,796 unique domains and 9,659,223 web-facing computers. This reflects a gain of 94,300 computers, 2.12 million sites and 3.00 million domains.
Microsoft and nginx both saw increases in the total number of domains in March 2020, with nginx gaining 4.84 million domains (+7.2%) and increasing its market share by 1.6 percentage points to 28.1%. Microsoft gained 215,000 domains, though this was not substantial enough to avoid losing market share to nginx.
nginx's sharp increase saw it overtake Apache in terms of domain market share for the first time, with a marginal lead of 136,000 domains. However Apache continues to lead nginx by a considerable amount in terms of active sites—despite losing 225,000 active sites this month, Apache maintains an 8.21 percentage point lead in market share over nginx. Apache also leads in terms of web-facing computers, though with only 3.17 percentage points separating them from nginx.
Several server vendors which hold a lower market share saw mixed results this month. Google lost 115,000 domains but gained 510,000 active sites, while Oracle lost 27,800 domains and 22,200 active sites. Both hold less than one percent of domain market share, with Google claiming 0.87% (-0.06 percentage points), and Oracle holding 0.22% (-0.01 percentage points).
After having gained almost 2 million domains every month since December, Cloudflare's rapid growth slowed this month with a gain of only 714,929 domains. Cloudflare power their content delivery network with their own server software, originally based on nginx, which accounted for 9.31% of observed domains.
Vendor News
NGINX released several new versions of its products this month. The nginx web server was updated to 1.17.9 with several small changes and bug fixes, one of which is related to HTTP/2 support. The company's dynamic application server NGINX Unit was updated to 1.16.0, adding functionality which allows more configurable round-robin load balancing.
LiteSpeed Technologies released version 5.4.6 of their LiteSpeed Web Server. This release adds support for the latest draft specification of HTTP/3, which itself was published in mid-February. The release also hardens the server's default TLS configuration by disabling support for TLS 1.1 unless enabled by the user.
Apache also released versions 8.5.53, 9.0.33, and 10.0.0-M3 of Apache Tomcat, which include several small feature updates and bug fixes.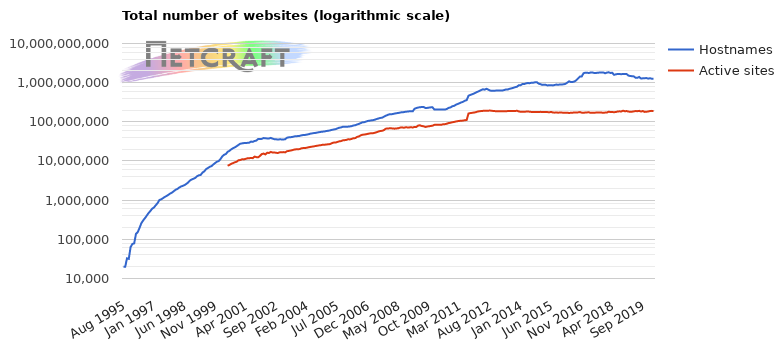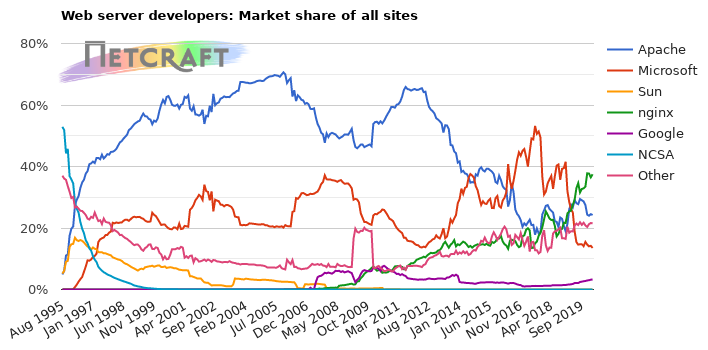 | Developer | February 2020 | Percent | March 2020 | Percent | Change |
| --- | --- | --- | --- | --- | --- |
| nginx | 459,966,569 | 36.48% | 473,308,955 | 37.47% | 1.00 |
| Apache | 309,061,300 | 24.51% | 306,114,673 | 24.24% | -0.27 |
| Microsoft | 179,225,073 | 14.21% | 170,567,386 | 13.50% | -0.71 |
| Google | 40,120,733 | 3.18% | 41,227,959 | 3.26% | 0.08 |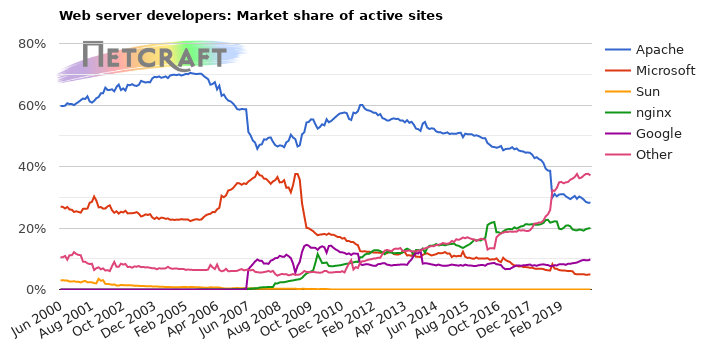 | Developer | February 2020 | Percent | March 2020 | Percent | Change |
| --- | --- | --- | --- | --- | --- |
| Apache | 53,656,055 | 28.22% | 53,431,366 | 28.20% | -0.02 |
| nginx | 37,738,509 | 19.85% | 37,868,433 | 19.98% | 0.14 |
| Google | 18,045,633 | 9.49% | 18,556,132 | 9.79% | 0.30 |
| Microsoft | 9,209,748 | 4.84% | 9,346,422 | 4.93% | 0.09 |
For more information see Active Sites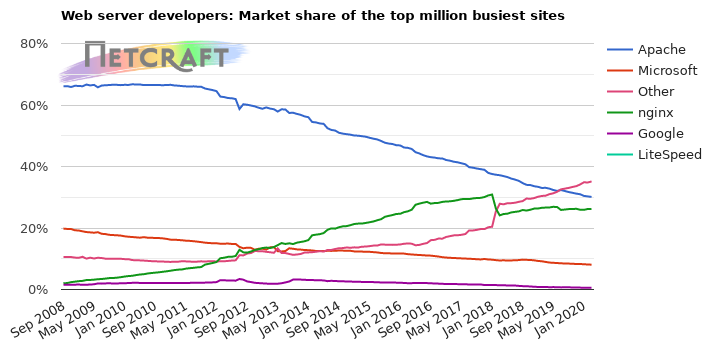 | Developer | February 2020 | Percent | March 2020 | Percent | Change |
| --- | --- | --- | --- | --- | --- |
| Apache | 297,034 | 29.70% | 295,454 | 29.55% | -0.16 |
| nginx | 256,816 | 25.68% | 256,501 | 25.65% | -0.03 |
| Microsoft | 80,071 | 8.01% | 79,064 | 7.91% | -0.10 |
| LiteSpeed | 18,771 | 1.88% | 18,584 | 1.86% | -0.02 |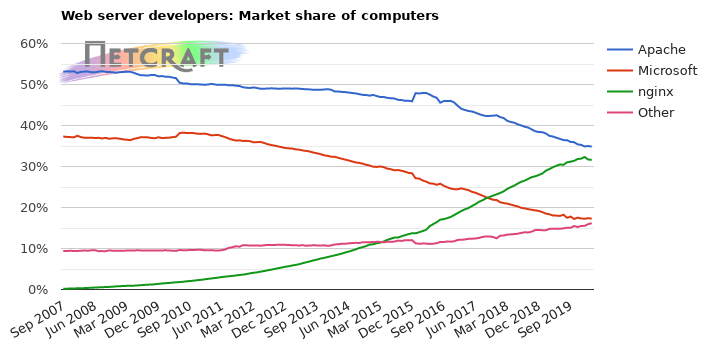 | Developer | February 2020 | Percent | March 2020 | Percent | Change |
| --- | --- | --- | --- | --- | --- |
| Apache | 3,347,812 | 35.00% | 3,365,305 | 34.84% | -0.16 |
| nginx | 3,029,931 | 31.68% | 3,059,483 | 31.67% | -0.00 |
| Microsoft | 1,663,155 | 17.39% | 1,670,835 | 17.30% | -0.09 |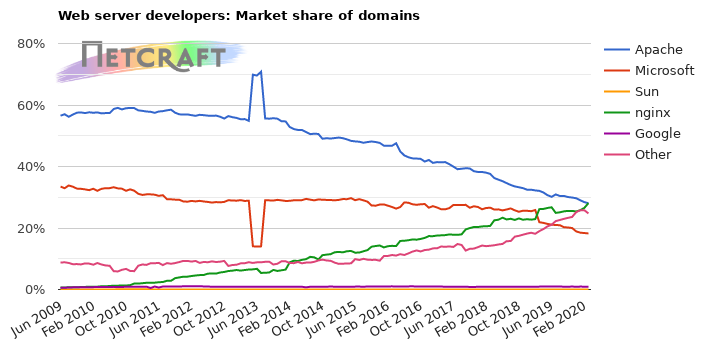 | Developer | February 2020 | Percent | March 2020 | Percent | Change |
| --- | --- | --- | --- | --- | --- |
| nginx | 67,454,081 | 26.54% | 72,289,580 | 28.11% | 1.57 |
| Apache | 72,218,665 | 28.41% | 72,153,645 | 28.05% | -0.36 |
| Microsoft | 46,668,662 | 18.36% | 46,884,134 | 18.23% | -0.13 |
| Google | 2,349,555 | 0.92% | 2,234,601 | 0.87% | -0.06 |