In the May 2023 survey we received responses from 1,109,384,426 sites across 271,534,718 domains and 12,037,194 web-facing computers. This reflects a loss of 6.0 million sites, 976,941 domains, and 52,213 web-facing computers.
Microsoft saw the most significant change across all three metrics; it lost 495,099 (-1.88%) sites, 210,670 domains (-2.93%) and 12,303 computers (-1.02%). Microsoft now accounts for 2.33% of sites and 2.57% of domains seen by Netcraft, down by 0.03pp and 0.07pp respectively.
LiteSpeed gained 202,283 domains (+2.16%) this month, which coincided with an increase in its total number of websites, up by 388,293 (+0.69%). Meanwhile, OpenResty also grew by 325,880 (+0.38%) sites, but lost 349,276 domains (-0.91%).
nginx saw a large loss of 5.7 million sites (-1.94%), 1.0 million domains (-1.36%) and 33,970 computers (-0.72%). Conversely, Cloudflare gained 1.1 million sites (+1.03%) and 203,491 domains (+0.79%). Despite this, nginx has a larger share (25.86% of sites compared to Cloudflare's 9.51%); however, Cloudflare still has the upper hand within the top million sites.
In the top million sites, Cloudflare retained its first place position, gaining 0.38pp on its leading market share of 22.07%. Both nginx and Apache saw losses, with their market shares decreasing by 0.12pp to 21.18% and 0.04pp to 21.16% respectively, along with OpenResty's loss of 0.02pp down to 1.00%. Meanwhile, LiteSpeed, Google and Microsoft all saw small increases in their respective market shares, with Microsoft gaining 0.06pp, LiteSpeed gaining 0.05pp, and Google gaining just 0.003pp.
With respect to the number of web-facing computers, nginx, Apache and Microsoft all saw decreases of 0.11pp, 0.22pp and 0.06pp of their respective market shares. nginx still holds the largest market share of 38.77% (4.6 million), with Apache in second place with a 26.80% share (3.2 million computers), and Microsoft in third place with a 9.99% share (1.2 million computers).
Vendor news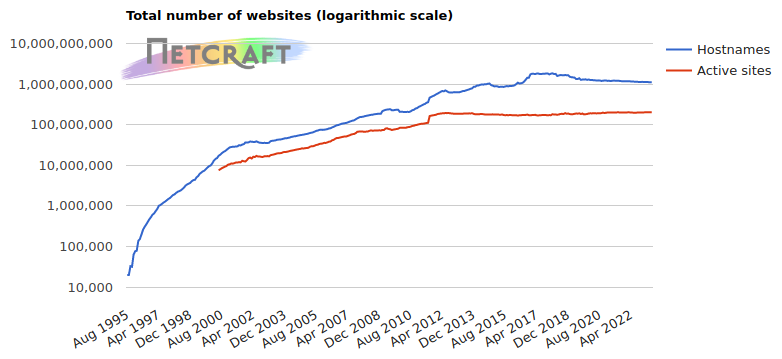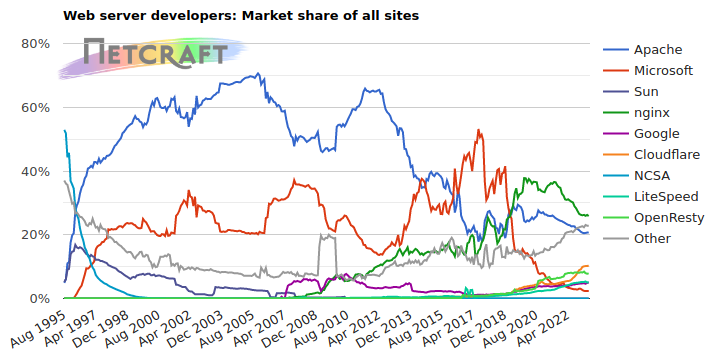 | Developer | April 2023 | Percent | May 2023 | Percent | Change |
| --- | --- | --- | --- | --- | --- |
| nginx | 292,527,297 | 26.23% | 286,842,351 | 25.86% | -0.37 |
| Apache | 230,706,481 | 20.68% | 230,153,373 | 20.75% | 0.06 |
| Cloudflare | 113,441,471 | 10.17% | 114,615,294 | 10.33% | 0.16 |
| OpenResty | 86,755,371 | 7.78% | 87,081,251 | 7.85% | 0.07 |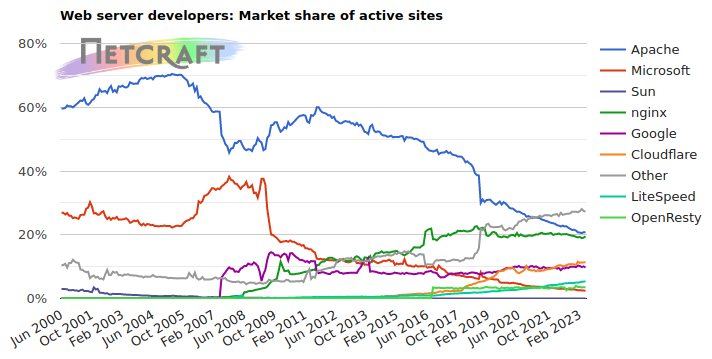 | Developer | April 2023 | Percent | May 2023 | Percent | Change |
| --- | --- | --- | --- | --- | --- |
| Apache | 41,803,177 | 20.79% | 41,721,325 | 20.74% | -0.05 |
| nginx | 38,330,465 | 19.07% | 39,239,562 | 19.51% | 0.44 |
| Cloudflare | 22,744,158 | 11.31% | 22,946,279 | 11.41% | 0.09 |
| Google | 20,281,694 | 10.09% | 19,496,037 | 9.69% | -0.40 |
For more information see Active Sites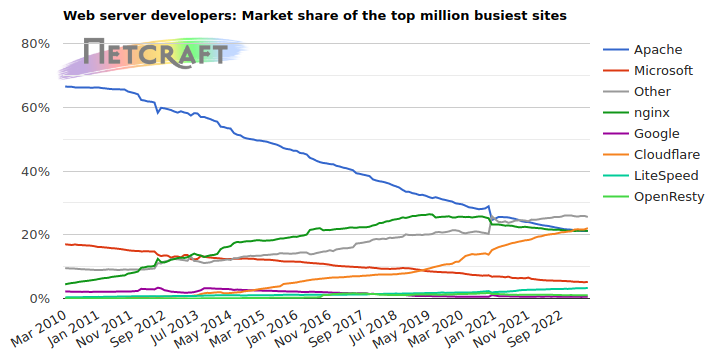 | Developer | April 2023 | Percent | May 2023 | Percent | Change |
| --- | --- | --- | --- | --- | --- |
| Cloudflare | 216,881 | 21.69% | 220,683 | 22.07% | 0.38 |
| nginx | 213,027 | 21.30% | 211,823 | 21.18% | -0.12 |
| Apache | 212,011 | 21.20% | 211,564 | 21.16% | -0.04 |
| Microsoft | 51,202 | 5.12% | 51,808 | 5.18% | 0.06 |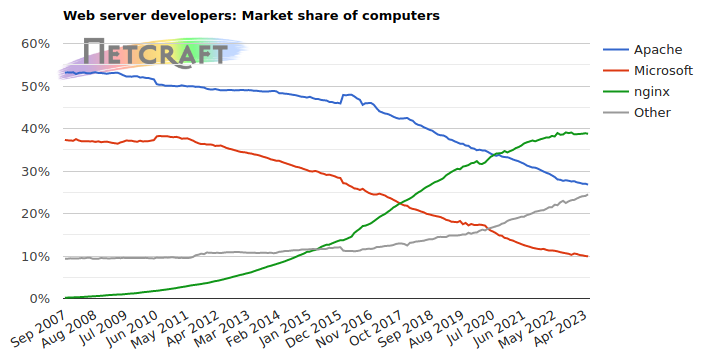 | Developer | April 2023 | Percent | May 2023 | Percent | Change |
| --- | --- | --- | --- | --- | --- |
| nginx | 4,700,189 | 38.88% | 4,666,219 | 38.77% | -0.11 |
| Apache | 3,266,881 | 27.02% | 3,225,842 | 26.80% | -0.22 |
| Microsoft | 1,207,872 | 9.99% | 1,195,569 | 9.93% | -0.06 |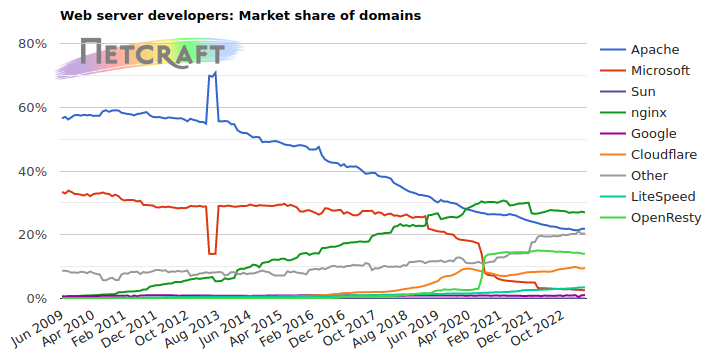 | Developer | April 2023 | Percent | May 2023 | Percent | Change |
| --- | --- | --- | --- | --- | --- |
| nginx | 74,249,254 | 27.25% | 73,241,823 | 26.97% | -0.27 |
| Apache | 59,541,413 | 21.85% | 59,327,929 | 21.85% | -0.00 |
| OpenResty | 38,442,134 | 14.11% | 38,092,858 | 14.03% | -0.08 |
| Cloudflare | 25,626,994 | 9.40% | 25,830,485 | 9.51% | 0.11 |