In the November 2019 survey we received responses from 1,308,343,327 sites across 243,734,379 unique domain names and 9,274,744 web-facing computers. This reflects a gain of 7.46 million sites, 2.18 million domains and 230,000 computers.
Amongst the largest web server vendors, Microsoft, nginx, and Google all gained sites this month, increasing by 19.41 million (+10.59%), 10.17 million (+2.38%), and 1.33 million (+3.83%) sites respectively, whilst Apache lost 13.56 million (-3.64%) sites.
While Microsoft gained substantially the most sites overall, this translated to a relatively small increase of domains (+13,000). As a result, it saw the largest loss of domain market share, dropping by 0.18pp. Apache similarly lost market share, with a drop of 0.16pp, despite a large increase in domains (+268,000).
nginx fared better, with an increase in domains (+522,000) almost double that of Apache's leaving its market share largely unchanged. nginx also saw large gains in web-facing computers (+113,000) and amongst the top million busiest sites (+1,000) giving it the largest market share increases in those metrics.
All of the largest web server vendors were however outpaced this month in domain gains by both Cloudflare and OpenResty, which increased by 1.06 million and 558,000 domains. While the survey tracks these products separately, OpenResty makes uses of the nginx core, integrating it with additional Lua-based modules, while Cloudflare's own server software was originally based on nginx. The survey now finds a total of 18.22 million domains for the Cloudflare web server software, and 7.10 million for OpenResty.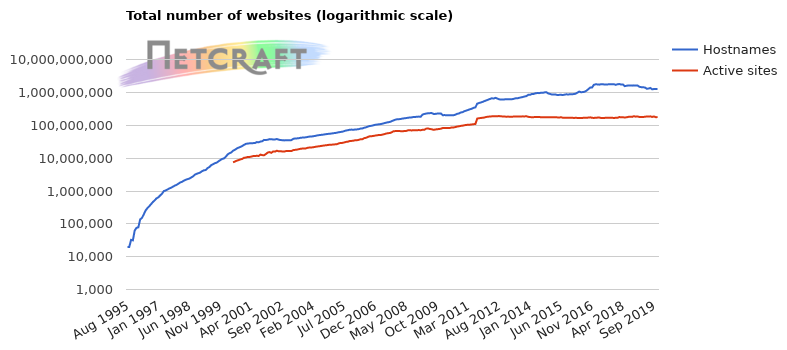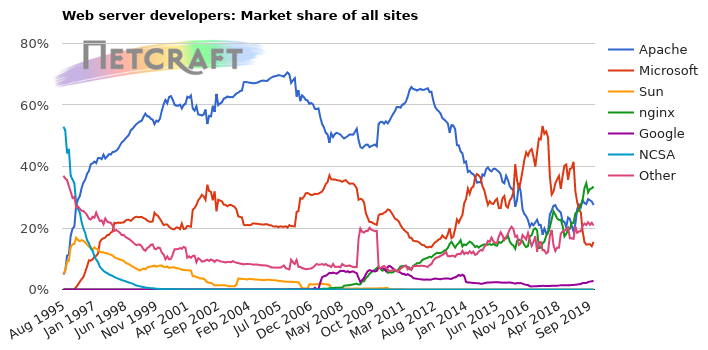 | Developer | October 2019 | Percent | November 2019 | Percent | Change |
| --- | --- | --- | --- | --- | --- |
| nginx | 427,719,289 | 32.88% | 437,886,327 | 33.47% | 0.59 |
| Apache | 372,604,250 | 28.64% | 359,048,240 | 27.44% | -1.20 |
| Microsoft | 183,224,187 | 14.08% | 202,633,184 | 15.49% | 1.40 |
| Google | 34,861,968 | 2.68% | 36,196,549 | 2.77% | 0.09 |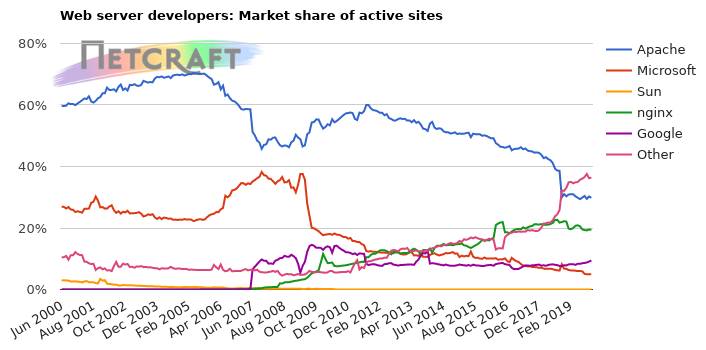 | Developer | October 2019 | Percent | November 2019 | Percent | Change |
| --- | --- | --- | --- | --- | --- |
| Apache | 54,121,818 | 30.23% | 53,951,988 | 29.84% | -0.39 |
| nginx | 34,944,638 | 19.52% | 35,040,645 | 19.38% | -0.14 |
| Google | 16,290,724 | 9.10% | 17,063,254 | 9.44% | 0.34 |
| Microsoft | 8,904,875 | 4.97% | 8,973,218 | 4.96% | -0.01 |
For more information see Active Sites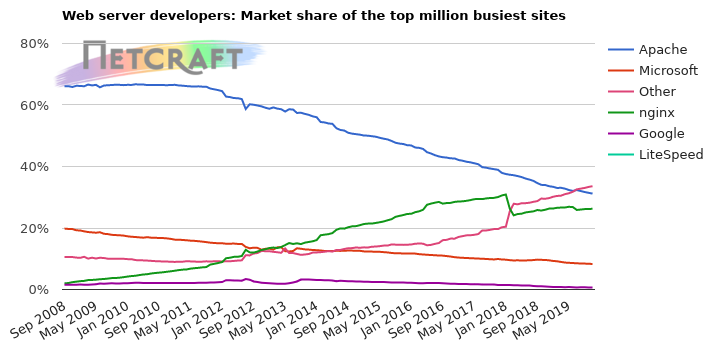 | Developer | October 2019 | Percent | November 2019 | Percent | Change |
| --- | --- | --- | --- | --- | --- |
| Apache | 308,936 | 30.89% | 306,237 | 30.62% | -0.27 |
| nginx | 256,892 | 25.69% | 257,908 | 25.79% | 0.10 |
| Microsoft | 82,208 | 8.22% | 81,502 | 8.15% | -0.07 |
| LiteSpeed | 17,591 | 1.76% | 17,859 | 1.79% | 0.03 |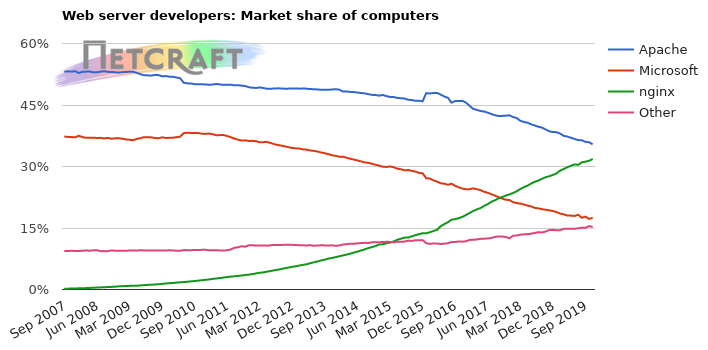 | Developer | October 2019 | Percent | November 2019 | Percent | Change |
| --- | --- | --- | --- | --- | --- |
| Apache | 3,249,401 | 35.92% | 3,283,599 | 35.40% | -0.52 |
| nginx | 2,839,512 | 31.39% | 2,952,194 | 31.83% | 0.44 |
| Microsoft | 1,556,561 | 17.21% | 1,625,360 | 17.52% | 0.32 |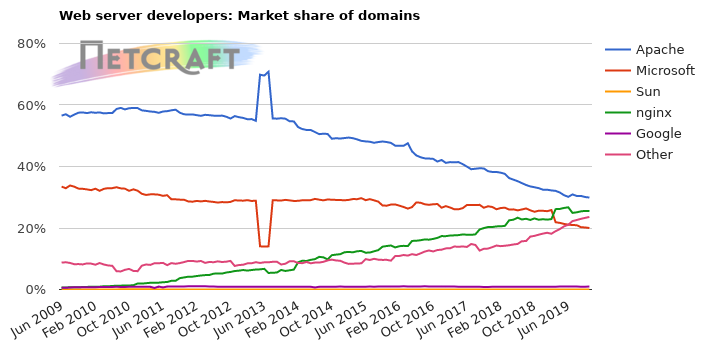 | Developer | October 2019 | Percent | November 2019 | Percent | Change |
| --- | --- | --- | --- | --- | --- |
| Apache | 72,628,613 | 30.07% | 72,896,226 | 29.91% | -0.16 |
| nginx | 61,758,374 | 25.57% | 62,280,666 | 25.55% | -0.01 |
| Microsoft | 48,723,464 | 20.17% | 48,736,409 | 20.00% | -0.18 |
| Google | 2,173,193 | 0.90% | 2,333,619 | 0.96% | 0.06 |