In the November 2020 survey we received responses from 1,229,948,224 sites across 263,787,870 unique domains and 10,564,577 web-facing computers. This reflects a gain of 24.2 million sites and 115,000 computers, but a loss of 310,000 domains.
Apache now powers 28.9% of the world's top million websites, where its presence has grown by 6,431 sites since last month. This has increased its lead over its closest competitor, nginx, which lost 2,563 sites from the top million and is now 3.72 percentage points behind Apache's leading share.
nginx continues to dominate in terms of web-facing computers, where its total rose by 88,700 to 3.67 million (+2.48%) computers and its share has grown by 0.47 percentage points to 34.7%. Although Apache gained 24,400 computers this month, its own share has now fallen to less than a third.
nginx also maintains its lead in two other metrics, with a total of 414 million sites (33.7% share) and 79.8 million domains (30.3%), while Apache still has the largest share of active sites (25.9%).
The number of domains powered by Microsoft web server suffered another noticeable fall this month, dropping by 473,000 to 19.1 million (-2.41%), reducing its share to 7.25%. Some of this decline is still being driven by GoDaddy's parked domains being moved to OpenResty web servers.
More than 36 million unique domains are served by OpenResty, making it the third most commonly used server by that metric, and putting it over 15 million domains ahead of Cloudflare. OpenResty is a scalable web platform based on NGINX and LuaJIT, which is a just-in-time compiler for the Lua language.
Some of the most commonly visited websites powered by OpenResty include Tumblr, Firefox Monitor, Basecamp and a few adult video sites. The 36.6 million domains powered by OpenResty are served from just 81,900 computers.
Other vendor and hosting news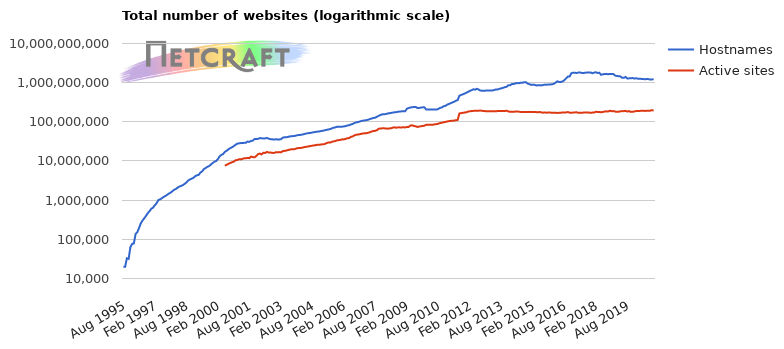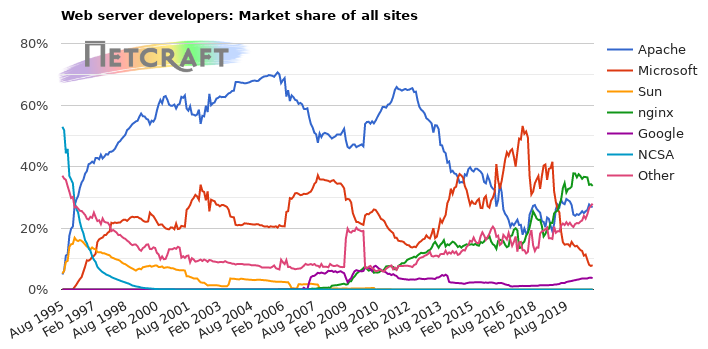 | Developer | October 2020 | Percent | November 2020 | Percent | Change |
| --- | --- | --- | --- | --- | --- |
| nginx | 412,851,940 | 34.24% | 414,338,895 | 33.69% | -0.55 |
| Apache | 326,050,973 | 27.04% | 329,384,399 | 26.78% | -0.26 |
| Microsoft | 92,405,675 | 7.66% | 97,283,716 | 7.91% | 0.25 |
| Google | 46,583,411 | 3.86% | 45,597,737 | 3.71% | -0.16 |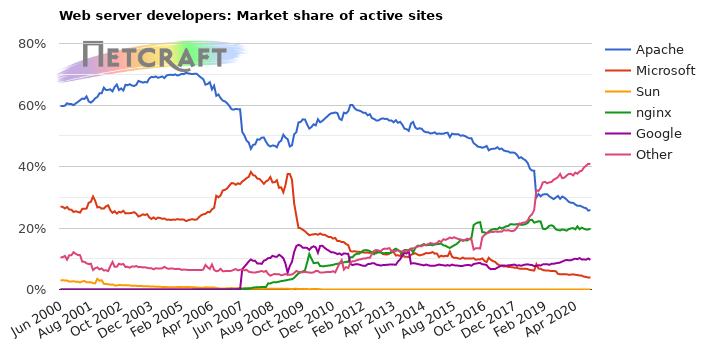 | Developer | October 2020 | Percent | November 2020 | Percent | Change |
| --- | --- | --- | --- | --- | --- |
| Apache | 50,837,005 | 25.66% | 50,128,182 | 25.86% | 0.19 |
| nginx | 38,606,507 | 19.49% | 38,361,336 | 19.79% | 0.30 |
| Google | 19,978,491 | 10.08% | 18,643,717 | 9.62% | -0.47 |
| Microsoft | 7,716,026 | 3.89% | 7,611,479 | 3.93% | 0.03 |
For more information see Active Sites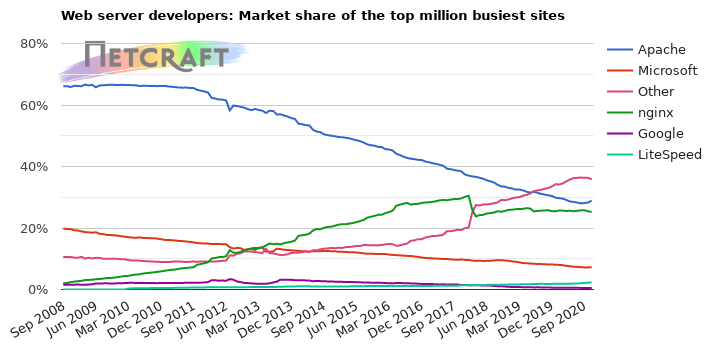 | Developer | October 2020 | Percent | November 2020 | Percent | Change |
| --- | --- | --- | --- | --- | --- |
| Apache | 282,798 | 28.28% | 289,229 | 28.92% | 0.64 |
| nginx | 254,530 | 25.45% | 251,967 | 25.20% | -0.26 |
| Microsoft | 71,983 | 7.20% | 72,656 | 7.27% | 0.07 |
| LiteSpeed | 22,199 | 2.22% | 23,217 | 2.32% | 0.10 |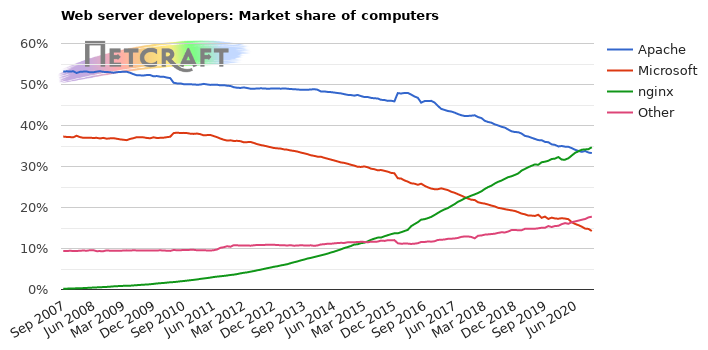 | Developer | October 2020 | Percent | November 2020 | Percent | Change |
| --- | --- | --- | --- | --- | --- |
| nginx | 3,577,128 | 34.23% | 3,665,862 | 34.70% | 0.47 |
| Apache | 3,490,546 | 33.40% | 3,514,947 | 33.27% | -0.13 |
| Microsoft | 1,543,860 | 14.77% | 1,506,313 | 14.26% | -0.52 |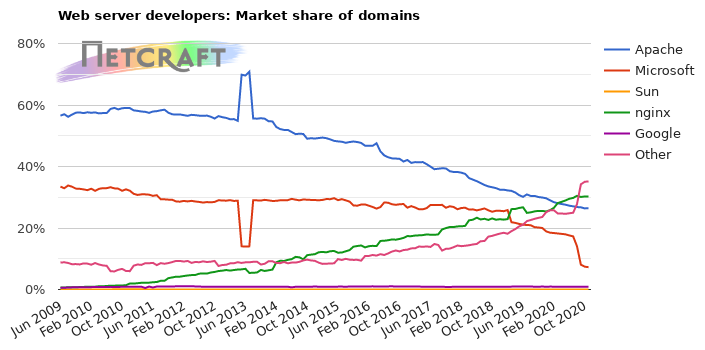 | Developer | October 2020 | Percent | November 2020 | Percent | Change |
| --- | --- | --- | --- | --- | --- |
| nginx | 79,895,960 | 30.25% | 79,843,914 | 30.27% | 0.02 |
| Apache | 69,649,769 | 26.37% | 69,758,527 | 26.44% | 0.07 |
| Microsoft | 19,604,847 | 7.42% | 19,131,672 | 7.25% | -0.17 |
| Google | 2,436,537 | 0.92% | 2,293,934 | 0.87% | -0.05 |