In the November 2022 survey we received responses from 1,135,089,912 sites across 271,689,143 domains and 12,306,625 web-facing computers. This reflects a gain of 4.7 million sites, a loss of 194,480 domains, and a gain of 6,685 web-facing computers.
The biggest growth this month comes from Cloudflare, with it gaining 8.3 million sites (+8.91%) and 490,000 domains (+1.94%). Cloudflare now accounts for 8.93% of all sites seen by Netcraft, up by 0.70pp since October.
nginx saw significant losses in its number of sites and domains this month. It lost 8.5 million sites (-2.75%) and 490,000 domains (-0.66%). However, nginx still holds its strong lead as the most widely used web server software, with a market share of 26.51% sites. Apache has the second largest number of sites, with a market share of 21.40%.
LiteSpeed continues its strong growth — this month it gained 720,000 sites (+1.28%) and 110,000 domains (+1.32%). This brings its market share of sites from 4.97% to 5.01% (+0.04pp).
Following its web-wide trend, Cloudflare has also seen growth in the top million sites. Since October, it gained 1,733 of the top million sites, with its market share increasing from 20.83% to 21.00% (+0.17pp). Meanwhile, both Apache and nginx have lost market share in the top million sites, with Apache down from 21.72% to 21.66% (-0.06pp) and nginx down from 21.36% to 21.21% (-0.15pp).
Vendor news
nginx 1.23.2 was released on 19th October 2022. This version fixes memory corruption and disclosure vulnerabilities in ngx_http_mp4_module.
njs 0.7.8, the scripting language used to extend nginx, was released on 25th October 2022, adding many language features and bug fixes.
Apache Tomcat versions 8.5.83, 9.0.68, 10.0.27, and 10.1.1 were released on 3rd October 2022. Most of the changes are bugfixes.
Cloudflare announced early access for Privacy Gateway, a proxy allowing HTTP traffic to be securely encapsulated. It is based on the Oblivious HTTP IETF draft.
AWS announced two new Local Zones: Hamburg, Germany and Warsaw, Poland. These are the first locations in Europe, and add to the now 20 generally available Local Zones.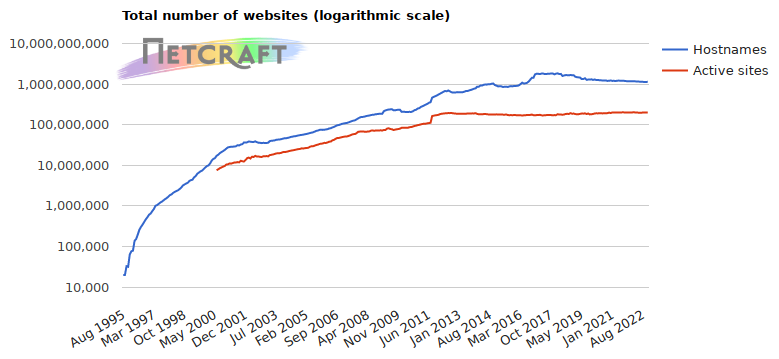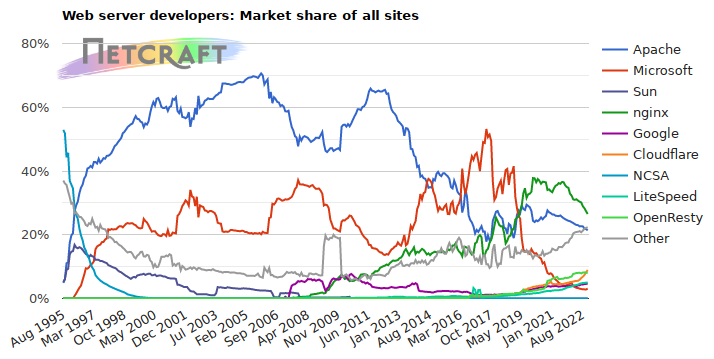 | Developer | October 2022 | Percent | November 2022 | Percent | Change |
| --- | --- | --- | --- | --- | --- |
| nginx | 309,403,564 | 27.37% | 300,890,891 | 26.51% | -0.86 |
| Apache | 245,852,856 | 21.75% | 242,899,324 | 21.40% | -0.35 |
| Cloudflare | 93,074,821 | 8.23% | 101,367,889 | 8.93% | 0.70 |
| OpenResty | 91,587,837 | 8.10% | 91,612,799 | 8.07% | -0.03 |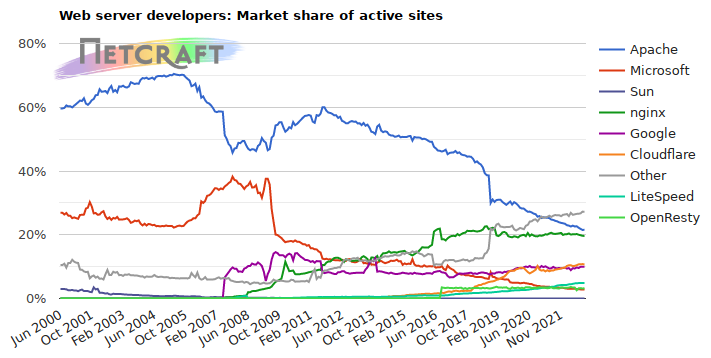 | Developer | October 2022 | Percent | November 2022 | Percent | Change |
| --- | --- | --- | --- | --- | --- |
| Apache | 42,720,717 | 21.49% | 42,803,960 | 21.56% | 0.07 |
| nginx | 39,104,158 | 19.67% | 38,955,039 | 19.62% | -0.05 |
| Cloudflare | 21,458,649 | 10.80% | 21,187,445 | 10.67% | -0.12 |
| Google | 19,845,216 | 9.98% | 19,829,899 | 9.99% | 0.00 |
For more information see Active Sites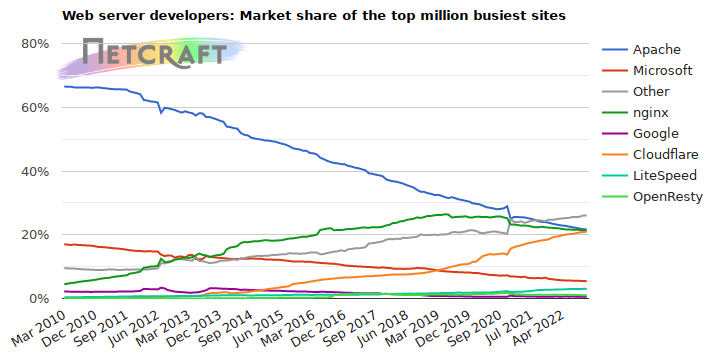 | Developer | October 2022 | Percent | November 2022 | Percent | Change |
| --- | --- | --- | --- | --- | --- |
| Apache | 217,191 | 21.72% | 216,640 | 21.66% | -0.06 |
| nginx | 213,569 | 21.36% | 212,059 | 21.21% | -0.15 |
| Cloudflare | 208,251 | 20.83% | 209,984 | 21.00% | 0.17 |
| Microsoft | 54,812 | 5.48% | 54,285 | 5.43% | -0.05 |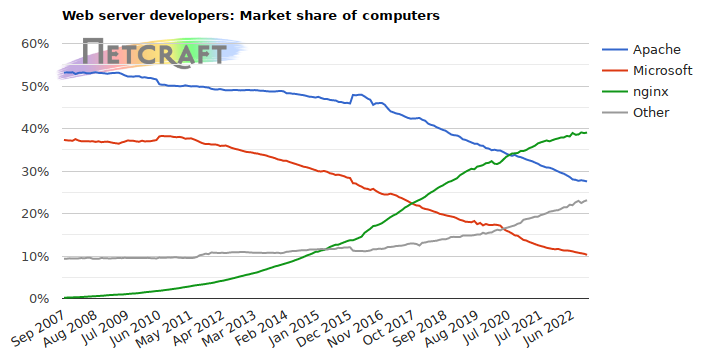 | Developer | October 2022 | Percent | November 2022 | Percent | Change |
| --- | --- | --- | --- | --- | --- |
| nginx | 4,786,026 | 38.91% | 4,806,069 | 39.05% | 0.14 |
| Apache | 3,407,908 | 27.71% | 3,389,582 | 27.54% | -0.16 |
| Microsoft | 1,293,490 | 10.52% | 1,264,268 | 10.27% | -0.24 |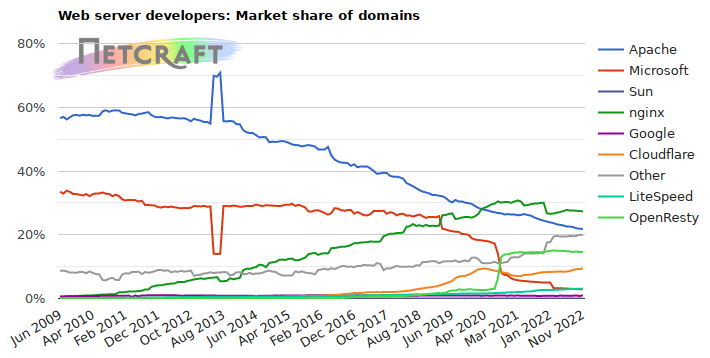 | Developer | October 2022 | Percent | November 2022 | Percent | Change |
| --- | --- | --- | --- | --- | --- |
| nginx | 74,662,305 | 27.46% | 74,170,647 | 27.30% | -0.16 |
| Apache | 59,540,179 | 21.90% | 59,273,640 | 21.82% | -0.08 |
| OpenResty | 39,765,218 | 14.63% | 39,633,742 | 14.59% | -0.04 |
| Cloudflare | 25,154,284 | 9.25% | 25,641,553 | 9.44% | 0.19 |