In the October 2019 survey we received responses from 1,300,884,420 sites across 241,553,033 unique domain names and 9,045,029 web-facing computers. This reflects a gain of 9.71 million sites, 421,000 domains and a loss of 23,000 computers.
Amongst the largest web server vendors, only nginx and Google gained sites this month with the two vendors increasing by 5.67 million (+1.34%) and 1.80 million (+5.45%) sites respectively, whilst Apache and Microsoft lost 2.14 million (-0.57%) and 6.77 million (-3.56%) sites.
nginx was in fact the only major web server vendor to see increases in most metrics this month, with gains in domains (+480,000), web-facing computers (+12,000), and top million websites (+472).
Apache saw substantially the largest loss of domains, dropping by 762,000 (-1.04%), with Microsoft following with a smaller drop of 125,000 (-0.26%). These losses were largely offset by increases in domains using other smaller vendors, such as Cloudflare and Tengine, both of which are based on nginx.
In terms of web-facing computers, Microsoft saw the largest loss of 56,000 (-3.46%), followed by Apache which dropped 15,000 (-0.46%). A large proportion of Microsoft's loss came at hosting provider Cloud Innovation which appeared to switch many sites to Tengine.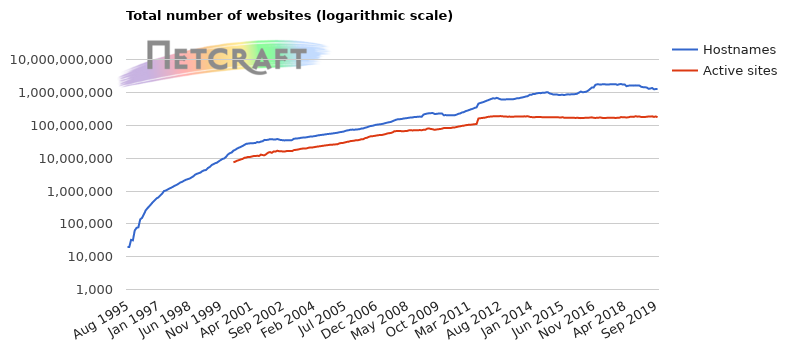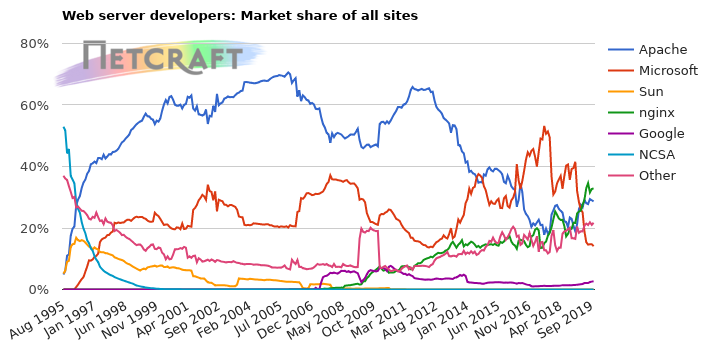 | Developer | September 2019 | Percent | October 2019 | Percent | Change |
| --- | --- | --- | --- | --- | --- |
| nginx | 422,048,243 | 32.69% | 427,719,289 | 32.88% | 0.19 |
| Apache | 374,739,321 | 29.02% | 372,604,250 | 28.64% | -0.38 |
| Microsoft | 189,991,312 | 14.71% | 183,224,187 | 14.08% | -0.63 |
| Google | 33,058,930 | 2.56% | 34,861,968 | 2.68% | 0.12 |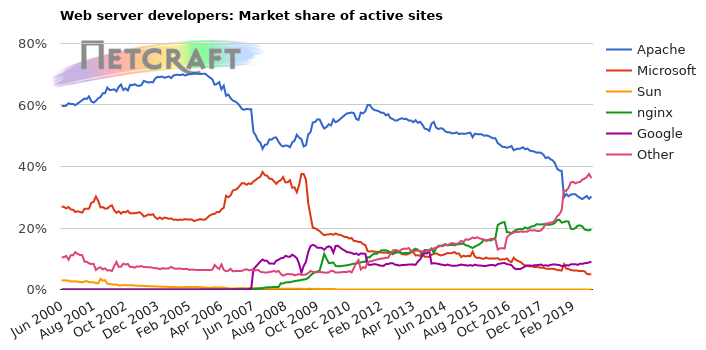 | Developer | September 2019 | Percent | October 2019 | Percent | Change |
| --- | --- | --- | --- | --- | --- |
| Apache | 55,548,425 | 29.48% | 54,121,818 | 30.23% | 0.75 |
| nginx | 36,210,141 | 19.22% | 34,944,638 | 19.52% | 0.30 |
| Google | 16,551,958 | 8.78% | 16,290,724 | 9.10% | 0.31 |
| Microsoft | 9,343,479 | 4.96% | 8,904,875 | 4.97% | 0.02 |
For more information see Active Sites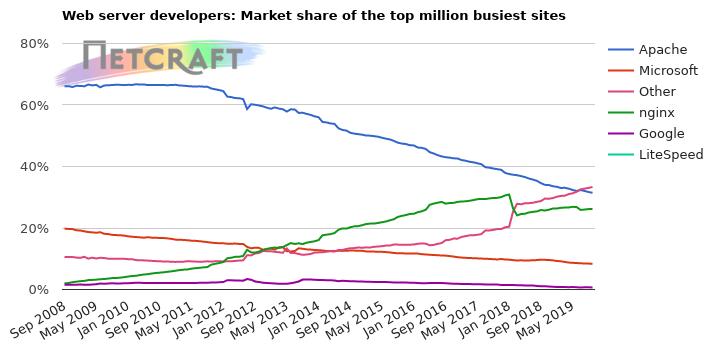 | Developer | September 2019 | Percent | October 2019 | Percent | Change |
| --- | --- | --- | --- | --- | --- |
| Apache | 310,977 | 31.10% | 308,936 | 30.89% | -0.20 |
| nginx | 256,420 | 25.64% | 256,892 | 25.69% | 0.05 |
| Microsoft | 82,657 | 8.27% | 82,208 | 8.22% | -0.04 |
| LiteSpeed | 19,117 | 1.91% | 17,591 | 1.76% | -0.15 |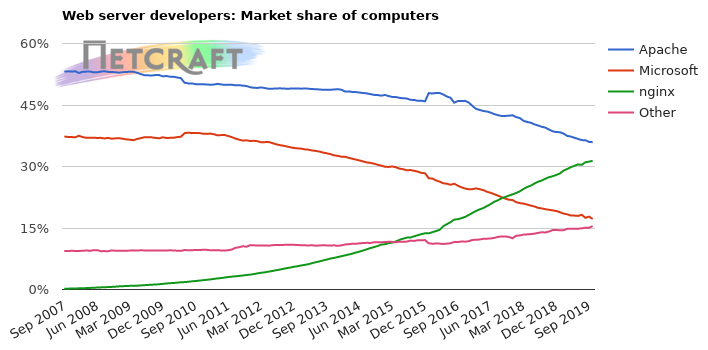 | Developer | September 2019 | Percent | October 2019 | Percent | Change |
| --- | --- | --- | --- | --- | --- |
| Apache | 3,264,312 | 36.00% | 3,249,401 | 35.92% | -0.07 |
| nginx | 2,827,470 | 31.18% | 2,839,512 | 31.39% | 0.21 |
| Microsoft | 1,612,411 | 17.78% | 1,556,561 | 17.21% | -0.57 |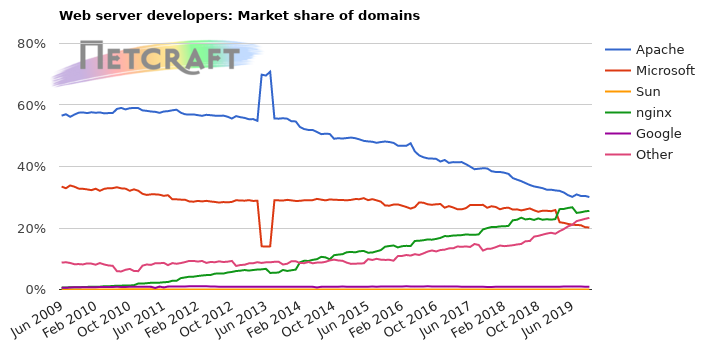 | Developer | September 2019 | Percent | October 2019 | Percent | Change |
| --- | --- | --- | --- | --- | --- |
| Apache | 73,390,866 | 30.44% | 72,628,613 | 30.07% | -0.37 |
| nginx | 61,278,499 | 25.41% | 61,758,374 | 25.57% | 0.15 |
| Microsoft | 48,848,550 | 20.26% | 48,723,464 | 20.17% | -0.09 |
| Google | 2,207,170 | 0.92% | 2,173,193 | 0.90% | -0.02 |