In the September 2020 survey we received responses from 1,196,298,727 sites, across 264,284,761 unique domains and 10,338,585 web-facing computers. Compared with last month, this is a loss of 34,277,859 sites and 10,901 web-facing computers, but a gain of 2,463,474 unique domains.
Approximately 15 million domains have switched from Microsoft web server software to OpenResty, a web server which adds LuaJIT support to nginx. This represents a 5.97 percentage point drop in Microsoft's market share of domains, and, accordingly, a 6.71 percentage point increase for OpenResty. OpenResty now powers 34.5 million domains, giving it a 13% market share and gaining it third place behind nginx and Apache. This huge swing is driven by GoDaddy migrating its customers' parked domains from GoDaddy's own hosting infrastructure to Google Cloud.
Microsoft also experienced a large loss of 49,600 web-facing computers (-3.1%), unrelated to the GoDaddy OpenResty migration. The largest increase in web-facing computers was seen for Apache (+19,100), though this was not enough to re-take the lead from nginx, which became the largest web server vendor by this metric last month.
Most of the large vendors saw drops in terms of the number of active sites hosted this month. Cloudflare and LiteSpeed are among the vendors who saw growth in this area despite the overall negative trend. Pepyaka (used by Wix) and Squarespace also both gained active sites (+3.0% and +2.6% respectively), reflecting the growing popularity of website builders.
New vendor releases
This month LiteSpeed released version 5.4.9 of the LiteSpeed Web Server. A small number of new features have been added in this update, including automatic CloudFlare CDN IP detection and support for bcrypt password hashes when using HTTP authentication.
Apache have released three new versions of Tomcat this month – 8.5.58, 9.0.38 and 10.0.0-M8. These releases each add a number of new features and security patches. Notable changes include adding support for the Expect HTTP header, and adding support for setting read and write idle timeouts on websocket connections.
Apache also released version 8.1.0 of Apache Traffic Server. This release focused on improving the stability, reliability and performance of the server's HTTP/2 support.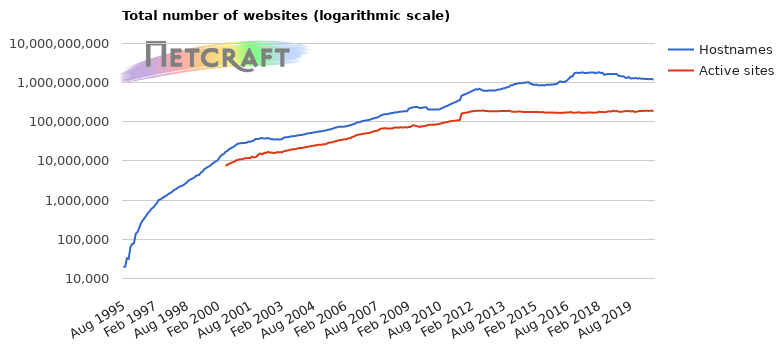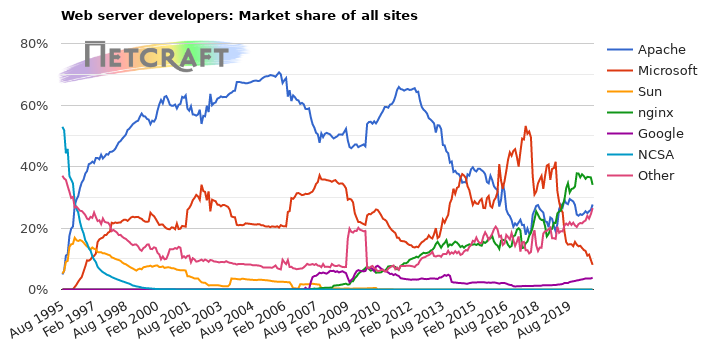 | Developer | August 2020 | Percent | September 2020 | Percent | Change |
| --- | --- | --- | --- | --- | --- |
| nginx | 448,602,806 | 36.45% | 407,086,442 | 34.03% | -2.43 |
| Apache | 318,307,245 | 25.87% | 330,682,809 | 27.64% | 1.78 |
| Microsoft | 118,126,662 | 9.60% | 95,944,600 | 8.02% | -1.58 |
| Google | 44,326,227 | 3.60% | 45,689,961 | 3.82% | 0.22 |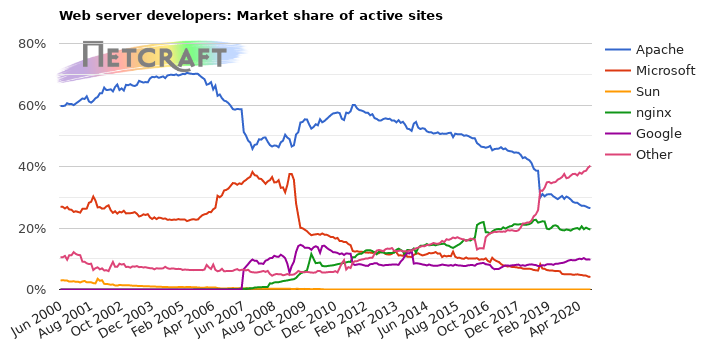 | Developer | August 2020 | Percent | September 2020 | Percent | Change |
| --- | --- | --- | --- | --- | --- |
| Apache | 50,966,410 | 26.62% | 50,925,159 | 26.46% | -0.16 |
| nginx | 37,794,331 | 19.74% | 37,549,911 | 19.51% | -0.23 |
| Google | 18,767,650 | 9.80% | 18,663,687 | 9.70% | -0.11 |
| Microsoft | 8,009,744 | 4.18% | 7,861,906 | 4.08% | -0.10 |
For more information see Active Sites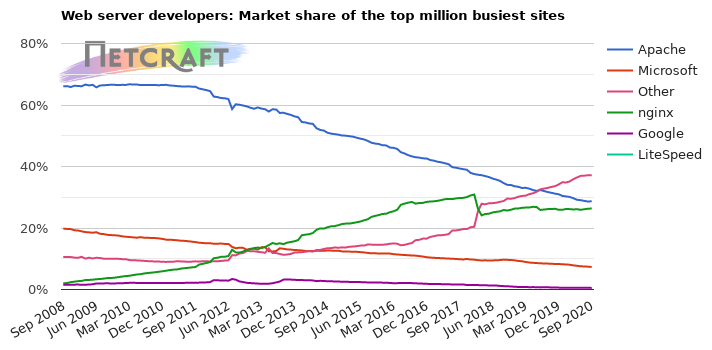 | Developer | August 2020 | Percent | September 2020 | Percent | Change |
| --- | --- | --- | --- | --- | --- |
| Apache | 280,158 | 28.02% | 280,949 | 28.09% | 0.08 |
| nginx | 257,472 | 25.75% | 257,562 | 25.76% | 0.01 |
| Microsoft | 72,787 | 7.28% | 71,664 | 7.17% | -0.11 |
| LiteSpeed | 20,348 | 2.03% | 21,341 | 2.13% | 0.10 |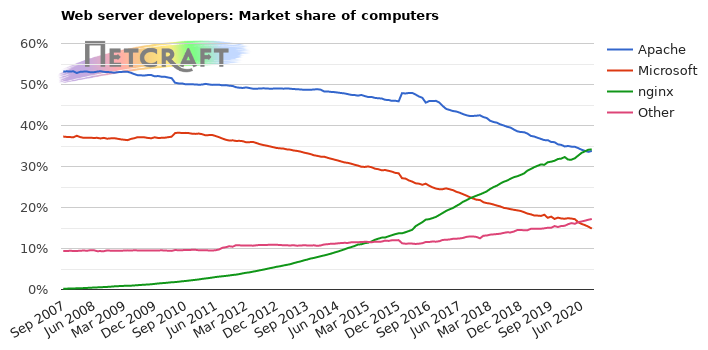 | Developer | August 2020 | Percent | September 2020 | Percent | Change |
| --- | --- | --- | --- | --- | --- |
| nginx | 3,528,858 | 34.10% | 3,531,550 | 34.16% | 0.06 |
| Apache | 3,474,321 | 33.57% | 3,493,422 | 33.79% | 0.22 |
| Microsoft | 1,585,588 | 15.32% | 1,535,962 | 14.86% | -0.46 |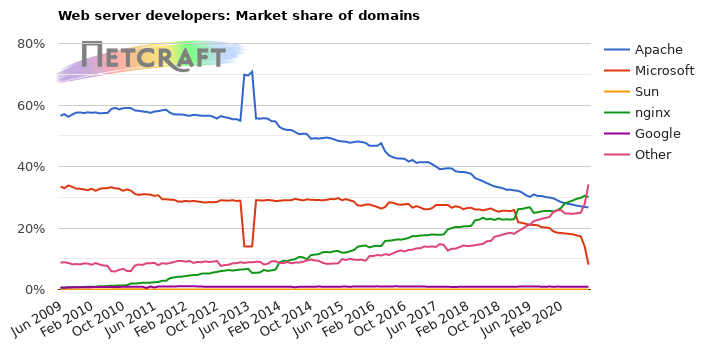 | Developer | August 2020 | Percent | September 2020 | Percent | Change |
| --- | --- | --- | --- | --- | --- |
| nginx | 79,757,929 | 30.46% | 79,534,471 | 30.09% | -0.37 |
| Apache | 70,197,130 | 26.81% | 70,646,497 | 26.73% | -0.08 |
| Microsoft | 36,772,587 | 14.04% | 21,331,946 | 8.07% | -5.97 |
| Google | 2,402,979 | 0.92% | 2,387,975 | 0.90% | -0.01 |