In the September 2021 survey we received responses from 1,188,038,392 sites across 264,360,621 unique domains and 11,368,033 web-facing computers. This reflects a loss of 23.4 million sites, but a gain of 627,000 domains and 40,300 computers.
The largest increase in both unique domains and active sites was seen by LiteSpeed this month, with gains of 571,000 (+9.3%) domains and 458,000 (+6.0%) active sites. Much of this increase was concentrated at a single hosting provider, NameCheap, where there were corresponding drops in the numbers of domains and active sites using Apache. As a result, LiteSpeed's market share in the domains metric increased by 0.21 percentage points to 2.6%.
Cloudflare also saw strong growth in domains, with an increase of 519,000 resulting in a small increase in its market share to 7.90%. Amongst the million busiest websites Cloudflare had substantially the biggest increase in use, leaving it with an 18.0% market share. It is now just 44,000 sites or 4.4 percentage points of market share behind nginx in second position.
Other server vendors to see increases in terms of unique domains include OpenResty which grew by 314,000 domains, and market leader nginx which grew by 195,000. Despite having only the fourth largest growth this month, nginx maintained its 29.8% market share.
The number of web-facing computers using nginx has increased once again, whilst both Apache and Microsoft lost both in absolute numbers and market share. This month nginx saw an increase of 40,800 raising its market share to 37.2%. Apache and Microsoft each lost 0.24 percentage points of market share to leave them with 30.8% and 11.9% shares. LiteSpeed gained 4,660 computers (+5.9%).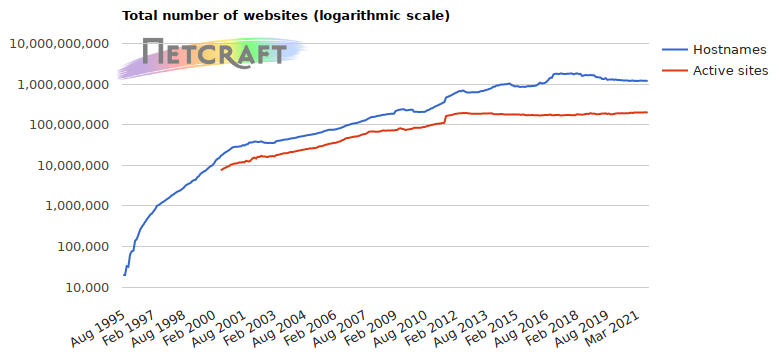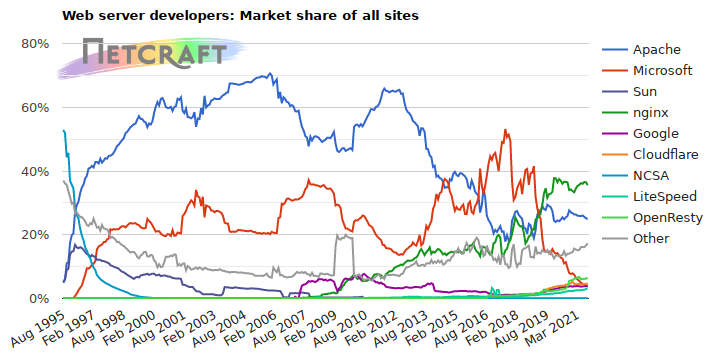 | Developer | August 2021 | Percent | September 2021 | Percent | Change |
| --- | --- | --- | --- | --- | --- |
| nginx | 441,930,791 | 36.48% | 422,211,703 | 35.54% | -0.94 |
| Apache | 305,180,858 | 25.19% | 295,667,361 | 24.89% | -0.30 |
| OpenResty | 75,516,218 | 6.23% | 77,052,370 | 6.49% | 0.25 |
| Cloudflare | 55,830,630 | 4.61% | 56,362,363 | 4.74% | 0.14 |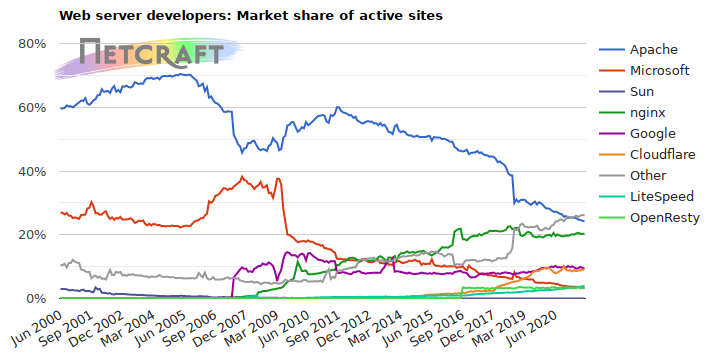 | Developer | August 2021 | Percent | September 2021 | Percent | Change |
| --- | --- | --- | --- | --- | --- |
| Apache | 49,014,866 | 24.38% | 48,288,904 | 24.21% | -0.17 |
| nginx | 40,727,572 | 20.26% | 40,553,124 | 20.33% | 0.07 |
| Google | 19,227,458 | 9.56% | 18,896,757 | 9.47% | -0.09 |
| Cloudflare | 18,198,275 | 9.05% | 18,294,632 | 9.17% | 0.12 |
For more information see Active Sites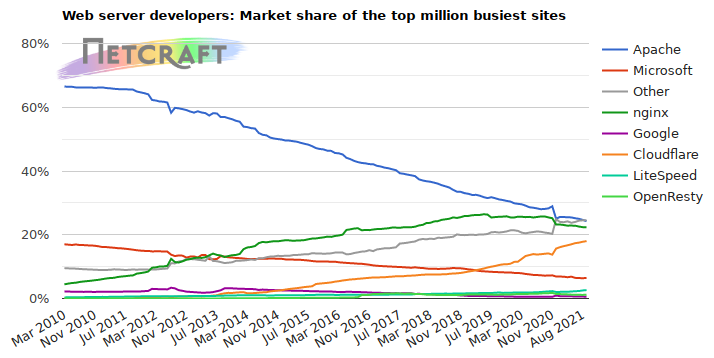 | Developer | August 2021 | Percent | September 2021 | Percent | Change |
| --- | --- | --- | --- | --- | --- |
| Apache | 246,550 | 24.65% | 242,558 | 24.26% | -0.40 |
| nginx | 223,765 | 22.38% | 223,775 | 22.38% | 0.00 |
| Cloudflare | 178,021 | 17.80% | 180,043 | 18.00% | 0.20 |
| Microsoft | 63,759 | 6.38% | 64,292 | 6.43% | 0.05 |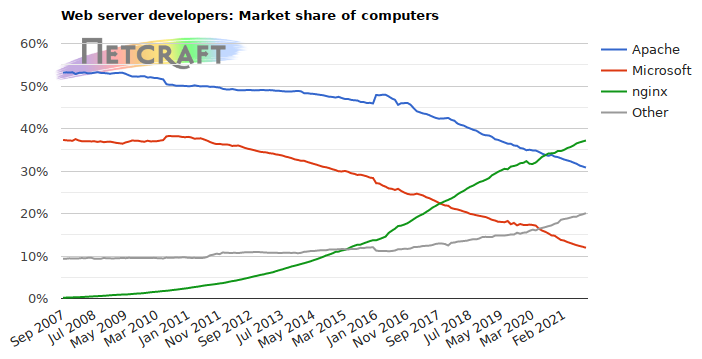 | Developer | August 2021 | Percent | September 2021 | Percent | Change |
| --- | --- | --- | --- | --- | --- |
| nginx | 4,186,471 | 36.96% | 4,227,284 | 37.18% | 0.22 |
| Apache | 3,518,060 | 31.06% | 3,503,918 | 30.81% | -0.24 |
| Microsoft | 1,379,219 | 12.18% | 1,357,220 | 11.94% | -0.24 |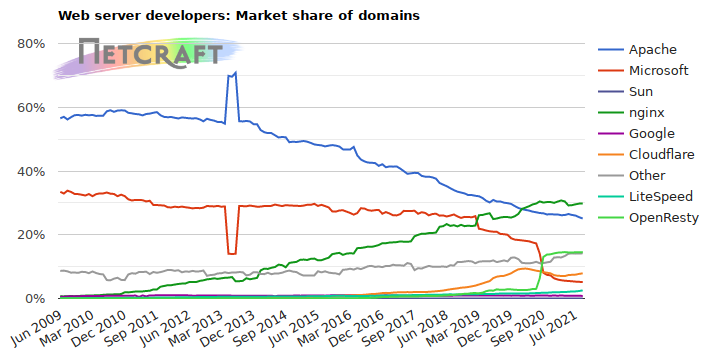 | Developer | August 2021 | Percent | September 2021 | Percent | Change |
| --- | --- | --- | --- | --- | --- |
| nginx | 78,512,209 | 29.77% | 78,707,646 | 29.77% | 0.00 |
| Apache | 67,266,660 | 25.51% | 66,328,129 | 25.09% | -0.42 |
| OpenResty | 38,179,121 | 14.48% | 38,493,039 | 14.56% | 0.08 |
| Cloudflare | 20,355,821 | 7.72% | 20,874,772 | 7.90% | 0.18 |