In just about any other month, Go Daddy's January growth of 165K hostnames would probably lead the pack. The Scottsdale, Ariz. company's hostname have traditionally been driven by its core domain registrar business. But Go Daddy has been making serious gains in shared hosting since August, when it beefed up the account features on its hosting plans and cut prices to as low as $3.95 a month. Over 56K of this month's gain in hostnames was from AT&T, making Go Daddy the largest gainer by growth from another hoster for January.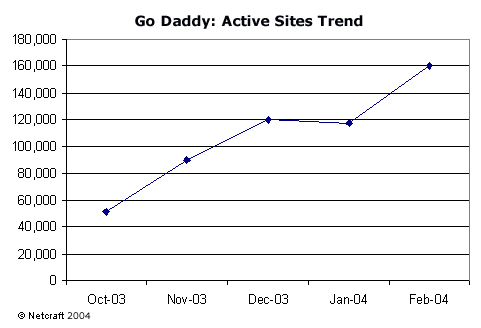 EV1Servers had robust growth of 84K hostnames after declining by 4K across the previous two months. The dedicated server company's web site suggests that power issues continue to limit growth, with only about a dozen servers available to purchase at the start of February 2004. "Inventory availability has been THE hot topic for some time, particularly after our recent RHE/FreeBSD rollout," confirmed EV1Servers CEO Robert Marsh in an interview with Netcraft. EV1Servers plans to open a new data center at the beginning of March.
Our Hosting Provider Switching Analysis identifies movements of sites from one hosting provider to another. The analysis is updated monthly and is available on a company license basis.