Chinese cloud hosting company Aliyun is growing faster than ever, with more than 8,000 more web-facing computers found in the May 2015 survey than in April's. This growth has launched Aliyun's parent company, Alibaba Group, into position as the 4th largest hosting company in the world, as well as the largest in China.
This reflects a positive change in Aliyun's fortunes, whose earlier impressive growth had started to stagnate towards the end of 2013. However, growth later resumed in earnest, coinciding with Aliyun's partnership with rival cloud computing company Inspur in July 2014. The growth has continued ever since, with the largest absolute growth being seen between April 2015 and May 2015.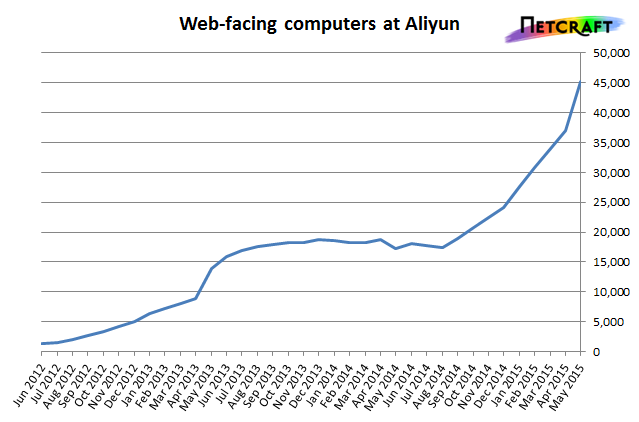 Aliyun now accounts for 38% of the web-facing computers hosted by Alibaba Group, while 44% are operated by HiChina, which was acquired by Alibaba in 2009. If the latest growth trends continue, Aliyun will soon account for the majority of web-facing computers at Alibaba.
All of the web-facing computers at Aliyun are located in China, which offers significant advantages for the local market. Hosting a website close to its end-users generally results in faster page loads, but increased reliability is the most crucial factor in this case. Connectivity between China and other countries is often slow, unstable or even blocked, making China the most practical location for hosting websites aimed at local consumers.
However, this also means that Aliyun would be a troublesome choice for any company that has a significant user base outside of China. This is exemplified by the following graph, which shows the performance and reliability of www.aliyun.com when accessed from the Netherlands:

This connectivity problem has so far proven to be insurmountable, and is likely to be a showstopper for most companies with customers outside of China. Unfortunately, this problem only seems to be getting worse: Nearly half of the requests made from the Netherlands over the past 20 days failed, whereas only 4% failed during a similar 20-day period in 2013.
Globally, Amazon continues to dominate the hosting arena with nearly three times as many web-facing computers as Alibaba Group. DigitalOcean recently usurped OVH Net to become the second largest hosting company. Amazon, DigitalOcean and Aliyun are all similar in that they provide relatively low-cost virtual servers, but Aliyun's growth is likely restricted by the impracticalities of using it to serve content outside of China.
Considering this rather significant restriction, it is impressive that Aliyun's current growth rate is almost on par with DigitalOcean's (in fact, Alibaba Group as a whole exceeded DigitalOcean's absolute growth in May 2015). This growth perhaps demonstrates the scale of the Chinese market, and if it were practical to use Aliyun to host websites for a global audience, Aliyun could well give Amazon a run for its money.
Amazon and DigitalOcean are likely to remain ahead for a fair while, particularly as they both provide a variety of hosting locations in several different countries. This gives customers flexibility over where a website can be hosted, providing not just performance benefits, but also regulatory ones — for example, German data protection laws limits where companies can store personal data, in particular making it unappealing to do so outside of Germany or the EU.
Amazon is perhaps still best known for its retail operations, but recently surprised some analysts by announcing that its Amazon Web Services segment is profitable. This segment generated sales of $1.57bn in the first quarter of 2015, and operating income of $265m, demonstrating that it can now operate without having to fall back on Amazon's other revenue streams.
Aliyun operates under a similar safety net, with its parent, Alibaba Group, having significant revenue from other business areas, including business-to-business trading via alibaba.com and an eBay-like consumer-to-consumer marketplace on taobao.com. Both Aliyun and Amazon Web Services have had opportunities to grow in this relatively risk-free environment, where – if necessary – they can be supported by the parent group's other business areas.
With this safety net in place, Aliyun is well placed to continue its growth within China, and could even contemplate adding datacenters abroad. Notably, its ability to invest in new datacenters is not likely to be a problem: Alibaba Group (NYSE:BABA) has a higher market capitalisation than Amazon (NASDAQ:AMZN).
Aliyun has already tried to attract foreign customers by offering support and site content in English, and aliyun.com also mentions that it is "preparing to support more languages to improve user experience". New customers must provide their phone number when creating an Aliyun account, which is verified by text message in the 23 supported countries. Customers in other countries can also register an Aliyun account by following a slower offline registration process.
However, any plans for global expansion could be scuppered unless Aliyun can solve the connectivity issues and also match the low prices offered by DigitalOcean, where the cheapest virtual machine costs only $5/month, including up to 1TB of data transfer. A somewhat-similar Elastic Compute Service instance at Aliyun (1-core, 512MB memory, 20GB storage, bandwidth limited to 3Mbps) costs ¥109/month, making it more than three times as expensive. This instance costs only ¥38/month if the customer chooses Aliyun's pay-as-you-go option for bandwidth (which would cope better with bursts of traffic), but this could work out far more expensive for heavy users — at ¥0.80 per GB of outbound public network traffic, 1TB of traffic would cost over $120 at Aliyun, whereas it is included in the price of DigitalOcean's $5 droplet.