Some of Amazon's European retail sites and video streaming services went down last night, causing a flurry of complaints across social media. The affected sites included amazon.co.uk, amazon.de and amazon.fr.

These outages are particularly notable, as Amazon has a considerable amount of experience hosting websites. It has one of the largest hosting infrastructures in the world, which is used not only by itself, but also by thousands of its Amazon Web Services customers.
Amazon is the world's largest hosting provider in terms of web-facing computers, accounting for more than 6% of the 5.1 million computers in Netcraft's February 2015 Web Server Survey. 52,000 of Amazon's web-facing computers are located in Ireland, which is where its European retail sites are hosted.
Amazon's presence in Ireland has grown astonishingly since Amazon Data Services Ireland opened the first of its three Irish EC2 Availability Zones in 2007. Remarkably, more than three-quarters of all web-facing computers in Ireland are now operated by Amazon, and these account for 2.7% of all web-facing computers in the Europe, Middle East and Africa region which it is designed to serve.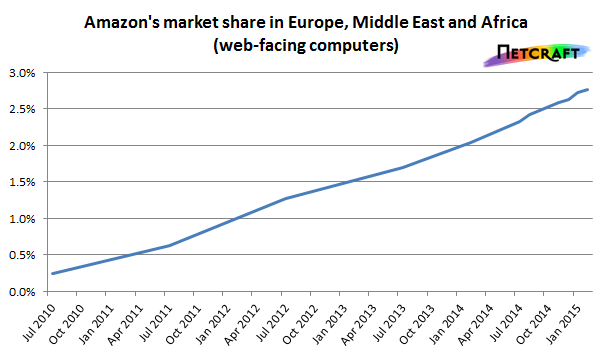 Amazon's US site at www.amazon.com, which is hosted in the US, was not affected by last night's outages.