Following the recent uprising in Tunisia, thousands of demonstrators took to the streets in Egypt yesterday to demand an end to President Hosni Mubarak's rule. The online collective known as Anonymous has joined in the protests by orchestrating distributed denial of service attacks against key Egyptian websites.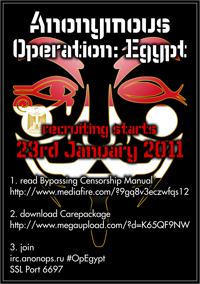 Operation: Egypt began its recruitment campaign 3 days ago, inviting participants to join the #OpEgypt channel on its IRC network. As with the previous attacks against PayPal, MasterCard and Visa, volunteers are being sought to install and run the Low Orbit Ion Cannon (LOIC) software, which can automatically bombard a website with a large volume of traffic.
Last night, Twitter confirmed that it had been blocked in Egypt:

Some of the earlier DDoS attacks carried out by Anonymous had used Twitter feeds to announce targets to the automated attack software. IRC appears to be the primary control point now, with the current target set to www.mcit.gov.eg – The Egyptian Ministry of Communications and Information Technology.
It is not clear how many people are involved in this attack, but our performance data for www.mcit.gov.eg shows the website is currently up and responding to HTTP requests from around the world.
This could suggest that the number of volunteers taking part in the attacks has continued to decrease over the past few months. In an interview earlier this month, Anonymous member Sven Slootweg said that he did not expect many more DDoS attacks as the impact is limited.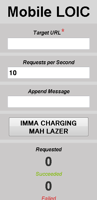 To muster up more attackers, the IRC channel also invites users to use a web-based version of the LOIC attack tool, which can even be used from mobile phones. Further discussions, including which targets to attack, are being carried out on the interactive multi-user PiratePad site:

This also lists www.moiegypt.gov.eg as a main target, which has experienced some short outages (performance graphs).