Bitcoin, a distributed digital currency that cryptographically verifies transactions, has recently seen a large increase in usage — the total amount of Bitcoins in circulation is now well over $1B US Dollars and each Bitcoin is today worth more than $100. By way of comparison, Gibraltar — a British Overseas Territory and a conventional tax haven — had an economy worth an estimated $1.275B in 2008.
Speculators, investors, and criminals alike have been drawn to the alternative currency in the hopes of exploiting its anonymity, its almost exponential rising exchange rate against conventional currencies, and its dominant position amongst non-governmental currencies. Its attraction to criminals is diverse: it has become the de facto equivalent of cash facilitating anonymous purchases of illegal goods, and the dramatic increase in the value of each Bitcoin has meant that Bitcoin wallets have become increasingly attractive targets for would-be phishers.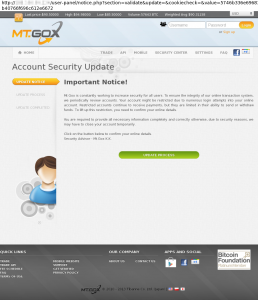 A recent phishing attack against the leading Bitcoin Exchange, Mt. Gox
Bitcoin users are no strangers to being targeted by criminals: last month, attackers were able to steal $12,000 worth of Bitcoins from Bitinstant, a Bitcoin transaction services company, by obtaining the credentials for a brokerage account after socially engineering access to their emails. Malware writers have also targeted Bitcoins: Infostealer.Coinbit is a Trojan horse that tries to steal Bitcoin wallets. Criminals have also been using networks of infected computers to mine Bitcoins for themselves.
Bitcoin exchanges, organisations converting between Bitcoins and conventional currencies, are an obvious target for fraudsters. Last Thursday Mt. Gox (the leading Bitcoin exchange) faced a "stronger than average" DDoS attack. In September 2012 Bitfloor (another Bitcoin exchange) suspended operations after the theft of ~24,000 BTC (worth $250,000 at the time), and the Bitcoin exchange, Bitcoinica, went out of business after also suffering from large thefts.
Despite the apparent risk of operating in this business, some organisations are promoting a laissez-faire attitude to security to the Bitcoin community: BitPay recommends that merchants "[..] can eliminate the need for PCI Compliance and expensive security measures" by replacing credit card transactions with Bitcoin-based solutions.
Netcraft can provide Phishing Site Takedown and Countermeasures services, PCI Approved Vulnerability Scanning and Penetration Testing to Bitcoin exchanges, merchants, and e-commerce sites. For more information, please contact sales@netcraft.com. Internet users can be protected against phishing sites, Bitcoin-related or otherwise, by Netcraft's Anti-Phishing Extension. Help protect the internet community by reporting potential phishing sites to Netcraft by email to scam@netcraft.com or at https://report.netcraft.com.