[中文版]
China, the world's largest trading nation in 2012, has long been a desirable location for outsourcing labour and services, even within the technology and IT sector where it is not far behind India. The growth of cloud computing providers in Europe and the United States — particularly Amazon and DigitalOcean — may foretell cloud computing infrastructure becoming a commodity and outsourced to the cheapest provider.
The ever-increasing number of internet users in China (591 million at the end of June 2013) requires the development of home-grown internet infrastructure: hosting web applications and other content within a target user's own country typically speeds up requests and improves reliability. The number of internet users in China is greater than either the United States or Europe.
Stratospheric growth in Chinese cloud hosting
Although the number of web-facing computers in China has grown by 8.3% over the last year — the majority of this growth has occurred within the cloud hosting market. Aliyun (云, pronounced 'yun', is the Chinese word for cloud) is the largest cloud computing provider in China in terms of the number of web-facing computers, and remarkably, Aliyun now has six times more web-facing computers than it did a year ago, reaching a total of 17,934 in September 2013. Worldwide, only the cloud computing giant Amazon gained a greater number of web-facing computers.
Although China's cloud computing infrastructure is still in its infancy, Aliyun's future looks particularly promising, as it is owned by the Alibaba Group. This group is the largest hosting provider in China, features within the top 30 hosting providers worldwide, and has already established a strong internet presence with its better known e-commerce platforms, Taobao and Alibaba.com. Aliyun now makes up almost 92% of the web-facing computers at Alibaba Group.
| Metric | Sep 2012 | Mar 2013 | Jun 2013 | Jul 2013 | Aug 2013 | Sep 2013 |
| --- | --- | --- | --- | --- | --- | --- |
| Hostnames | 91,553 | 205,824 | 382,342 | 381,989 | 368,948 | 389,171 |
| Active sites | 23,596 | 55,654 | 119,089 | 116,835 | 146,310 | 150,089 |
| Web-facing computers | 2,670 | 8,038 | 15,931 | 16,846 | 17,670 | 17,934 |
Detailed view of Aliyun in terms of hostnames (web sites), active sites, and web-facing computers.
Indigenous market and the Great Firewall of China
Despite the strong growth of the Chinese cloud hosting market, most of the growth seen by Netcraft is hosting sites aimed at the Chinese market. Hosting content as close to the end-users as possible increases the performance of the web site, and this effect is particularly prominent in China: internet traffic crossing the border can sometimes appear to be slow, unstable, or even blocked, perhaps as a side-effect of blocks enforced by the Golden Shield Project (also known as the Great Firewall of China). In September 2013, more than half of the domains of websites hosted at Aliyun were in the .cn TLD, around 41% in .com, whilst domains in other ccTLDs appeared to be very rare. Unlike Amazon's global reach, Aliyun's reach appears to be limited to the local market — at least for the time being.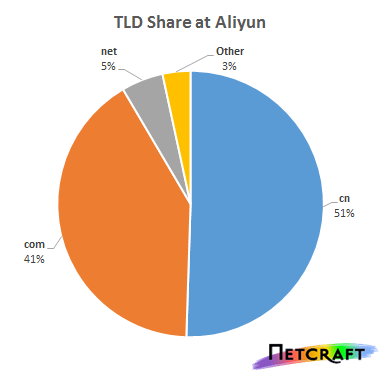 TLD share by domains of websites at Aliyun in September 2013
Obstacles holding back the Chinese cloud
Using cloud hosting in China could make sense for non-Chinese companies looking to increase their presence in China; however, a number of obstacles remain. These explain why the Chinese cloud is still mostly indigenous, and is likely to remain so for some time:
Neither the pricing models nor the variety or operating systems are as attractive as those offered by the cheapest non-Chinese cloud hosting companies. Taking Aliyun as an example, its on-demand instances do not support Windows operating systems unless you opt for a 2-core or 4-core CPU, and they are not significantly cheaper than its more established competitors. The cheapest on-demand option at Aliyun is ¥0.27 ($0.04) per hour which buys you a single core, 512MB of RAM, and a 1Mbps internet connection. This is almost twice the price of Amazon's cheapest option and a comparable DigitalOcean instance can be had for just $0.007 per hour. However, as pricing models vary, reserved instances at Aliyun can be cheaper in some circumstances.
Internet connectivity from outside China can be patchy — packets sent to www.aliyun.com from the United Kingdom take almost half a second to make the journey and back again, and the performance in the United States is not much better. More than 4% of requests to www.aliyun.com from the Netherlands failed during the past 20 days.

Performance of www.aliyun.com from a Netcraft performance collector located in the Netherlands

Many Chinese hosting services are only available in the Chinese language. This is the only language available for Aliyun's brochure website, control panel, and technical support. However, Amazon's support for the Chinese language is almost as limited — a single marketing site appears to be the sole Chinese-language site for AWS.
Some Chinese hosting companies only accept business from Chinese customers. For example, Aliyun's customers are required to have a Chinese mobile phone number in order to receive a verification code to complete the signup process. Customers wishing to buy an on-demand instance at Aliyun must go through an identity verification process, which requires the registrant to be a national of China or one of a few other Asia-Pacific countries, or to represent a Chinese company. Customers must also hold a credit or debit card issued by a Chinese bank compatible with Alipay. Customers must also register with the Chinese Ministry of Industry and Information Technology if they wish to associate a domain name with an Aliyun cloud server, but such registration is currently unavailable to foreign enterprises.
The current obstacles suggest that the cloud is unlikely to be outsourced to China yet. However, the availability of cloud computers in China is likely to increase to match its rapidly increasing local demand with competition both from local providers like Aliyun and overseas players like Microsoft and Amazon. Microsoft has collaborated with a partner company in China, 21Vianet, in order to bring its Cloud to China, and is making competitive price plans customised for the Chinese market. Perhaps by following this model, other non-Chinese companies such as Amazon could enter the Chinese market, providing local data centres and support to Chinese-speaking customers within the stricter regulatory environment. Equally, if some red tape were cut and network connectivity improved, Aliyun and other Chinese cloud providers could be poised to take a larger share of the global cloud computing market.
Netcraft provides information on the internet's infrastructure, including the hosting industry and web content technologies. For information on the cloud computing industry, please see
http://www.netcraft.com/internet-data-mining/.