The dataset is presented in an Excel spreadsheet and provides a variety of different filters and selections. Using the dataset, a hosting company can identify its relative position and closest competitors in each of the top 1,000, 10,000 and 100,000 tiers of site traffic, and also by country, and operating system.
Softlayer Inc – Losses & Gains April 2010
Top Losses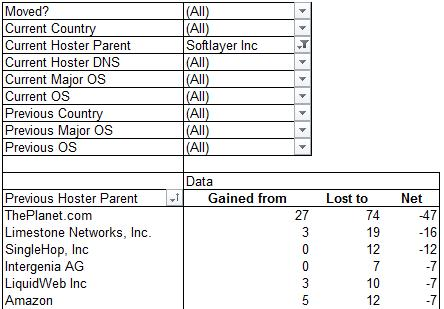 Top Gains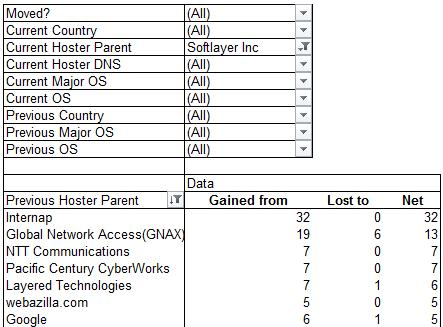 Limitations
Only sites found by the Web Server Survey will be included. The number of hosts found worldwide running internet web sites by the Web Server Survey is large [over 205 million in April 2010], but is not exhaustive.
Attributing a site to a hosting company requires that the hoster provides a reverse DNS server for the network. In some cases where no reverse DNS server is configured, the hoster for a site will be shown as unknown.
Accesses by the Netcraft Toolbar user community are used to determine site traffic rating.
More Information
The dataset is updated each month and is available on a company license basis. Please contact us (sales@netcraft.com) for pricing.