American financial services company Citigroup suffered a deluge of phishing attacks after Monday's news that it intended to acquire the banking operations of Wachovia Corporation.
The credit crisis has triggered a number of acquisitions in recent months, and fraudsters have previously tried to exploit such events by orchestrating phishing attacks against the acquiring companies. One motivation for these types of attack is the increased chance of success when potential victims have less familiarity with the genuine website that is being fraudulently mimicked.
However, the timing of this week's attacks may be coincidental — and subsequently Wachovia has announced that it will instead merge with Wells Fargo.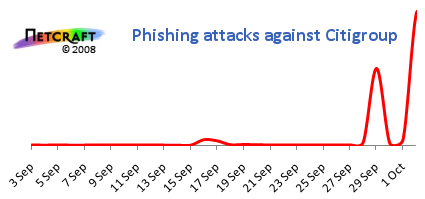 Netcraft offers a countermeasures service to help banks and other financial organizations take down phishing sites. This service complements Netcraft's Phishing, Identity Theft and Bank Fraud Detection service and its free Anti-Phishing Toolbar.