The number of web-facing computers hosted by DigitalOcean has grown by nearly 400% over the past year, making it the fourth largest hosting company in the world.
Even more remarkable is that this position has been achieved completely from scratch in less than two years — DigitalOcean first appeared in our survey in December 2012, when it had only 138 web-facing computers. Now it has more than 100,000 computers, and has recently overtaken well-established hosting companies such as Rackspace and Hetzner, despite their considerable head starts over DigitalOcean.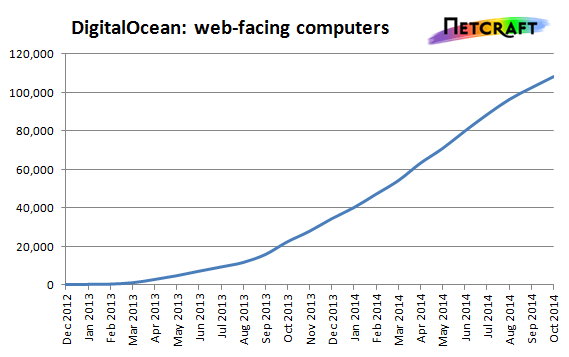 Growth at DigitalOcean
| | | | | | |
| --- | --- | --- | --- | --- | --- |
| | Dec 2012 | Apr 2013 | Oct 2013 | Apr 2014 | Oct 2014 |
| Computers | 138 | 2,821 | 22,491 | 63,436 | 108,489 |
| Active Sites | 237 | 5,547 | 66,230 | 161,994 | 286,342 |
| Hostnames | 328 | 73,827 | 336,615 | 1,522,539 | 2,044,827 |
DigitalOcean provides SSD-backed virtual computers (called "droplets") which are available at relatively low hourly rates, making it an attractive hosting location for hobbyists and large companies alike. Coupled with promotional voucher codes which offer free credit to new users, these low costs have likely played a big part in DigitalOcean's rapid growth. If current growth rates persist, DigitalOcean is likely to become the third largest hosting company within the next few months, and could well be biting at the heels of second-place OVH early next year.
Only Amazon has grown faster over the past 12 months, putting its lead well out of DigitalOcean's reach — at least for the time being. DigitalOcean's attractive pricing has no doubt been putting pressure on Amazon, who introduced a new general purpose instance type for Amazon Elastic Compute Cloud (EC2) before announcing lower-than-expected Q2 results. The new "t2.micro" instances are the lowest-cost option at Amazon, costing $0.013 per hour, but do not include persistent storage by default.
These changes have brought the virtual hardware costs of Amazon EC2 almost on par with DigitalOcean, where a droplet with 1GB RAM and 30 GB of SSD storage currently costs $10 per month. A comparable t2.micro instance on Amazon EC2 would cost around $12 per month. However, the biggest difference is likely to manifest itself in the cost of bandwidth: The $10 DigitalOcean droplet includes 2TB of data transfer, whereas Amazon charges up to $0.12 per GB of outbound data transfer beyond the first GB. If both were used to serve 2TB of data to the internet, DigitalOcean's droplet cost would still only be $10, whereas Amazon's would skyrocket to more than $250.
With price wars in full swing, it will be interesting to see how other hosting companies try to compete in this rapidly growing market. DigitalOcean already offers a cheaper, less powerful droplet at $5/month, but even lower spec virtual machines can be found for significantly less – Atlantic.net, for example, offers instances with 256MB RAM and 10GB of storage from only $0.99/month, and Amazon's AWS Free Tier provides up to 12 months of free, hands-on experience with several AWS services, including up to 750 hours per month of t2.micro usage.
Website growth
The number of websites hosted at DigitalOcean has followed a similar trend to its computer growth since mid-2013. More than two million websites are now hosted at DigitalOcean — a gain of more than 500% over the past 12 months. Around 14% of these sites are active, giving a surprisingly low ratio of active sites to computers (2.6:1).
In comparison, Amazon hosts an average of 8 active sites per computer, while Rackspace has 12. Just over half of DigitalOcean's web facing computers host only one website each.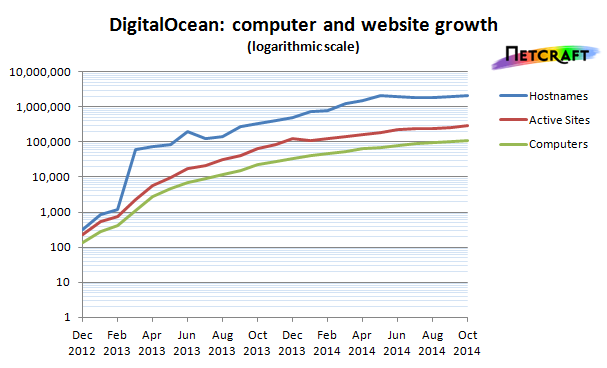 DigitalOcean's one-click apps may account for many of the computers which host only one website, as these allow customers to rapidly deploy a single application on a single Ubuntu droplet without significant knowledge of system administration. Popular web applications such as WordPress, Magento, Drupal and Django can be deployed, and the uptake appears to be significant — for instance, Netcraft's survey found that more than 23% of the active sites hosted at DigitalOcean are running WordPress, compared with less than 10% of all other active sites around the world.
Cloud hosting locations
Both DigitalOcean and Amazon provide a choice of data centers around the world, but the countries in which these are located do not completely overlap. For example, DigitalOcean droplets can now be provisioned in its London data center (LON1), which was introduced in July 2014 following requests from customers.
Amazon does not provide EC2 hosting in the UK, giving DigitalOcean a distinct advantage in this particular cloud hosting market. Despite being relatively new to the UK, DigitalOcean already ranks 22nd in terms of web-facing computers, and could soon become one of the largest hosting companies in the UK if its growth in Singapore is anything to go by. Its Singapore data center was opened in February 2014, and already has 6,600 web-facing computers, which is second only to Amazon's 12,900 computers — this is no mean feat considering Amazon has had data centers in Singapore since April 2010.
DigitalOcean added a London data center in July 2014

Conversely, Amazon has a distinct advantage in Latin America, where it has the third largest number of web-facing computers. Despite receiving over 2,000 requests to open a Brazilian data center (four times as many requests as there were for a UK one), DigitalOcean does not look set to follow Amazon's footsteps any time soon: Brazilian import taxes would add around 100% to the cost of hardware, visa constraints would hamper the ability to review suitable data centers, and bandwidth not only costs more, but also has limited connectivity.
Netcraft provides information on internet infrastructure, including the hosting industry, and web content technologies. For information on the cloud computing industry visit www.netcraft.com.