An ongoing phishing attack against Citibank is using man-in-the-middle tactics against two-factor authentication to gain access to online banking accounts.
The second authentication factor used by Citibank is provided by a security token – a physical item possessed by an account holder – which generates a one-time password that remains valid for approximately one minute. One-time passwords are useless to an attacker if they are captured via keylogging trojans, as they will not work immediately after the victim has used them, nor will the attacker be able to gain access to the victim's account at a later date.
However, by tricking a victim into entering these items of data into a form, the attacker's site can automatically relay the authentication credentials to the real Citibank site instantly. Effectively, this allows the attacker to successfully log in on behalf of the victim.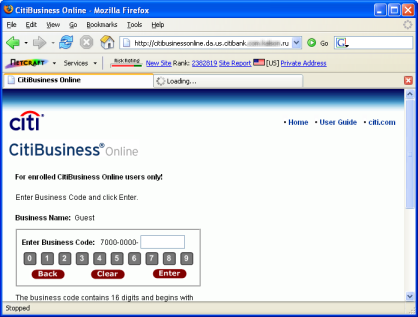 Guidance issued by the Federal Financial Institutions Examination Council (FFIEC) has called for banks to provide additional protection for high-risk transactions, such as those that involve moving funds or accessing sensitive customer information, but it is now clear that fraudsters are already making efforts to bypass the protection features being added by banks.
The Netcraft Toolbar community has to date reported 35 sites that have used this method to attack Citibank customers. All of the reported sites have used Russian country-code top level domains (.ru), although the hosting location varies from site to site.
Netcraft offers a comprehensive range of phishing protection services, including Phishing, Identity Theft and Bank Fraud Detection, and a Phishing Site Feed, which offers realtime protection against new phishing attacks as soon as they are reported. Netcraft's Phishing Site Countermeasures service can be used to 'take down' fraudulent sites that are actively engaged in phishing attacks.