Recent domain registration data show a majority of the low-cost signups at EV1Servers, 1&1 Internet and Hostway have been new domain registrations, rather than transfers from other providers. This suggests the offers are generating new customers or expansions by existing ones, as opposed to "renewal arbitrage" in which domain holders transfer names to capture price differentials between providers.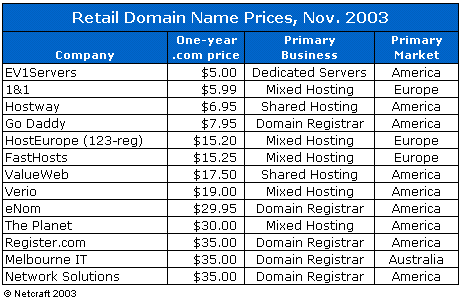 Are these low prices sustainable? 1&1 Internet's Schlund unit is an accredited ICANN registrar, which may offer an advantage in managing margins. EV1Servers and Hostway are reselling domains through wholesalers (Tucows/OpenSRS and AAAQ, respectively) and may be absorbing a loss on each domain. But that cost is only incurred when a relationship is created, while pay-per-click advertising for new customers is paid based on web site visits rather than transactions.
Domain registrars seem to have taken note of the trend. Go Daddy, previously the cheapest registrar at $8.95 a year, is now offering .com domains at $7.95 through Nov. 30. Meanwhile, many domain sellers continue to charge $35, seven times the cost of an EV1Servers domain, with mixed results. VeriSign/Network Solutions continues to shrink, with a net loss of more than 41,000 domains over the past month. But others seem to be faring better at $35, including Yahoo, which resells domains through INWW/Melbourne IT, which grew by more than 32,500 domains in the last month.