Nine months after its launch, content distribution network CloudFlare is now used by more than 40 thousand sites in Netcraft's web server survey. The company announced its public beta at TechCrunch Disrupt in September 2010, where it came in as a close runner-up. Despite not winning, CEO Matthew Prince later described how Disrupt brought his team together and resulted in an increase in signups without having to carry out any additional PR or marketing.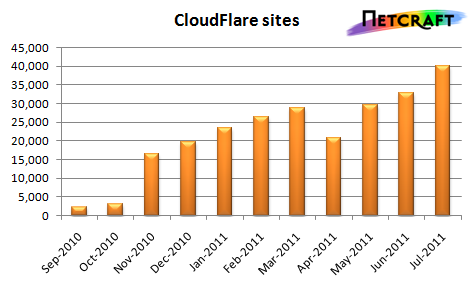 CloudFlare also gained customers after recent praise from LulzSec, who use the service to run their website at lulzsecurity.com. LulzSec have accrued more than 200 thousand followers on Twitter as a result of their attacks against high-profile targets such as Sony, Fox, PBS and the X Factor.
When a website uses CloudFlare, client requests are made to a global network of edge nodes rather than to the website itself. This can increase performance, particularly when an edge node is located somewhere that can respond faster than the website's original hosting location.
By monitoring site traffic, CloudFlare can also offer some protection against denial of service attacks. When malicious traffic is detected, it can be automatically blocked at the edge nodes, before the traffic hits the website. Matthew Prince reported some DDoS attacks against CloudFlare yesterday, but noted that the service had not been impacted.
However, AnonNews used to be a prominent user of CloudFlare until the service was disabled after a DDoS attack affected the CloudFlare network. With traffic instead being routed directly to the server hosting anonnews.org, it has been seemingly unable to withstand the current series of attacks against it. The domain is registered to Sven Slootweg, who told Netcraft, "They had to turn it off on my domain for the past few days because of a really large DDoS attack." He added, "It apparently seriously affected their network. There is one or more Turkish patriot hacker groups constantly attacking AnonNews."

Nonetheless, CloudFlare's growth is continuing at a strong rate. The accessibility and cost of the service is undoubtedly playing a large part in this success – no contracts are required, and users can either sign up for free, or pay only $20 per month for a Pro account which offers better performance, advanced security protection and real-time stats. CloudFlare will also be offering an enterprise service soon.