Microsoft has edged ahead of Amazon to become the largest hosting company as measured by the number of web-facing Windows computers. The pair have been neck and neck for almost nine months: Microsoft now has 23,400 web-facing Windows computers against Amazon's 22,600. Barring companies with large connectivity aspects to their businesses — including China Telecom, Comcast, Time Warner, and Verizon — Amazon and Microsoft are the largest Windows hosting companies in the world, though the market is still fragmented with each having just over 1% of the market.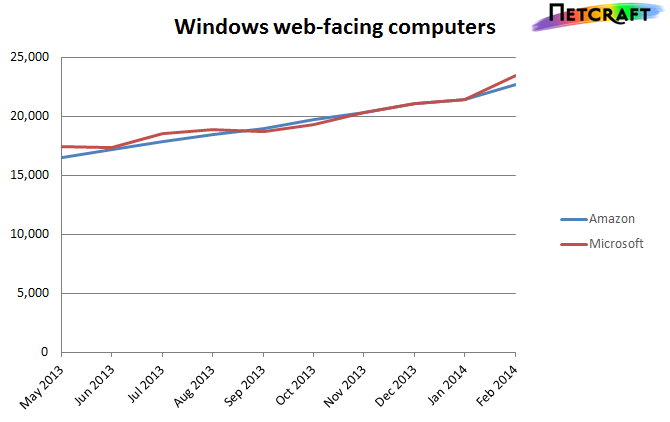 Microsoft's growth is predominantly a result of the growth of Windows Azure: Azure now accounts for close to 90% of all web-facing computers at Microsoft. Windows Azure has grown by almost 50% since May 2013, during the February 2014 Web Server survey Netcraft found 27,000 web-facing computers (both Windows and Linux) using the cloud computing platform. Many of Microsoft's own services are powered by Windows Azure including Office 365, Xbox Live, Skype, and OneDrive.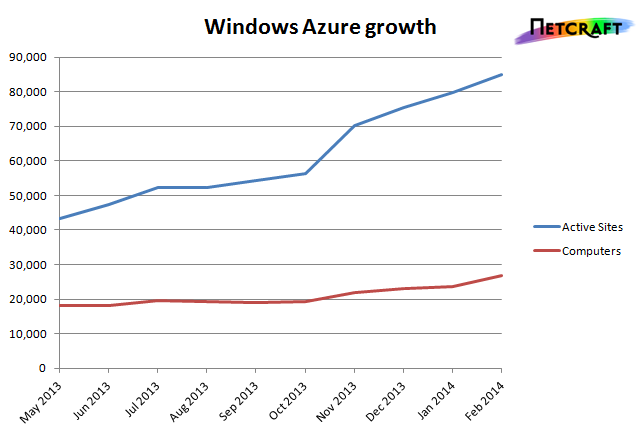 Windows Azure Web Sites service — available to the general public since June 2013 — may be the driving force behind Azure's growth. This Platform as a Service allows existing applications written in ASP, ASP.NET, PHP, Node.js, or Python to be deployed on an automatically scaling platform without managing individual computers. Microsoft also provides pre-configured software packages, such as WordPress, which can be used immediately with the Web Site service.
With over 1% of all Windows web-facing computers in the world hosted at Azure, Microsoft is now defeating the Windows hosting providers which it still partners with, and which four years ago would have been its sole revenue source in the hosting market.
Azure Regions
Azure's data centres are split into regions and geos: there are several regions within each larger geo (formerly major regions).
| GEO | REGIONS |
| --- | --- |
| United States | US West (California), US East (Virginia), US North Central (Illinois), US South Central (Texas) |
| Europe | Europe West (Netherlands), Europe North (Ireland) |
| Asia Pacific | Asia Pacific East (Hong Kong), Asia Pacific South-East (Singapore) |
| Japan | Japan East (Saitama Prefecture), Japan West (Osaka Prefecture) |
The two new Japanese Azure regions were made available to the general public on 25th February 2014, less than a year after they were first announced. Whilst all other Azure regions all share the same price for virtual machines (from 2¢ per hour), the two new Japanese regions are more expensive: virtual machines start at 2.7¢ (Japan East) and 2.4¢ (Japan West) per hour. Neither Japanese region was detected in the February 2014 web server survey which ran in mid-January.
More than half of all web-facing Azure computers are hosted within the United States. US East is the most populated US region, closely followed by US West. However, Europe West is the most populated Azure region in the world, accounting for 20% of all web-facing Azure computers. In total, 52% of Azure's web-facing computers are in the United States, 36% are in Europe, and only 12% are in Asia Pacific.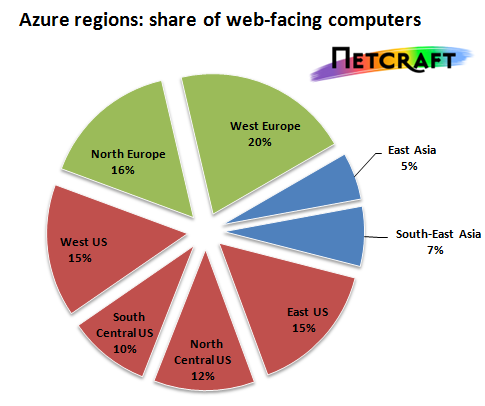 Being able to use Windows Azure in China could offer new opportunities to non-Chinese companies who wish to increase their internet presence in China, although Netcraft has previously noted a number of issues which could hold back the growth of cloud computing in China.
For additional performance when serving content to users around the globe, the Windows Azure Content Delivery Network (CDN) can be used. This allows end users to download content from one of more than 20 different CDN node locations, which is likely to be quicker than downloading the non-cached content directly.
Whilst Azure operates across the globe certain features, such as redundancy, can only operate within the same geo. Furthermore, some Azure services are not available in all regions – for example, Azure Web Sites cannot be deployed in US South Central or Asia Pacific South-East, and the Windows Azure Scheduler is only available in one region per geo.
Operating systems
Windows Azure virtual machines exhibit the TCP/IP characteristics of the operating systems installed on them, and thus it is possible to remotely determine which operating systems are being used by Azure customers.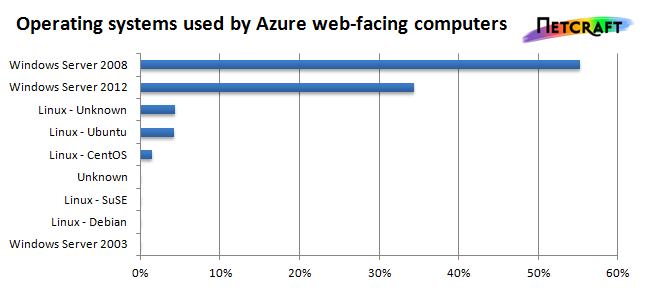 Windows Server 2008 is the most popular operating system installed on Azure instances, although this is not necessarily a choice that is down to the customer — for example, when using the Blob storage service to expose files over HTTP/HTTPS, the user cannot choose which operating system to use.
Windows Server is used by 90% of all web-facing computers at Azure, including three computers which still appear to be running Windows Server 2003. The remaining 10% use Linux, with Ubuntu being the most commonly identified distribution.
Unsurprisingly, Microsoft IIS and Microsoft HTTPAPI are the most common web servers on the Windows Server computers at Azure; however, a few hundred websites use Apache on Windows. As expected, Apache is the most common web server for websites served from Linux machines at Azure (62%) followed by nginx (33%).
Preview services
Several Azure services are currently offered only as preview services, which means they are made available only for evaluation purposes. Some of these preview services have had well-established Amazon equivalents for several years. For example, the Windows Azure Scheduler preview service offers similar functionality to Amazon's Simple Workflow Service (SWF), which has been available for 2 years.
Microsoft's preview services also include the Azure Import/Export Service, which allows users to transfer large amounts of data into Windows Azure Blob storage. Customers can send an encrypted hard disk to Microsoft and the data on the hard disk will be uploaded directly into the Blob storage account. Microsoft currently only accepts hard disk deliveries from the United States (although the service can be used to send data to and from European and Asian cloud regions). Amazon's own Import/Export service has been available since 2010.
Blob Storage
Windows Azure Blob (Binary Large Object) Storage is Microsoft's answer to Amazon's Simple Storage Service (S3). Both allow large files such as video, audio and images to be stored, although while Amazon has no storage limits, individual blobs on Azure have a storage limit of 200TB. Blobs can be mounted as drives and accessed from a web application as if they were ordinary NTFS volumes. If this is the only way a Blob is used, then the frontend computer responsible for that Blob will not be directly measurable over the internet: Netcraft measures only publicly visible computers with corresponding DNS entries and which respond to HTTP requests.
Microsoft offers both locally redundant storage (replicas are held within a single region) and geo-redundant storage (replicas are held in multiple regions within a single geo). Read-Access Geo Redundant Storage is currently available as a preview service. This allows customers to have read access to a secondary storage replica so that it may still be accessed in the event of a failure in the primary storage location.
Users of Windows Azure
Some well known users of Windows Azure include the Sochi 2014 Olympic Games, luxury sports car manufacturer Aston Martin, Taiwanese electronics brand BenQ, McDonald's Happy Studio, and the Have I been pwned? website, which allows users to see whether their email addresses or usernames have been affected by any publicly released website security breaches.
Troy Hunt, the developer of haveibeenpwned.com, uses Windows Azure Table Storage to store more than 160 million records much more cheaply than a comparable relational database. In fact, one of his complaints about Windows Azure is that it is too damn fast: "The response from each search was coming back so quickly that the user wasn't sure if it was legitimately checking subsequent addresses they entered or if there was a glitch". Hunt also described how he used SQL Server on Windows Azure to analyse last year's Adobe data breach, which with 153 million records. After downloading the breach data to a low-spec Azure virtual machine, he then upgraded the virtual machine to an 8-processor system with 56 gigabytes of RAM and completed his on-demand analysis at an estimated cost of $12.