Netcraft has discovered that the social networking site, MySpace, appears to have been compromised by phishers who have presented a spoof login form on the main site. This modified login form is designed to submit the victim's username and password to a remote server hosted in France.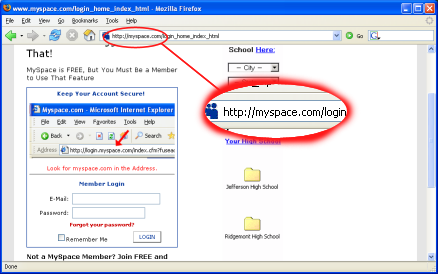 The hackers have engineered a fake login form on MySpace's own web site.
Netcraft has notified MySpace of the issue, although it currently remains live. Because the fraudulent login page is hosted on MySpace's own servers and does not exhibit any signs of external content, such as cross-site scripting (XSS) or open redirects, it is convincing and even security-conscious users are at risk of becoming victims. The attack is launched from a profile page, where the username is login_home_index_html, and uses specially-crafted HTML in order to hide the genuine MySpace content from the page and instead display its own login form.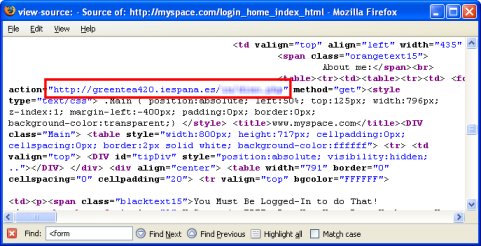 The modifed login form, hosted on myspace.com.
Login details are harvested by a remote server, hosted in France.
Once a user account has been compromised, personal data can be harvested. The Washington Post recently published an article outlining why it can be useful for fraudsters to obtain accounts on MySpace, and other social networking sites.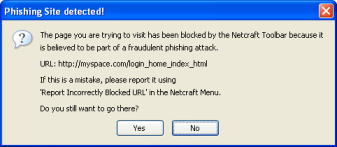 Users of the Netcraft Toolbar are protected against the attack.
The attack was reported by a member of the Netcraft Toolbar community and blocked after investigation by Netcraft. Users of the Netcraft Toolbar are therefore protected against this phishing attack, as they will be warned when visiting the fake login form or when accessing the data-harvesting server in France.