Netcraft has developed a new anti-phishing app for Android to defend against fraudulent sites. The Netcraft app is available now on Google Play and at the Amazon Appstore. The Netcraft app for iOS is with Apple for review.
Netcraft's new Android app provides rapid protection against phishing threats, with new attacks blocked as soon as they're determined to be fraudulent by Netcraft. It offers free protection during a one-month trial, after which a monthly or annual subscription can be purchased. You can use the app to report phish to Netcraft without a subscription.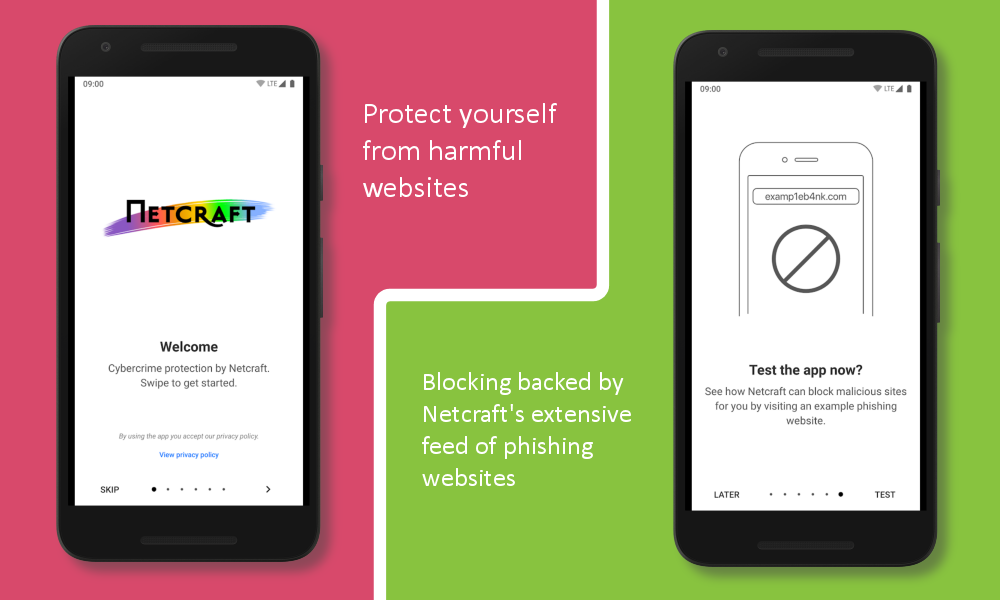 Phishing is not confined to the desktop: in an analysis of a month's worth of log files recovered from phishing sites, Netcraft found that two thirds of visits came from mobile browsers. Some fraudsters also add mobile-specific user interfaces to their phishing attacks, making them even more effective against phone and tablet users.
Despite this, mobile browsers lack comprehensive anti-phishing protection, unlike their desktop counterparts. In a study performed last year, Netcraft found that iOS and Android browsers block only a fraction of the sites that are blocked by their desktop equivalents, leaving mobile users more exposed.
The app makes use of Netcraft's industry-leading anti-phishing feed, which is licensed to the leading web browser vendors, as well as anti-virus, firewall, intrusion detection and content filtering companies. Every day Netcraft processes millions of suspicious URLs to identify phishing attacks. Over 56 million unique phishing sites have been detected and blocked by Netcraft's community to date.
The Netcraft app works with the most popular mobile web browsers on Android – including Chrome and Firefox – and other apps such as Facebook, Twitter, and Slack. In addition to blocking phish across the web, the app automatically detects phishing URLs in SMS messages, and will alert you to the danger with a notification.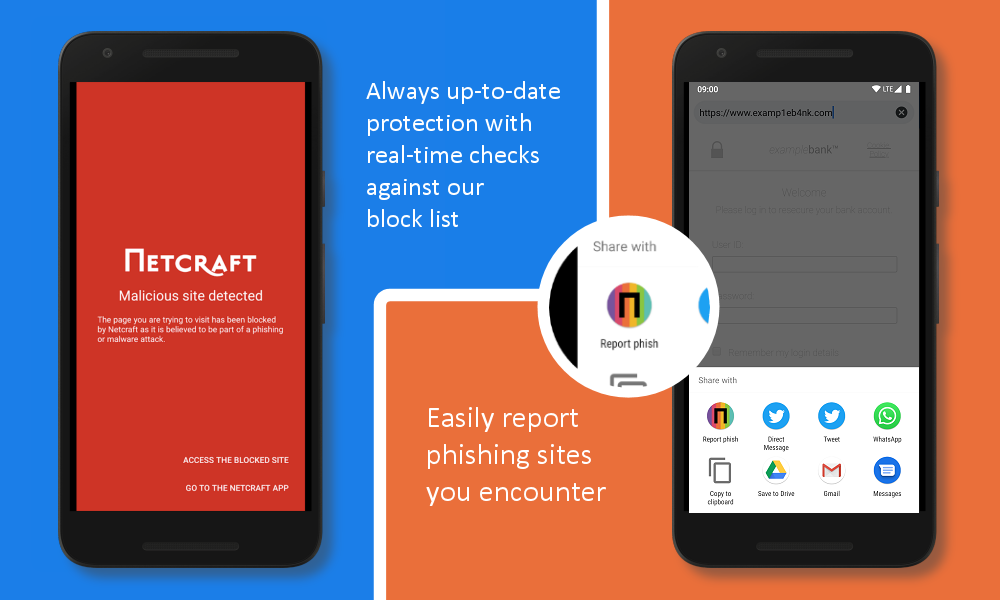 The app allows you to report phishing websites and SMS phishing attacks to Netcraft with just a few taps, protecting other users and making you part of a global safeguarding community.
Download the app on Google Play now to benefit from Netcraft's comprehensive mobile phishing protection on your Android devices. Desktop browser protection is also available in the Netcraft extension for Firefox, Google Chrome, and Opera. Subscribe to our mailing list to be amongst the first to hear when the Netcraft app for iOS is available, along with other news items from Netcraft.