To provide a comprehensive view of the web hosting industry, Netcraft has researched all of the hosting locations with at least twenty web facing computers found by our Web Server Survey. Of these eleven thousand hosting locations, around seven thousand provide hosting and connectivity services, the remaining being enterprises, government or educational institutions.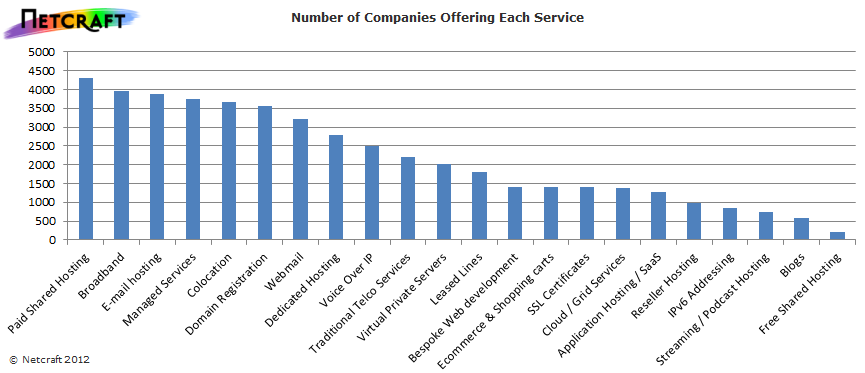 Netcraft has noted the services provided by each Internet Services company and the dataset includes these classifications, together with the numbers of computers found in our Hosting Provider Server Count segmented by operating system.
Field
Description
Parent Company
Parent company, if applicable.
Company
Company name
Number of Computers
The total number of Web Facing Computers found by our Hosting Provider Server Count segmented by operating system.
Websites
A list of the company's own websites.
Country
The main country of the company, based on their headquarters address.
Services
Notes which of the following services is offered by the company:

Domain Registration
Paid Shared Hosting
Free Shared Hosting
Dedicated Hosting
Reseller Hosting
Colocation
Managed Services – includes packages, software configuration, firewall maintenance, monitoring.
Cloud/Grid Services
Virtual Private Servers
Ecommerce & Shopping carts
Streaming / Podcast Hosting
Application Hosting / Software As A Service
Bespoke Web development
Blogs
E-mail hosting
Webmail
Broadband
IPv6 Addressing
Leased Lines
Traditional Telco Services – e.g. telephone calling plans, line rental, fax, and mobile contracts.
VoIP – Voice Over IP
SSL Certificates

Provisioning
Information on online ordering including accepted payment methods and expected set-up periods.
Data Centre Locations
Countries in which the company has data centres.
Control Panel Software
A list of the solutions available, e.g. CPanel and Plesk
Virtualization Software
A list of the solutions available, e.g. HyperV, Xen, VMware, Parallels.
Partners
A list of the company's publically advertised partners, for example, Cisco, Microsoft, Dell.
Main Business
The company's main business area.
Language
The primary language used by the company website.
Multi-Lingual
Whether the company website is available in more than one language.
Address
The address of the company headquarters.
Company Contact Details
The main telephone number, fax number and e-mail address of the company.
Company URLS
URLs to the following pages on the company website: Contact Us, About Us, Management, Partners.
Executive Contacts
The executive contacts published by the company.
Social Networking
URLs to Twitter, Facebook and LinkedIn pages for the company.
Stock Market Information
URL to Google Finance page for the company, if publicly quoted.
The dataset is available in Excel format, making it simple to filter and sort the information, and allowing companies offering similar services to be compared.
Availability
The dataset is available on a company license basis. We are able to provide subsets of the data, for example, all hosting companies that offer cloud services in North America or VPS providers in Europe, or any other segmentation by geography or technology.
On demand, the classification could be extended to include smaller hosting companies and resellers.
Please contact us (sales@netcraft.com) for further information and costs.