The Netcraft Toolbar is available for the Firefox 3 web browser. The Netcraft Toolbar offers protection against phishing by using Netcraft's phishing database to block known phishing sites and provides a convenient mechanism for reporting newly discovered phishing sites.

Download the Netcraft Toolbar
In addition to blocking known phishing sites, the Netcraft Toolbar also displays a Risk Rating for all new sites it encounters. The Risk Rating — a user-friendly visual summary of the information displayed by the toolbar — evaluates new sites against characteristics of the phishing sites reported to date. Sites which are deemed safe will show a low Risk Rating, while riskier sites will show higher ratings based on a number of factors. To make it easier to judge whether you wish to continue browsing a site, the toolbar also shows which country and netblock the site is hosted in, and when the site was first seen.

Knowing which country a site is hosted in can help you spot risky content and highlight DNS poisoning attempts – if your US online banking site suddenly appears to be hosted in Russia, that would give good cause to be suspicious.
Some countries attract a large number of phishing incidents, often due to lax security or the increased likelihood of phishing sites staying around for longer. One particularly notable example is Cameroon, where the number of phishing attacks has exceeded the total number of sites hosted in that country. Netcraft publishes statistics on the phishiest countries in the world. You can also see how popular a site is with Netcraft's site rank.
A detailed site report shows further information about each site, including the web server's uptime: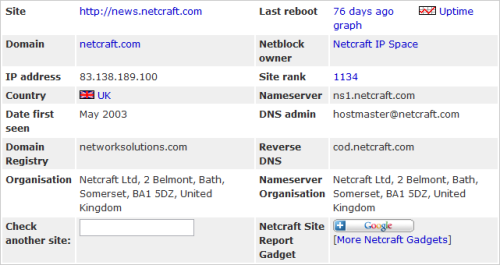 Win an iPod
Netcraft gives away iPods to the top five reporters of validated phishing sites. A leaderboard tracks the top reporters for each monthly competition.
When you visit a page that you believe to be a phishing site, reporting it to Netcraft will allow other toolbar users to benefit from your vigilance. After you report a URL, Netcraft will review the report and block the page if it is confirmed to be part of a phishing incident.
The prizes can be won by any individual who reports phishing URLs via the web form, or directly through the Netcraft Toolbar for Firefox or Internet Explorer.