Although there are many forums where people solicit and receive customer experiences on hosting companies, arguably the essence of all these opinions is condensed into buying decisions that site owners make, firstly in deciding where to host their site, and later if they should move it to a different one.

Each day Netcraft contacts approximately 100,000 sites queried by users of our Whats that site running? form to determine the operating system, web server, hosting location, and time since last reboot. From these results we can show which sites have changed providers since last queried, and where sites queried for the first time are located.
This addition to the Netcraft pageset is updated hourly, showing the hosting locations which have gained the most sites over the previous 1,7, and 30 days periods. It is aimed at the individual web site owner who wants to see, at a glance, who in the hosting industry has momentum, identify companies that are respectively gaining and losing customers, and validate this by seeing which sites are moving to which hosting companies.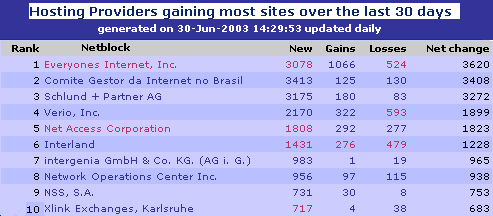 During June, the hosting company that gained most sites, net of any sites lost to competitors was Rackshack. Comite Gestor da Internet no Brasil shown as second is in fact the ip address registry for Brazil. So far as we know the Brazilian registry does not make ip address delegation information available, and so the ip address space controlled by that registry shows up in this table as if it was a single hosting location. In third place is the leading German hosting company, Schlund.
Particularly notable is the 1066 sites that Rackshack gained from competitors, over three times the number of the second most successful company, and that Rackshack's gains from competitor's outnumbered losses by two to one.
For a more comprehensive coverage of site losses and gains at the largest 1000 hosting companies on the internet, Netcraft produces a comprehensive internet-wide analysis based on the 40 Million web sites found by the web server survey.