New York Internet looks set to make it through the aftermath of Hurricane Sandy with barely a scratch on its uptime or performance.
NYI's New York City datacenter is just a third of a mile away from the 75 Broad Street datacenter (in evacuation Zone A), which flooded during Hurricane Sandy. NYI is crucially further uphill, in Zone C, and was out of reach of the storm surge. Despite widespread power failures within the area, NYI has so far managed to continue operating without suffering from any outages:

Demand for fuel is very high in the areas affected by the storm. Phillip Koblence, founder of NYI, said that poor availability of gasoline for staff to get to and from datacenters was his worst problem, followed by sleeping and washing facilities. Queues to get gasoline were reportedly two miles long, and vehicles containing fewer than 3 people were not being allowed into Manhattan between 6am and midnight.
Koblence told Netcraft that he had no power or water at home, and difficulties getting food anywhere near work were also adding to the problems. NYI expected commercial power to be shut off as the storm hit, and its New Jersey and New York City datacenters have been running on diesel generators since Monday.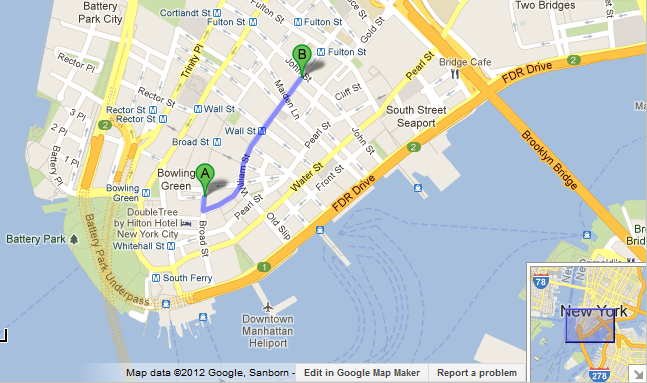 NYI's New York City datacenter is only a few blocks
away from the flooded 75 Broad Street datacenter.
NYI estimates that its 21st floor generator tank in Manhattan can last for 36 hours, while its 8th floor generator can run for more than 3 days. The Bridgewater datacenter in New Jersey is believed to be capable of lasting at least 10 days on generators, far longer than the times between each fuel delivery that the company has been sustaining this week.
Commercial power is expected to be restored to the datacenters late on Saturday night, although NYI plans to remain on generator power until the commercial power supply becomes stable.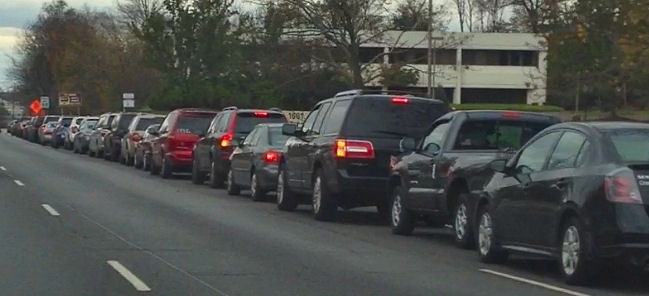 Queuing for gasoline in Bridgewater.
Live performance graphs for www.nyi.net can be viewed here.