Operation Payback has begun a new fax-based campaign against some of the companies who decided to distance themselves from WikiLeaks. As part of its new Leakflood mission, the Anonymous group of 'hacktivists' is encouraging its members to send a large number of faxes to Amazon, MasterCard, Moneybookers, PayPal, Visa and Tableau Software.
This latest campaign by the Anonymous group is analogous to the distributed denial of service attacks it has been carrying out against websites over the past week. In essence, this has turned into a DDoS attack against fax machines. The group started the fax-attacks today at 13:00 GMT and published a list of target fax numbers in their call to arms: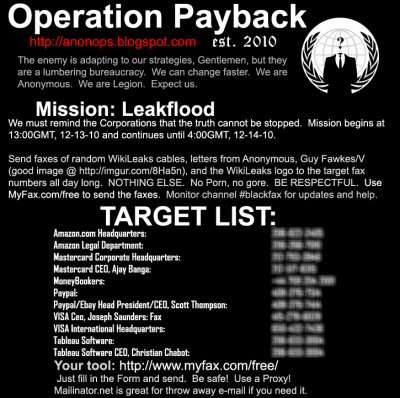 The Anonymous collective are being encouraged to send faxes of random WikiLeaks cables, letters from Anonymous, Guy Fawkes, and the WikiLeaks logo to the target fax numbers all day long. It is not clear how many people are taking part in the attacks, but an IRC channel set up to provide information about the campaign contained 73 users just a few hours after the fax-attacks started.

As well as dishing out attacks, the group has also found itself under attack for supporting WikiLeaks. Many users were knocked off its IRC network after its servers came under attack this morning. It is also understood that the anonops.eu domain (which used to announce the locations of IRC servers and the current attack target) has also come under attack and is currently unavailable.
We have already witnessed website attacks against each of the fax targets, apart from Tableau Software. Two weeks ago, this company removed graphs published by WikiLeaks to its free Tableau Public data visualisation tool. A statement on the Tableau Software website admits this decision was taken as a result of political pressure:

"Our decision to remove the data from our servers came in response to a public request by Senator Joe Lieberman, who chairs the Senate Homeland Security Committee, when he called for organizations hosting WikiLeaks to terminate their relationship with the website"
The poster instructs participants in the attack to use the MyFax free fax service at http://myfax.com/free/, and recommends using a proxy to keep Anonymous, well, anonymous.
Real-time performance graphs for websites that have been involved (or may become involved) in the WikiLeaks attacks can be monitored at http://uptime.netcraft.com/perf/reports/performance/wikileaks; however, Netcraft is not monitoring any of the fax machines.