A new local crime and policing website for England and Wales was launched late last night at police.uk. The revamped site provides instant access to street-level crime maps and data – or at least, it did until curious members of the public woke up this morning.
In what could arguably be described as a media-driven DDoS, the new site has received a lot of publicity on the internet, radio and television today. As a result, a huge number of visitors appears to have swamped the police.uk site with traffic, causing it to break. Search results are currently returning error messages, or a blank page with a 503 Service Unavailable response header.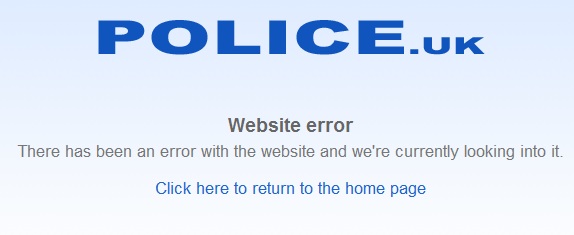 One response worryingly suggests there are no police in London:

The new police.uk site has been developed by advertising agency Rock Kitchen Harris, who also developed the original CrimeMapper site for all 43 English and Welsh police forces in 2009. The launch was announced today on their website, where they said:
"We not only designed, built and manage the site we also arranged the hosting using a mix of servers, with the public website using scaleable cloud hosting."
Despite the use of scaleable cloud hosting (in this case, Amazon EC2), the site does not appear to be holding out too well. Amazon's EC2 hosting service does provide a facility called Auto Scaling, which deals with traffic spikes by automatically increasing capacity, but it is not clear whether RKH have enabled this feature. WikiLeaks notably used Amazon EC2 when the Iraq War Logs and Cablegate sites went live, both of which coped well with the initial large volume of traffic.
Netcraft was unable to speak to anyone in the web team at RKH, as they are, understandably, "a bit tied up at the moment", but it was confirmed that the current problem is a result of too much traffic.