In October we received and reviewed more than 8,700 unique URLs reported to us as phishing sites; by far the busiest month to date.
To further incentivise people reporting phishing sites, each accepted report is now treated as a ticket in a monthly draw for a top of the range iPod.
The October draw was won by Alan. Alan has been one of the largest and most accurate reporters of phishing sites, with several hundred reports accepted to date.
"Every day I feel that I'm doing my small bit to make the Internet a safer place." said Alan."It's good that there are still people on the Internet who try hard to make it better. Some of them are well known companies like Netcraft, some of us are just anonymous individuals trying to do our bit. As well as the satisfaction of a job well done, it's a lot of fun to have a shiny new toy to play with."
Including the toolbar community itself and customers of ISPs using our Phishing site feed, well over a million people are now protected from phishing by the Netcraft Toolbar.
The Netcraft Toolbar is available for both Internet Explorer and Firefox, and serves as a giant neighborhood watch scheme for the Internet, in which members who encounter a phishing fraud can act to defend the larger community of users against the attack. Once the first recipients of a phishing mail have reported the target URL, it is blocked for toolbar users who subsequently access the URL and widely disseminated attacks simply mean that the phishing attack will be reported and blocked sooner.
Reporting a Suspicious URL
When you visit a page that you believe to be a phishing site, or contains fraudulent or deceptive content, we ask that you report it so that other toolbar users will benefit from your vigilance. The more sites that are reported, the more useful the toolbar will become for everyone.
You can report a URL by clicking on "Report a Phishing Site" in the toolbar menu, accessed by clicking on the Netcraft logo: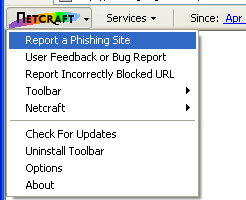 After you report a URL, Netcraft will review the report and block the page if we confirm it as part of a phishing attack.