The download site for Firefox is performing well following the release of a widely-anticipated update of the open source web browser. Firefox version 1.5, which was released Tuesday night, features "dozens of enhancements," according to the Mozilla Corporation, including improvements in popup blocking, RSS integration and updating.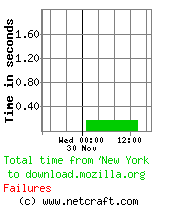 A distributed network of mirror sites in more than 30 countries appears to be handling current download demand with few difficulties. The download.mozilla.org site, which redirects traffic to the mirrors, has had good response time today and fared well during a Slashdotting Tuesday night. That's a contrast with last year, when the mozilla.org web site was slowed by heavy demand after Firefox 1.0 was released. The browser has since been downloaded more than 112 million times. While that number reflects multiple downloads by some enthusiasts, the growth of Firefox places a premium on efficient handling of new releases.
A dynamically updating chart of the site performance for download.mozilla.org is available here.