Office product company Staples.co.uk has been knocked offline by the popularity of its own discount voucher codes. The UK website became flooded with traffic after a £20-off voucher code appeared on several popular bargain-hunting sites, including HotUKDeals and the MoneySavingExpert.com forums.

The £20-off voucher code – which did not require a minimum spend – allowed customers to claim up to £20 worth of items for free, leaving only the delivery charge to pay. Although the code could only be used once per customer, several users successfully bypassed that restriction by placing several orders from multiple accounts. Larger discounts and free delivery were available on more expensive items by adding one of several other voucher codes on top of the existing £20 reduction: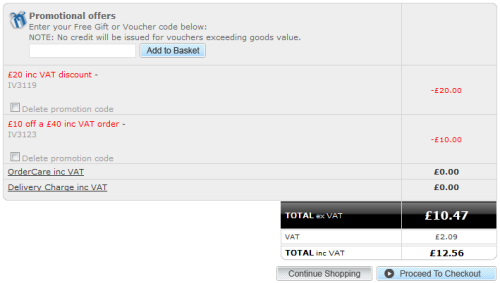 A large volume of HTTP requests originating from many different locations can often have the same effect as a deliberately planned distributed denial of service (DDoS) attack, but it is clear that no such attack took place; the site was simply swamped with legitimate requests from its own customers, who were keen to snap up some bargains. It is not yet clear whether orders placed using these vouchers will be honoured – order confirmations have been emailed to customers, but such orders remain subject to approval.
Several other technology retail websites, including Staples, were affected by similarly huge demand in August, when the price of the 16GB HP TouchPad tablet was slashed to only £89. That was also viewed by many as an unmissable opportunity, with a single HotUKDeals forum post alone attracting more than 60,000 comments while its members discussed where they could buy one. The demand continued long after they were sold out, with some TouchPads being resold on eBay for more than twice the original cost.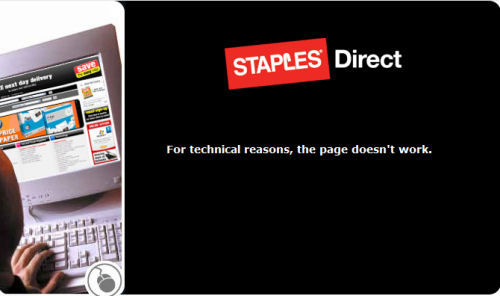 The Staples UK website became responsive once more around lunchtime today, following the deactivation of the original £20-off voucher code: