Blogging site LiveJournal is still being hammered by a distributed denial of service attack which started 10 days ago.

On November 28, the LiveJournal Status website announced in both English and Russian that the site was under a DDoS attack.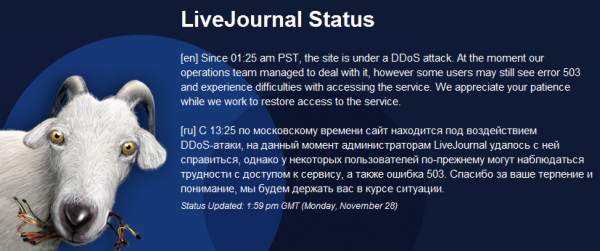 The attack appears to have continued over the past 10 days, causing some significant outages and slowdowns. Nonetheless, LiveJournal did manage to stay online throughout most of this period, although the company had to disable support for third party services such as Facebook, Twitter and Google yesterday.

LiveJournal has been owned by Russian media company SUP since 2007, and there has been much speculation that this latest attack could be related to recent elections in Russia. LiveJournal was subjected to a series of similar attacks in March and April this year, which LiveJournal attempted to counter by upgrading their servers.
At 13:15 UTC today, LiveJournal again confirmed that the site was up, but still under a DDoS attack.