Popular BitTorrent search engine The Pirate Bay has just come back online, around a day after it was apparently forced offline by a German court injunction filed a week ago.
The Motion Picture Association subsequently made a press release [pdf] about the injunction against CB3Rob Ltd & Co KG (Cyberbunker) and its operator, Mr. Sven Olaf Kamphuis, "restraining them from connecting The Pirate Bay site to the Internet".
However, the site is already back online — hosted at the same place as before — and now presents a defiant 'lolcat' message, presumably aimed at those who are trying to get the site shut down: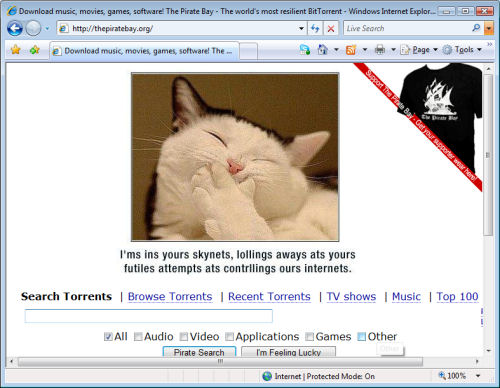 The Pirate Bay publishes many of the legal threats it receives, but proudly boasts that no torrents have ever been removed from the site.

The Pirate Bay website runs Linux and uses the lighttpd webserver.