Hot on the heels of recent WordPress attacks, Netcraft has found a phishing attack which uses a script hosted on the official UGG blog at blog.uggaustralia.com. UGG — famous for its sheepskin boots — hosts its WordPress blog with Media Temple but its blog also contains a malicious PHP script which fleeces HSBC customers out of their bank account details. It is difficult to tell whether this attack is connected with the recent increase in brute-force password guessing attacks on WordPress or whether the location of the malicious script is unconnected.
The attack uses a phishing email with an attached HTML document designed to look like a genuine HSBC website. The HTML attachment contains a form which asks the victim for his date of birth, security number, account number, sort code and full name. The entered details are submitted to the server hosting the UGG blog, where the details are harvested by a PHP script hidden in the blog's stylesheet directory; the victim is then redirected to the real HSBC website as if nothing untoward were afoot.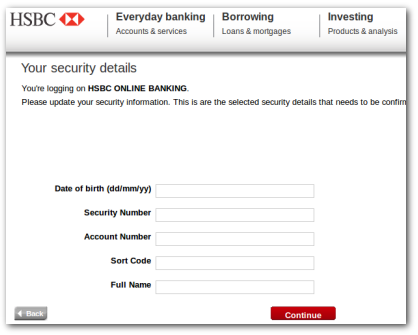 The phishing form is submitted to the script hidden on UGG's blog.
WordPress is by far the most popular blogging platform and content management system on the internet: Netcraft's April 2013 Publishing Applications survey found more than 25 million WordPress sites. Given its popularity, it is not surprising that is often targeted by fraudsters. The predictable location of the administrative interface and the widespread use of the default "admin" username lends itself to simple brute-force password guessing attacks as have been reported recently.