Reporting a Suspicious URL
When you visit a page that you believe to be a phishing site, or contains fraudulent or deceptive content, we ask that you report it so that other toolbar users will benefit from your vigilance. The more sites that are reported, the more useful the toolbar will become for everyone.
You can report a URL by clicking on "Report a Phishing Site" in the toolbar menu, accessed by clicking on the Netcraft logo: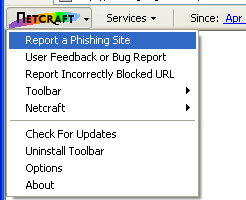 After you report a URL, Netcraft will review the report and block the page if we confirm it as part of a phishing attack.