WikiLeaks is down (yet again!). Half an hour ago, EveryDNS.net disabled DNS services for WikiLeaks' secondary hosted domains, including wikileaks.ch.

EveryDNS.net is the US company that was also responsible for disabling the DNS services for wikileaks.org this morning. It seemed strange that WikiLeaks subsequently decided to use the same DNS provider for wikileaks.ch, as it was almost inevitable that the new domain would suffer the same fate. In a Guardian Q&A session today, Julian Assange hinted that WikiLeaks deliberately places some of its servers in juristictions that they suspect suffer from a "free speech deficit".
In an updated statement, EveryDNS.net said, "Today, also in accordance with the EveryDNS.net Acceptable Use Policy, the secondary DNS hosted domains, including wikileaks.ch, were disabled. EveryDNS.net is not taking a position on the content hosted on the wikileaks.org or wikileaks.ch website, it is following established policies."
Just a moment ago, WikiLeaks responded to the takedown by announcing three more domains that can be used to access the WikiLeaks content: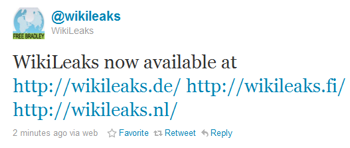 Meanwhile, EasyDNS (not to be confused with EveryDNS.net) has criticised the state of online journalism after they were falsely accused of taking down WikiLeaks. Several blogs and tweets have erroneously stated that EasyDNS, rather than EveryDNS.net, were providing DNS services for WikiLeaks.
A real-time performance graph for wikileaks.ch can be viewed here