Windows 2003 continues to increase in total hostname and active sites, with the number of active sites growing 109% to 185K since July 2003.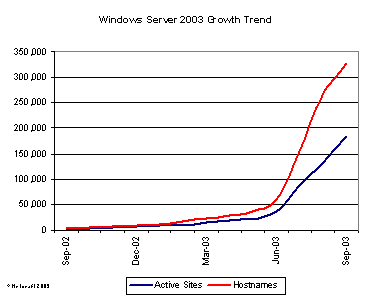 Myhosting.com continues to be the top hoster of active Windows Server 2003 sites, and now has over 98% of their active sites migrated to Windows 2003.
Comparing the sites which are now hosted on Windows 2003 with their operating system in January 2003 shows over 42% of these to be new sites, 49% (153K) to be upgrades from other Windows platforms (mainly Windows 2000), 5% (16.5K) to be migrations from Linux and 1% from FreeBSD (3K) and 1% from Solaris (2.5K).
Notably, the number of sites switching from Linux has proportionately kept pace since July when many commentators thought the 5% of sites switched to Windows 2003 from Linux was an aberration.