A new wave of distributed denial of service attacks has been launched against UK betting sites.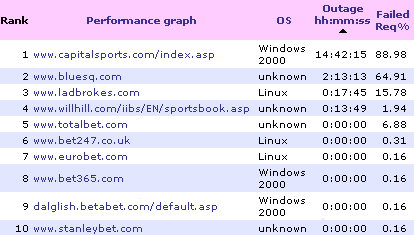 Capital Sports' website has been the worst affected and has been unavailable since mid day yesterday.

A spokesman for Blue Square said the company came under attack after the company ignored a demand for $30,000. The new attacks raise speculation that extortionists will continue to target gambling sites in the run-up to Euro 2004 and Wimbledon.
Netcraft is monitoring the performance of twenty leading UK Internet Gambling Sites, with dynamically updating graphs available here.