In the February 2020 survey we received responses from 1,260,909,305 sites across 254,192,929 unique domains and 9,564,965 web-facing computers. This reflects a loss of 35.1 million sites and 11,900 computers, but a gain of 4.57 million domains.
The largest swings this month were seen for nginx. Despite losing 28.7 million sites and 64,500 web-facing computers, nginx excelled in other metrics this month, including a 3.06 million increase in unique domain count and a 675,000 increase in active sites count, building upon its rapid growth from last month.
Apache increased its share of the sites market this month by 0.53 percentage points, owed largely to the aforementioned drop in sites for nginx. This comes despite a drop of 1.77 million sites for Apache. Apache also lost 187,000 domains and 97,500 active sites this month. Apache did, however, gain an extra 6,400 web-facing computers. Apache is presently the most commonly used web server in terms of domains, active sites, and computers, and also has the greatest portion of the top one million busiest sites. The only metric in which it is currently beaten is the relatively unstable total count of sites (hostnames), for which nginx currently holds first place.
Microsoft saw modest growth in its counts of active sites (+193,000), web-facing computers (+9,890), and domains (+536,000). Microsoft saw a reduction of 2.65 million sites, but, like Apache, was left with an increase in its market share overall.
Vendor News
Apache released versions 7.0.100, 8.5.51, and 9.0.31 of its Tomcat Java Servlet software. The updates, which are largely the same across the major versions, include fixes, improvements, and some refactoring. Coyote, the HTTP connector component of Apache Tomcat, was found serving around 325,000 domains this month.
NGINX released an update for NGINX Unit, their open source dynamic application server, adding support for Ruby 2.7 and addressing a number of bugs.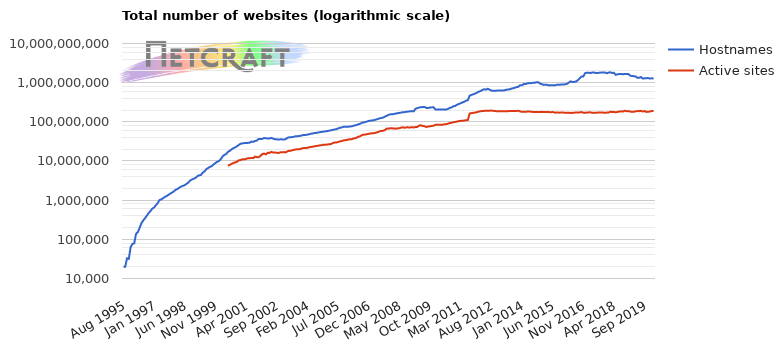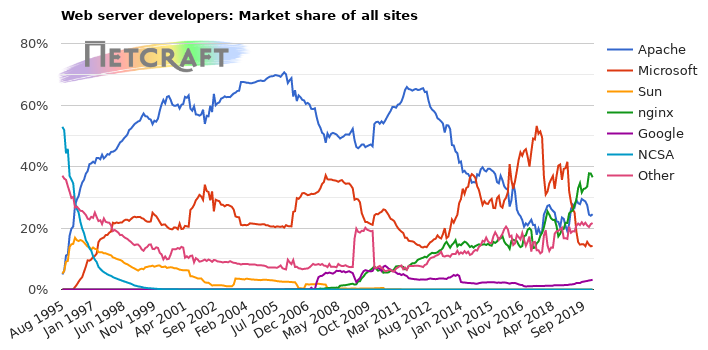 | Developer | January 2020 | Percent | February 2020 | Percent | Change |
| --- | --- | --- | --- | --- | --- |
| nginx | 488,628,547 | 37.70% | 459,966,569 | 36.48% | -1.22 |
| Apache | 310,833,084 | 23.98% | 309,061,300 | 24.51% | 0.53 |
| Microsoft | 181,873,181 | 14.03% | 179,225,073 | 14.21% | 0.18 |
| Google | 39,081,956 | 3.02% | 40,120,733 | 3.18% | 0.17 |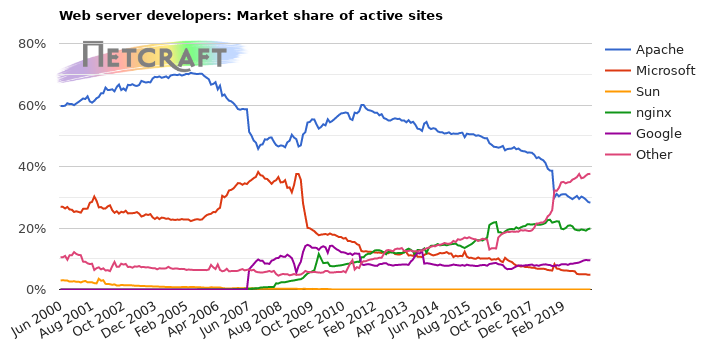 | Developer | January 2020 | Percent | February 2020 | Percent | Change |
| --- | --- | --- | --- | --- | --- |
| Apache | 53,753,582 | 28.48% | 53,656,055 | 28.22% | -0.26 |
| nginx | 37,063,610 | 19.64% | 37,738,509 | 19.85% | 0.21 |
| Google | 17,964,728 | 9.52% | 18,045,633 | 9.49% | -0.03 |
| Microsoft | 9,016,312 | 4.78% | 9,209,748 | 4.84% | 0.07 |
For more information see Active Sites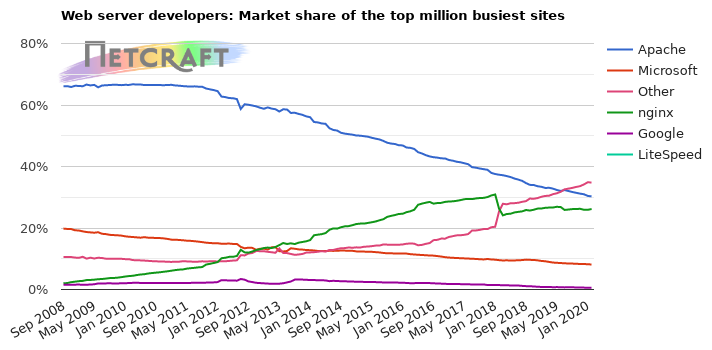 | Developer | January 2020 | Percent | February 2020 | Percent | Change |
| --- | --- | --- | --- | --- | --- |
| Apache | 298,759 | 29.88% | 297,034 | 29.70% | -0.17 |
| nginx | 254,351 | 25.44% | 256,816 | 25.68% | 0.25 |
| Microsoft | 80,308 | 8.03% | 80,071 | 8.01% | -0.02 |
| LiteSpeed | 18,555 | 1.86% | 18,771 | 1.88% | 0.02 |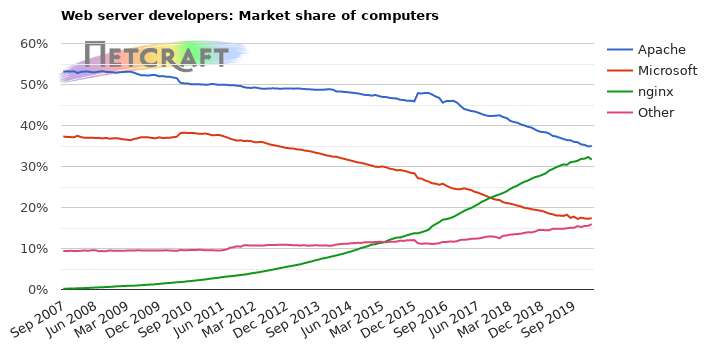 | Developer | January 2020 | Percent | February 2020 | Percent | Change |
| --- | --- | --- | --- | --- | --- |
| Apache | 3,341,420 | 34.89% | 3,347,812 | 35.00% | 0.11 |
| nginx | 3,094,469 | 32.31% | 3,029,931 | 31.68% | -0.64 |
| Microsoft | 1,653,265 | 17.26% | 1,663,155 | 17.39% | 0.12 |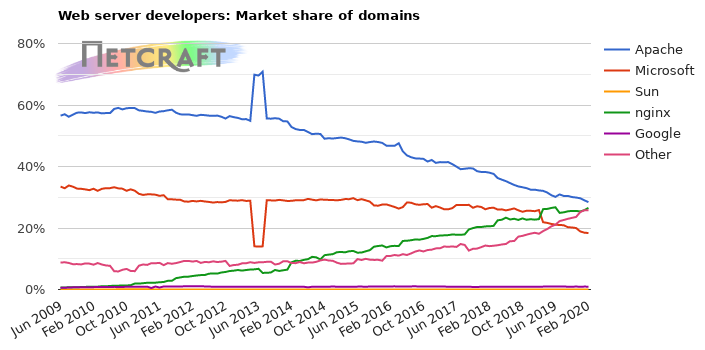 | Developer | January 2020 | Percent | February 2020 | Percent | Change |
| --- | --- | --- | --- | --- | --- |
| Apache | 72,405,302 | 29.01% | 72,218,665 | 28.41% | -0.60 |
| nginx | 64,391,621 | 25.80% | 67,454,081 | 26.54% | 0.74 |
| Microsoft | 46,132,463 | 18.48% | 46,668,662 | 18.36% | -0.12 |
| Google | 2,349,679 | 0.94% | 2,349,555 | 0.92% | -0.02 |