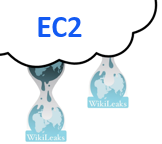 WikiLeaks has started using the Amazon Elastic Compute Cloud (EC2) to serve some of the whistle blowing site's controversial content from the United States.
Shortly after WikiLeaks went live with their Iraq War Logs on Friday, UK-based Alex Norcliffe noticed Netcraft showing the new site to be hosted by Amazon EC2 in Ireland. Alex checked the IP addresses being used by the site and discovered it was being served from five locations in total, including two other Amazon EC2 instances that are located on US soil.

Amazon's EC2 web service is perhaps ideally suited for sites like WikiLeaks, which may receive huge bursts of traffic when important leaks are announced. Any EC2 site using the Amazon Cloudwatch monitoring service can enable the Auto Scaling feature to automatically scale up a site's capacity to cope with traffic spikes, or scale it down at less busy times to reduce costs.
The main WikiLeaks site, wikileaks.org, is also using round robin DNS to serve some of its requests from Amazon in the US. Prior to this, the site was hosted by PeRiQuita AB in Sweden, using the Sun Java System Web Server 7.0. Both wikileaks.org and warlogs.wikileaks.org are now using Apache 2.2.16 on Debian Linux.